Copy.ai Review – Overview
Copy.ai software is one of the best copyrighting software tools which helps all business people to save more time from writing content for their websites. This Copy.ai software tool helps in all types of business, like campaigns, emails, blogging, guest post, and more.
In software and other business industries, people always suggest this copy.ai software for better performance for their business.
By using this software you can write content with high emerging keywords to get more leads and sales.
Frase.io is also the best software tool to write content automatically.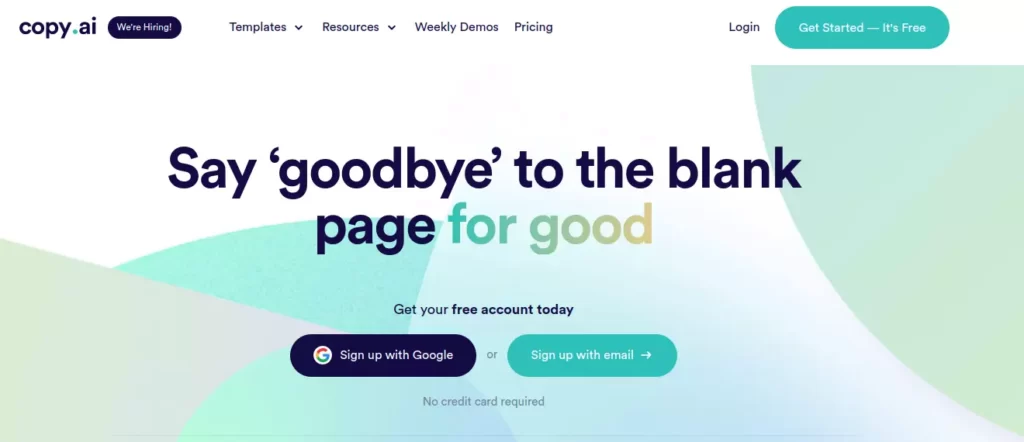 With the help of this tool you can write blogs 10x faster than previous software tools, With blogs, you can get the best conversion rate. This Copy.ai tool will also help to write better content for emails to get high engagement rates.
Copy.ai is fully AI-generated content that gives result in a minute and have more than 120+ templates to use for content.
To Whom Copy.ai is suitable for?

Copy.ai is suitable for,
Business Owners
Email Marketers
Small Startup teams
Social Media Managers
Marketing Agencies
Business owners – Copy.ai software tool helps business owners to reduce the time for writing content.
Email Marketer – This software tool will be most helpful for email marketing services to write email sales copy.
Small Startup Team – A startup company must need this software tool to write more content for new websites.
Social Media Managers – To run a campaign ad copy must need, This tool will help you to create ad copy with eye catchy content.
Marketing Agencies – Finally Marketing agencies also need this AI-generated tool to create different content according to niches.
Steps to work on copy.ai software tool,
Enter project name
Give some small content to copy.ai
Shift the result to give better content
Finally, edit as per your needs and publish it.
Copy.ai Pricing
In copy.ai pricing will vary depending on plans.
No Credit card is required for this plan
You can do 7 day free trial for the pro plan
Copy.ai tool helps you to write more than 25 languages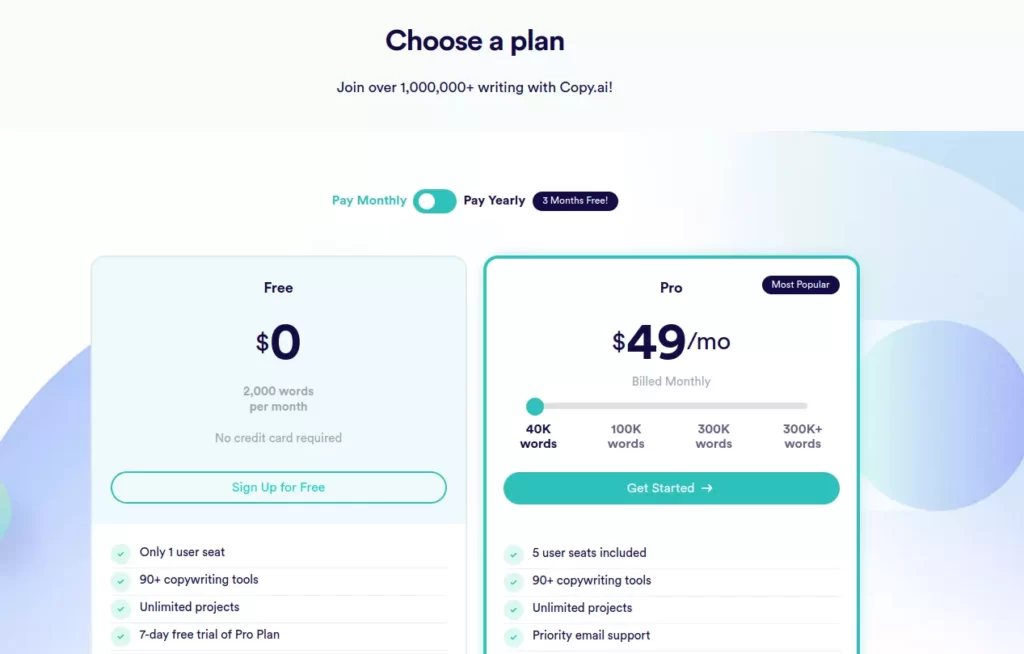 Monthly Plan for Copy.ai Software Tool
In this copy.ai software, it has 2 plans for purchases.
They are
Free Plan – $0 Per Month
Pro Plan – $49 Per Month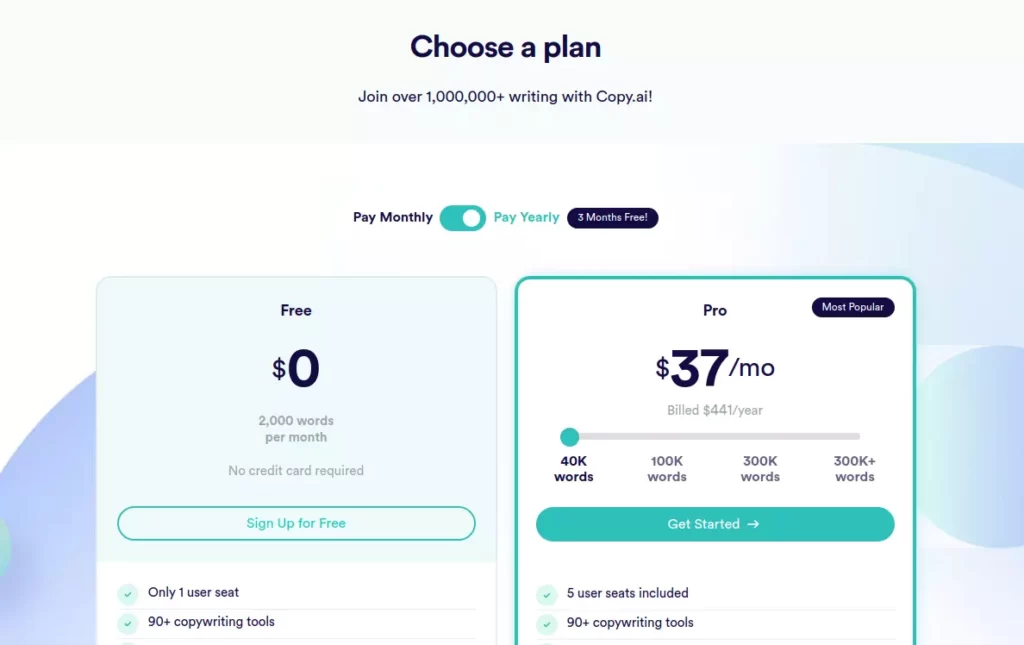 Yearly Plan for Copy.ai Software Tool
In this copy.ai software, it has 2 plans for purchases.
They are
Free Plan – $0 Per Year
Pro Plan – $37 Per Year
In the pro plan for yearly payment, you will get 3 months free.
NOTE: Only software tools with giving 7- days of Free Trial
Copy.ai Plans Details
Free Plan
In the free plan, you can write up to 2000 per month
90 + Copyrighting tools available in this plan
You can handle unlimited projects in this software tool
Only one user can use it for free
Pro Plan
5 users have permission to use this account
You can handle more projects
90+ copyrighting tools available in this pro plan
Email support will be given on this plan
You can write content in more than 25 languages, which is the best part of this software tool
By buying this software tool you will get access to new features
Have the blog wizard tool in this plan
Copy.ai Features
By using this copy.ai software tool you will get more options to do for your business.
Blog Content
Digital Ad Copy
E-commerce Copy
Sales Copy
Social Media Content
Website Copy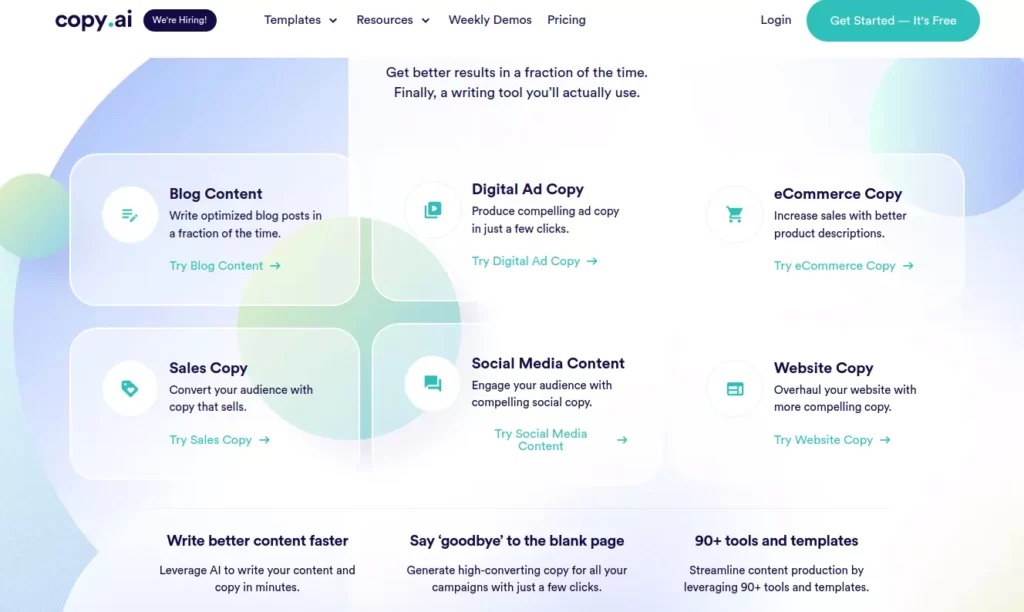 Blog Content
In this case, you can able to create A.I generated content for your blog within a short period of time.
Digital Ad Copy
With this feature, you will be compiling ad copies within 2 minutes.
Ecommerce Copy
By writing better content you will generate more conversion rate on your eCommerce website.
Sales Copy
This software tool helps to make a large number of sales.
Social Media Content
This software tool will help to write content for social media sites.
Website Copy
You can make a copy from your website (whole)
Copy.ai Pros & Cons
Copy.ai Pros
One of the best tools on the planet contains more than 25 languages to create content and campaigns.
Copy.ai tool is worth for purchase mostly for small business people
Response time from the helpdesk is really awesome
This tool is highly preferred and it's better than Jarvis to write content faster
Copy.ai software tool has more than 120+ templates to make ads, campaigns
This software tool is user-friendly for all
Zero Skill is enough to maintain this software tool
Copy.ai Cons
This tool does not write the whole content, you have to use a template for this
Review and Rating for Copy.ai
| PERFORMANCE | RATINGS |
| --- | --- |
| Usability | 9.4/10 |
| Performance | 9.8/10 |
| Online Ratings | 9.1/10 |
| Support Rating | 8.9/10 |
| Implementation Rating | 9/10 |
Copy.ai Trusted by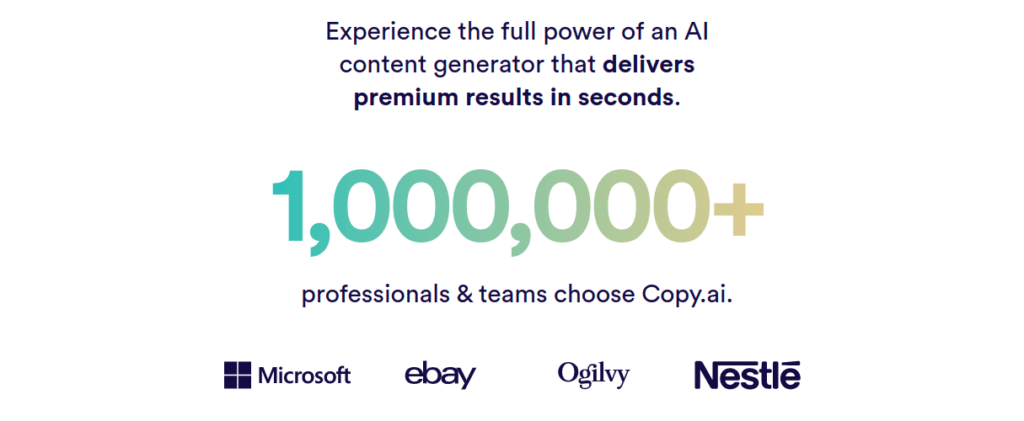 Conclusion
Not but not least. In this blog, you will get all information about copy.ai reviews. This tool will help you to create content on your own with highly optimized engaged keywords to give better performance for website and business purposes.
If you buy this tool you will get more benefits from this and also can save more time. This tool will contain free Instagram caption generator, Product description generator, Sentence rewriter, Free content idea generator, website call to action generator, free email subject line generator,
Free Meta Description Generator, Free Slogan Generator, Free Hook Generator, Paraphrase Tool, Free Blog Post Ideas Generator, Free Business Name Generator, Linkedin Headline Generator, Free Motto Generator, Free Bio Generator, Free Google Ads Generator, Free Product Name Generator, Free Instagram Hashtag Generator, TikTok Caption Generator, TikTok Content Ideas, SEO Title Generator, Webinar Title Generator, Blog Title Generator, Free Acronym Generator.
Copy.ai Office
Year Founded – 2020
Place – NA
Support – Mail Id
FAQ About Copy.ai Software
What is copy AI used for?
Copy.AI is used for writing content for blogs, emails, website pages, and campaigns. This is the A. I generated a tool that helps all people to get more leads for their business.
Is copy AI is free?
Yes, the Copy.AI software tool was free and also you can write 2000 words per month and use some additional features also to make better performance.
Which is better Jarvis or copy AI?
Each software tool will give a better performance rate. Copy.ai software tool gives better content to publish over it on social media, but it can't create a long form of content. But Jarvis will help you to create a long form of content.
Editor's Choice