Help desk software is a Customer Service software which is the heart of every business. Yes, it's one of the most important services in all business.
You know what?
Help Desk Software plays an important role in all IT and Non IT business, even all Ecommerce industry must need help desk software to run a business with more profit.
What is Help Desk Software?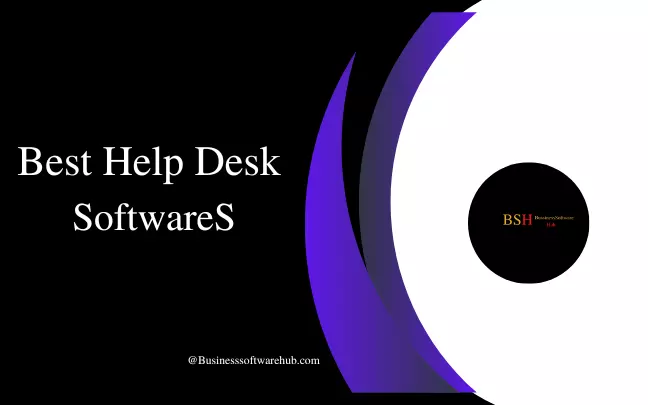 Help desk software is a software which is used to provide services in the IT field for Customers and employees. More businesses in the modern world need communication with customers, clients, and employees to resolve their problems in an effective way.
Inner request and External request will be worked under in Help desk software.
Best Customer Support Software fit for every business
In this software world every business is competitive with one another to make their company in the NO.1 standard position. So every Organizations, company focuses on providing the best services to their clients.
Best Help desk software are,
Freshdesk
Zendesk
Help Scout
Zoho Desk
Salesforce
Jira Service Desk
One Desk
To provide better service communication between employee and client is more important. Then what to do for better communication?
The answer is – using the best help desk software tool. Here are the best help desk software tools you need to know before buying.
1. Fresh desk
Best ticket management capabilities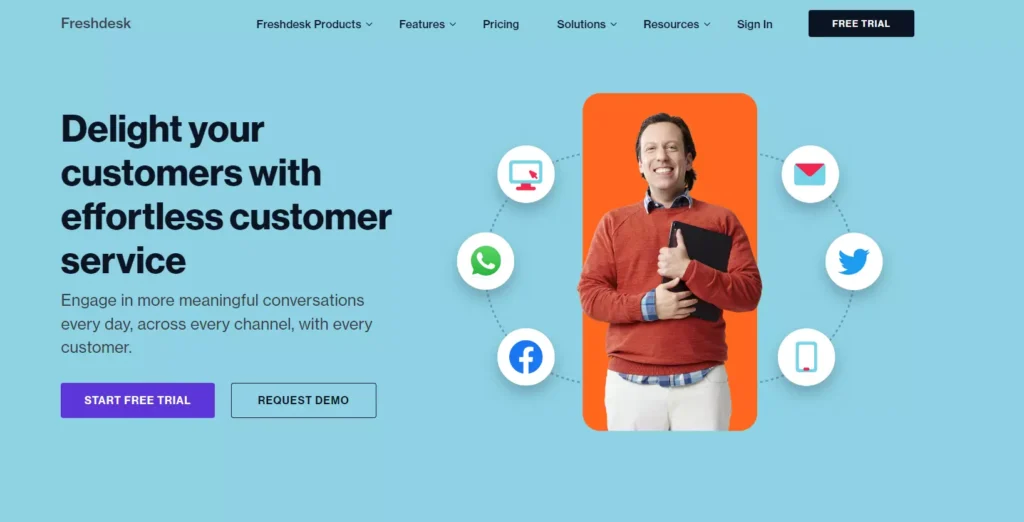 When it comes to getting best ticket management and better service support you have to move on Freshdesk help desk software.
Freshdesk software is trusted with more than 50,000 business people. Because this freshdesk more flexible to use, UI is better than all, pricing is good to use even for small businesses.
Key features
You can manage your customer messages from any social media point of view, such as facebook, twitter, website and more.
Self service Automation will be implemented in this Freshdesk software tool. By using this the people who use this software for their business can easily identify the answer for their problems.
Freshdesk software tools help to track the customer feedback when it is needed for their own use.
Collaboration features are there to resolve customer facing issues in their business. This collaborating option helps employees to resolve the client issue as soon as possible.
If you need to see the insights in live performance you can see it in the dashboard of a fresh desk.
Fresh desk software has more API's in their marketplace.
You can view freshdesk software is Google pay & Apple store
Pricing of Freshdesk
4 pricing plans are on freshdesk. They are,
Free plan – Nill
Growth – 999 Rs
Pro – 3599 Rs
Enterprise – 5699 Rs
2. Zendesk
Champion of Customer Service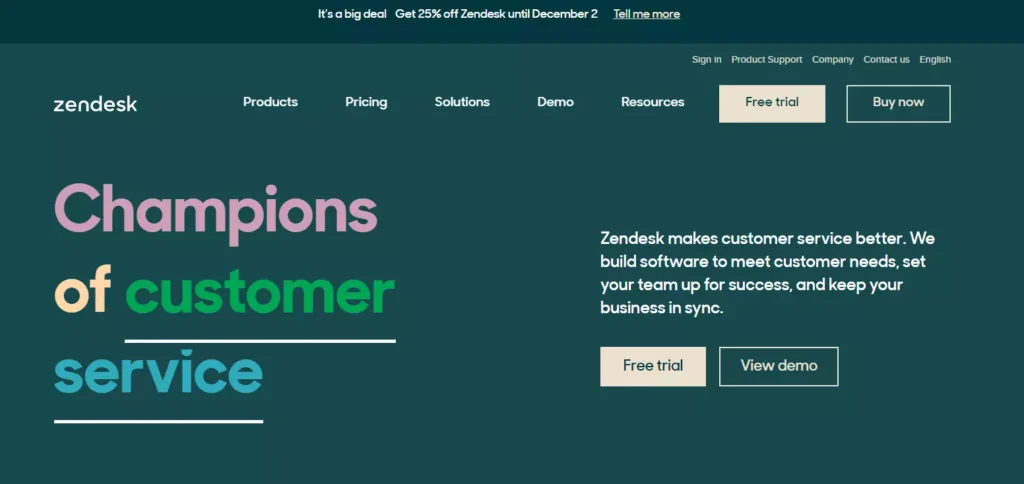 Zendesk is one of the customer service software tools which helps businesses to get complete solutions.
By using the Zendesk tool you will get sophisticated to clear your issue anywhere at any time in the Zendesk suite.
Key features
By using this software tool you have issued tickets for other's to complete the task.
Help support is featured in zendesk to message and live chat when it is needed from the client end.
Artificial Intelligence answers will be implemented in this software for clients to know some doubt's without asking from the employee side.
If you need doubts, you can ask from the Zendesk forum site whenever you need.
If you need reports for your work you can see insights and be able to analyze it if required.
Some of the software are also inbuilt in zendesk like customer support software, Forum software, Live chat software, Tracking system software, Help desk software.
Pricing of Zendesk
In Zendesk there are 2 different types of options in the pricing category.
Zendesk for service
Zendesk for sales
Team – $19
Growth – $49
Professional – $99
3. Help Scout
Better way to Communicate with customer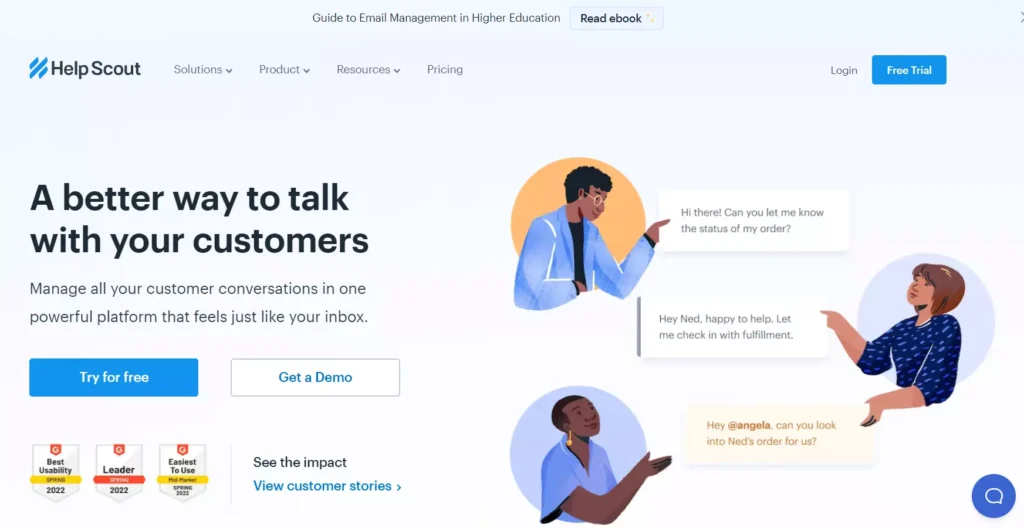 By using this Help Scout software tool you can manage all customer messages, requirements, tickets in one place like gmail. You have to try it once before you go to another customer support software.
There are more than 12000 Business Peoples using Help scout software.
Key features
By using Help scout you can handle more messages in a single inbox. This method is to increase your productivity by your teammates.
You can live chat and message to clients whenever it is needed.
Help Scout software has personalized methods to send fast messages to the client. With less time you can send better messages. You are able to auto update the customer data.
More than 50 API integration you can integrate in your business with HelpScout.
Reporting options are well integrated in this software.
You can download Help Scout software in Google play and Apple store.
Pricing of Help Scout
Help Scout software has 3 plans and pricing.
Standard – $25
Plus – $50
Pro Plan – Pay Anually
4. Zoho Desk
Superior Customer Service with Lasting Experience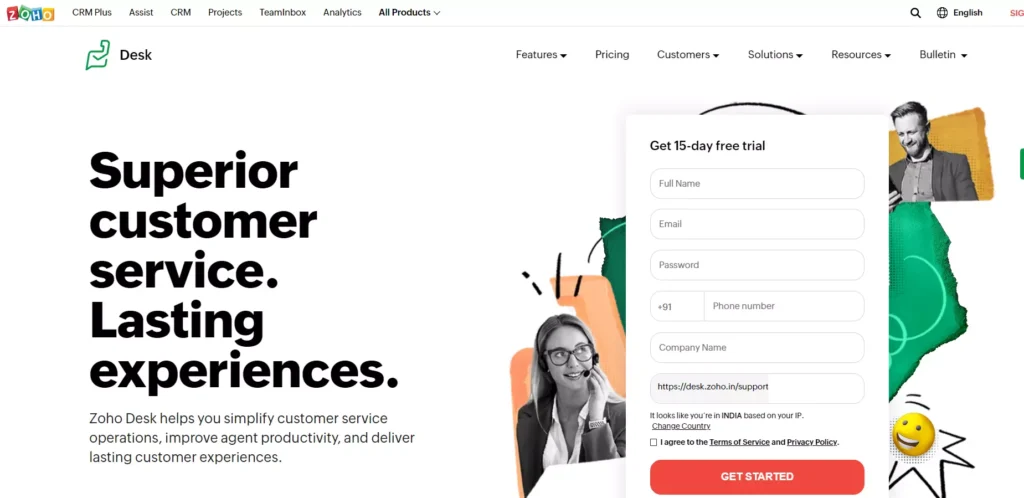 To improve productivity, customer experience this zoho desk is used by many business people. There are more than 50,000 Business people using it to integrate customer service software.
Zoho desk software tool will handle good experience for clients for their business. Omnichannel ticketing is best in this software,
Key features
Ticket management is well optimised in this zoho desk software.
Self Service Automation customized goods in this zoho desk. If a client needs doubt's from a particular category the AI answer will clarify the doubts before your calls.
Automation will help your staff to drive more engagement with your business client. This automation will save more time compared to manual work.
Mobile apps play an important role in customer service. By using these mobile apps you can view all requirements 24/7 and fullfill the needs of every client in simple apps.
You can get support from email, chat & phone.
If you need to see a report then you have to export it from CSV, XLS, PDF files.
Pricing of Zoho Desk
Zoho desk have 3 pricing plans for customer service ,
They are,
Standard – 1300 Rs
Professional – 2300 Rs
Enterprise – 3200 Rs
5. Salesforce
Maximize ROI & Drive Efficiency
Salesforce service cloud is a software tool which drives more ROI and drives more efficiency in the business platform.
Salesforce is a brand that focuses on the customer service space widely.
Key features
Scale all processes in automation using AI software.
This salesforce will connect customers easier and give better experience.
In salesforce software the requirement will be resolved 30% faster compared to other task management software tools.
Call centre management is well optimised in salesforce,
Report will be anlayze and export from various files.
Pricing of Salesforce
Price – $25
Free trial is available
6. Jira Service Desk
Empower team to deliver great service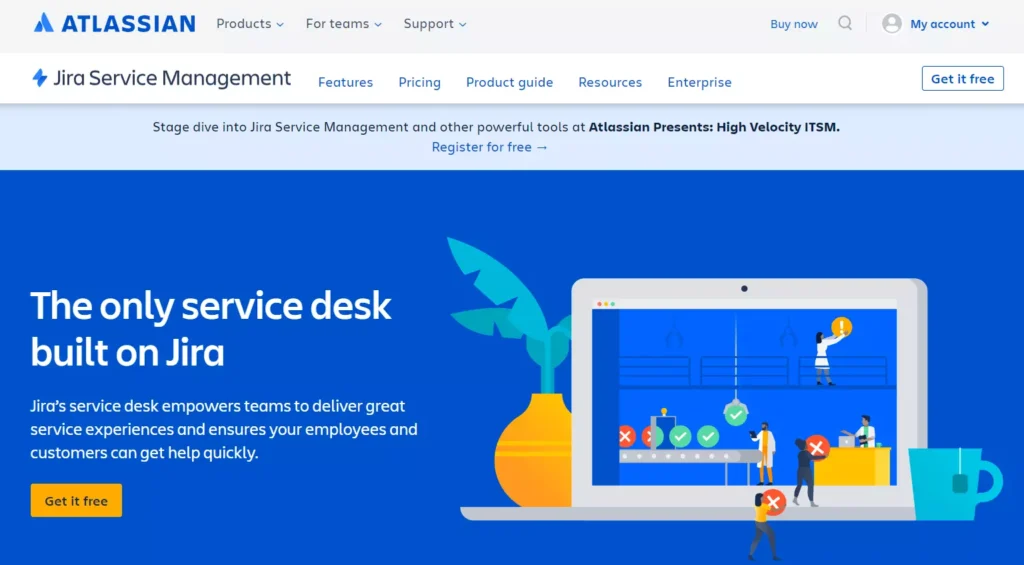 To help customers and employees quickly this jira service desk will be used. In 2013 jira created and most company integrated this Jira for their business purpose to request one message to other through client and staff.
In this Technology world jira software 45% adopted by business.
Key features
You can request it from the slack and microsoft team with the same place.
If you need reports and metrics, you can use it here to look at better performance and analyze the feedback and monitor the slick report and dashboard.
Self Service portal will help to understand the answers for common questions.
To keep deadlines you can use service legal agreements (SLA's).
Pricing of Jira Service Desk
In Jira service it has 4 plans and pricing,
They are
Free – $0
Standard – $27
Premium – $47
Enterprise – Billed Anually ( Contact company )
7. One Desk
Manage in one desk – Simple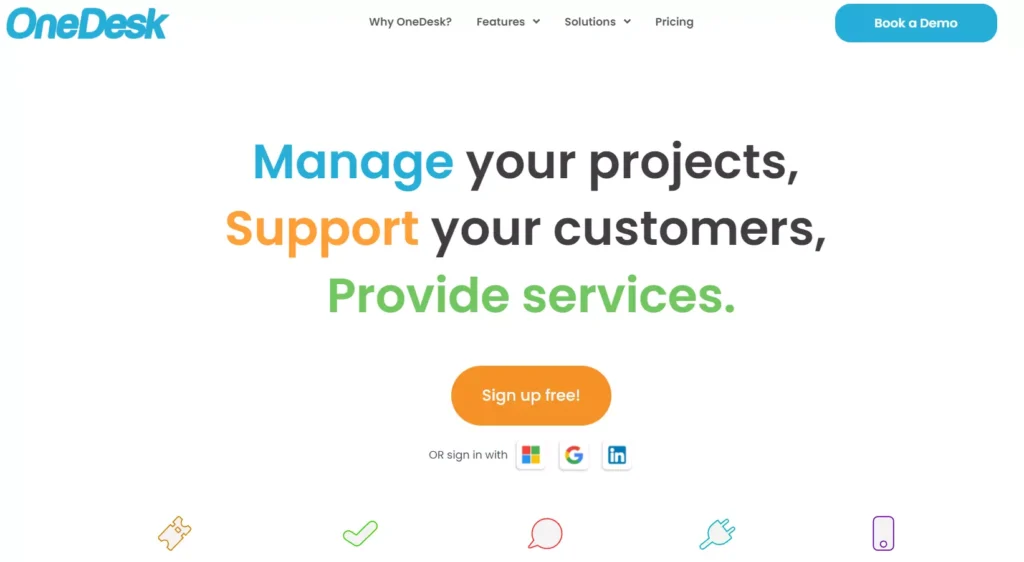 One desk combines both Help desk software and Project management software. This is so simple who all are using one desk in a different way of process.
With the One application you can handle this software tool.
Key features
One desk software tool captures all requirements tickets in single mail.
Well supported customer portal in your websites.
In one place you collaborate with a team to discuss issues separately or in general.
Automate your workflow by AI.
One desk software tool help to track and capture new projects in single phase
To improve response and commitments you can use it from SLA.
Pricing of One Desk
Single plan is $11 per month and $9 per annually.
What are the different types in Help desk software?
There are 3 types of help desk softwares,
They are,
Open source help desk software
On premise help desk software
Cloud based help desk software
Who are all able to use help desk software?
Helpdesk software will be used for
Small business owners,
Medium level business,
Mid level business,
Solopreneurs
Enterprise business
Freelancers.,
Benefits of using Customer Support Service?
There are more benefits to use this help desk software tool, they are
By using Help desk support easily between client and staff to do the requirements properly within the limited time.
Strengthen Efficiency to your project
By using this software customer support is well and optimized
If you use this customer support software you will be able to see better responses.
If you need to see the reports you can easily analyze and customize within the same software.
How to choose the best help desk software?
There are simple and easy way to identify best help desk software tool,
Need to see the features of software tool
Need to see the support possibility to your business requirements
See the price is affordable for you
You need to see the usability of the software
Check the software is flexible or not
Identifying the software tool is scalable.
Best Essential features need to know for customer service e tools?
Some of the important essential features
Automation
Knowledge Mangement
Collaboration
Ominchannel Support
Reporting the data
Analytics the data
Conclusion
Before you buy the help desk software tool you need to know about the best help desk software tool for your business. Find your requirements properly, so that you are able to find the best software for your business.
Thanks for reading. Cheers
Editor Choice