Sprout Social Review – Overview
Sprout Social (Powerful Solution for SMM) is a social analytics tool, which helps you to make your business stable and save time. Sprout social tool helps you to improve your social media accounts such as Facebook, Instagram, Twitter, Pinterest, Linkedin & Tiktok.
Sprout Social software helps more businesses to get succeed in their social media management world. Sprout social is useful for Small businesses, agencies, enterprises Businesses, and many other industries.
Sprout Social was awarded for a top-tier review software company by capterra, trust radius, and other companies too.
Sprout Social is one of the best Leading social management software tools which helps you to gain more followers, with Usability, get ROI, Customer support, and satisfaction. This software is trusted and has the goodwill of all social media users.
Every agency company uses this software for their client business and their own business, Functionality is the best and most user-friendly dashboard with gives accurate analytics reports for your business.
Sprout Social is one of the most competitors for all social media management companies. Because this software will help you most in your social media channel and also lowest price compares to other services.
To Whom Sprout Social is suitable for?
Sprout Social is used mostly for small businesses, agency business people, and enterprise business people. Because this sprout social tool will monitor all data in social media and give the best information to you and also 100% accurate analytics information provided by this software.
This Sprout social tool understand your audience first, and working through that on social media give excellent result to you.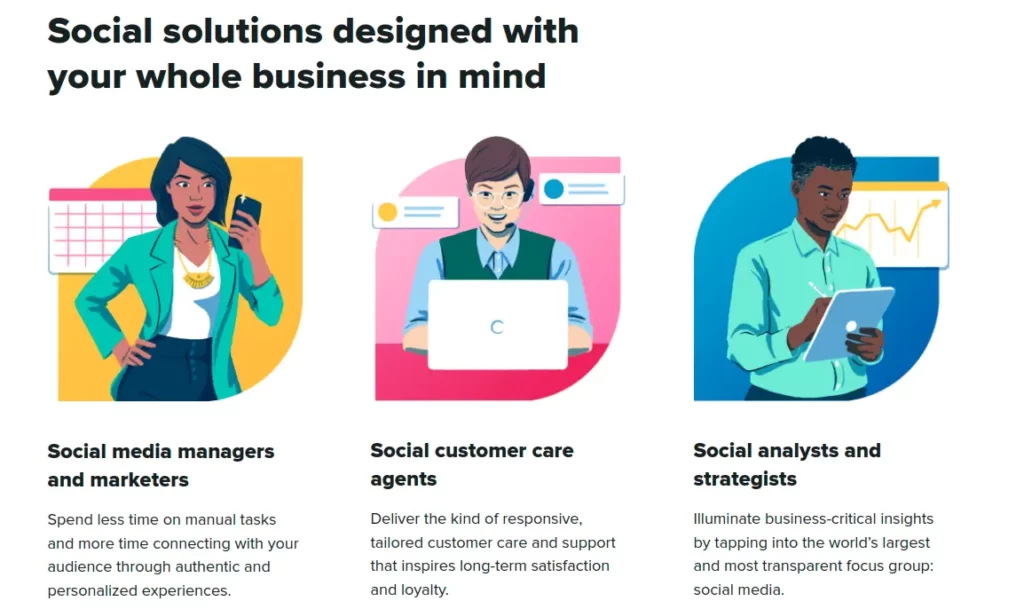 Sprout Social tool works in Enterprise Business
Sprout social tools have multiple intelligence and benefits for business. You can get important details and functions on this tool, such as,
You can analyze competitor research such as (tracking messages, campaigns, product launches information)
Analyze consumer data's
Trend alerts will be given
Sentimental feeling analysis (analyze competitor and your feeling )
Sprout Social tool works in Agency
This tool will help you to maintain client goodwill through our services with sprout social in handling decent social media management without any mistakes happening to the client account. You can able to bring trust from the client by using this software.
By using this sprout social
You will save more time by scheduling your work
You can stay ahead with a perfect plan with content and track performance
With saving time you can create bulletproof content to post on client social media.
Sprout Social tool works in Small Business
Sprout Social helps more than 10K + Small business people to reduce their time and highly get engaging with their followers with the help of this social analytics tool.
Social media marketing work will consume more time to do, so every small business owners are work hard to post, publish, track, monitor, do analytics research, and do campaign research manually.
But after using this analytics tool every problem is solved from on software.
You can maintain all social network websites into one platform, which helps you to maintain a good engagement rate.
You can simultaneously schedule more posts with multiple social media platforms as per you want.
You will stay ahead with customized software tools.
Sprout Social Pricing
Sprout Social is the software tool that helps your social media management business from low levels to high levels.
Many reputed companies use this software for their social platform business. This Sprout social software has some common pricing plans for their clients.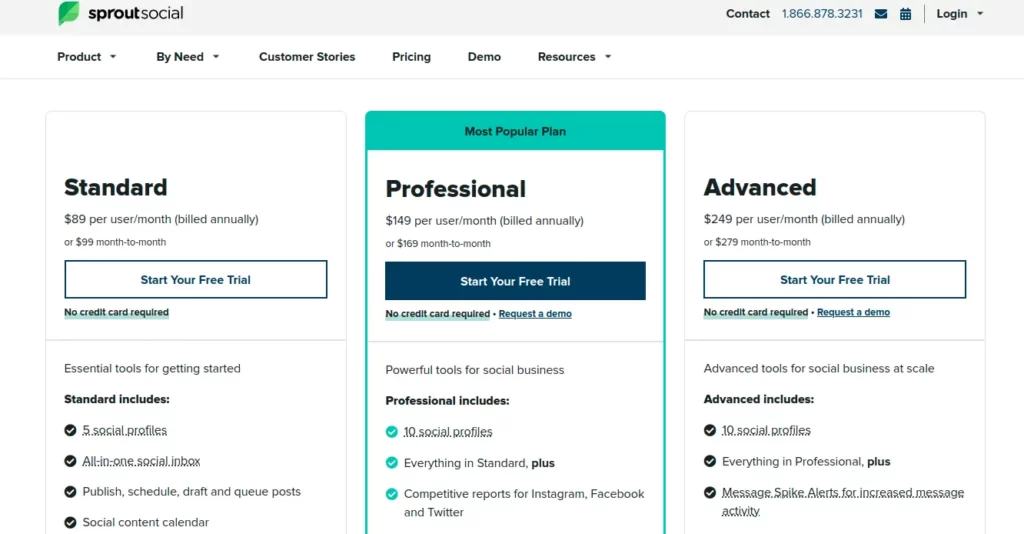 Monthly Plan for Sprout Social Software Tool
Standard Plan – $99 Per Month
Professional Plan – $169 Per Month
Advance Plan – $279 Per Month
Yearly Plan for Sprout Social Software Tool
Standard Plan – $89 Per Month if you are billed Annually
Professional Plan – $149 Per Month if you are billed Annually
Advance Plan – $249 Per Month if you are billed Annually
NOTE: No Credit Card Required for Every Plan
Sprout Social Plans Details
Standard Plan
This plan is used for some small level companies to handle above 5 Social profiles, All social media activities you can handle in a single dashboard of sprout social account.
By using this software tool you will be scheduled to post, publish your post, quene your post also in the same account.
You can handle more and more options in this standard plan.
Professional Plan
In this plan, you will be able to handle 10 Social media profiles and handle a single dashboard of sprout social accounts.
You will get competitive reports for Instagram, Facebook, and Twitter.
You can schedule by posting the best prime time to get a more engaging rate.
By using these professional tools, you will detailly analyze twitter keywords, and also the best hashtags.
Advanced Plan
In this plan, you will be able to handle 10 social media profiles in one social inbox with a sprout social account.
All integrating works will be professional
You will have an automated Link tracking method in this social tool.
Sprout Social Features
This social media management has more features compared to other accounts. They are
Social Analytics
Social Engagement
Social Publishing
Social Listening
Social Automation
Social Collaborations
Social Analytics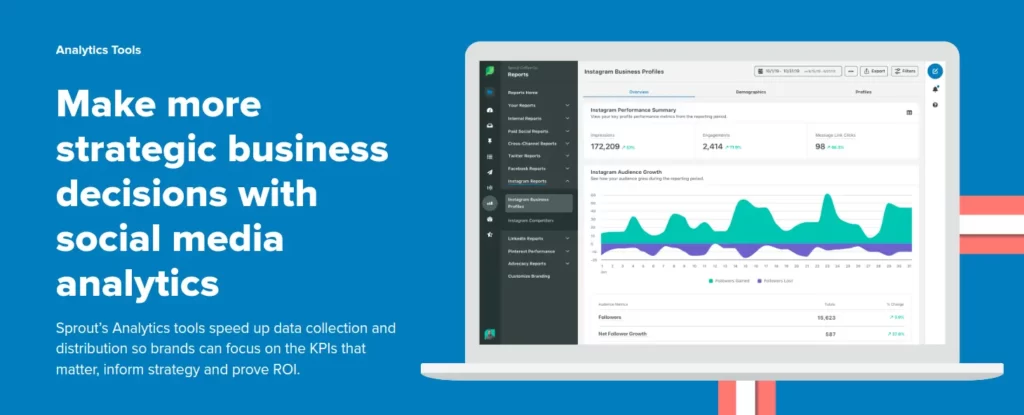 You can make more strategies by using this social software tool and make decisions for your business too.
You can compare competitive Performance and you will overcome this by using social analytics.
You can enhance your social strategy by using this software.
You can set up analytics for Facebook, Instagram, Twitter, Pinterest, Linkedin, and Tiktok.
By using this software tool you will be analyzing performance reports, Tag reports, Post Performance reports, Competitive reports, Team, and task reports, and finally, you can see paid Performance reports.
Social Engagement

You will build your brand by using engagement with social media.
You can increase team productivity and make your control of all social media management processes.
By using this software all agency people, all managers, and all team members really grow in their fields.
Social Publishing

By scheduling all content and post you will be free, while sprout social will automatically publish the content, and post on all social media platform without any mistakes. So you will save time from this.
With this tool, you can integrate easily with building a blueprint for your business.
You can craft highly engaging content and Optimize the content to give proper outcomes for your business.
Some basic features: Scheduling, Content Suggestion, URL tracking, Media integration, campaign planner, and many options available in social publishing.
Social Listening

To extract actionable insights this sprout social is really helpful. With this listening, you can improve brand health also.
From this software, you will easily integrate with all social media such as Twitter, Instagram, Facebook, Pinterest, Linkedin, Reddit, and so on.
Find important information from social media such as competitor analysis, Track and find conversion value, related to relevant topics, and understand customer sentiment.
You can evolve with the audience and upgrade your business strategy levels.
Social Automation

By using this you can easily create automated workflows
You can publish content easily without taking any effort.
Such impact will happen when you analyze viral posts with the audience, engagement patterns, and other related fields.
Social Collaborations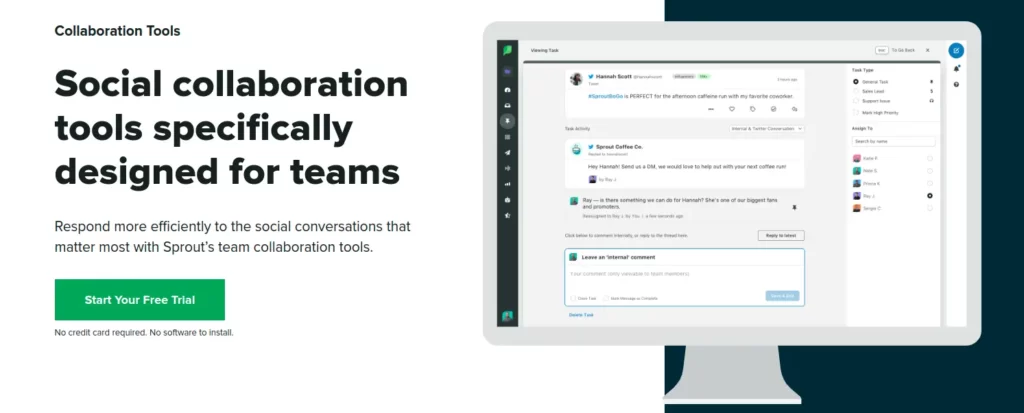 By using this tool you can bring all social media messages from a single inbox and you will get easy to make engagement with others.
You will be doing many things in this collaboration field such as, Profile Publishing governance, Shared Publish Calendar, Create and Collaborate with graphs.
You can manage team workflow with similar events and tasks.
Sprout Social Pros & Cons
Sprout Social Pros
Downloadable Analytics Reports
User-friendly for all People, agency, professionals
Create Dashboard for Social Listening
Free Trial Version
Very easy to navigate user interface
User-friendly Publishing calendar
Respond DM directly
Flexibility to schedule bulk content
Excellent and highly responsible for customers
App Integration is very useful
Sprout Social Cons
The pricing plan is much expensive to buy
Have some issues getting native support
Integration with the new API for Instagram has been a little bit slow
Fewer data available for youtube
Need more customization
The onboarding process is slow
Have some issues with uploading a bulk post on Instagram, & another platform
Number of users limited in the paid plan
Review and Rating for Sprout Social
| PERFORMANCE | RATING |
| --- | --- |
| Implementation Rating | 8.9/10 |
| Usability | 10/10 |
| Performance | 9.9/10 |
| Online Rating | 9 |
| Support Rating | 8/10 |
Sprout Social Trusted by

Conclusion
Finally, with all ups and down you get more information about sprout social tool, by knowing this social pilot software tool you can also get some idea about its functions and features.
This sprout social will help you to grow your business online with the presence of social media and get a high engagement rate.
Keep trying this with 14 days of free trials, if you like this, and pay the amount for future plans.
If you really get need to succeed in your online business, then you will need to buy this software and test it.
Sprout Social Office
Chicago
131 S. Dearborn St.
Suite 700
Chicago, IL 60603
Seattle
800 Fifth Avenue
Suite 1500
Seattle, WA 98104
Dublin
WeWork Charlemont Exchange
Charlemont Street
Dublin 2
D02VN88
Get in touch
Email: info@sproutsocial.com
Press Inquiries: pr@sproutsocial.com
Phone: 1.866.878.3231
FAQ About Sprout Social
Is Sprout Social Reliable?
Yes, Sprout Social is reliable and uses over 30000 Customers widely.
Is Sprout Social good?
Yes, this social analytics software tool is good for social management businesses, many professionals, and standard people use this software for their own purposes.
Is Sprout Social Approved by Instagram?
Sprout Social is supports Twitter, Facebook, Instagram, Linkedin Profiles and Pages.
How many posts can you schedule on Sprout Social?
You can schedule more than 10,000 messages in advance.