Hypotenuse.ai Review – Overview
Hypotenuse.ai is one of the favorite tools for all content writing people to write content unique with A. I generated a tool that gives unique content for blogs, and ad copy, to send emails.
Without the help of writer's block, you can able to write content within 1 minute.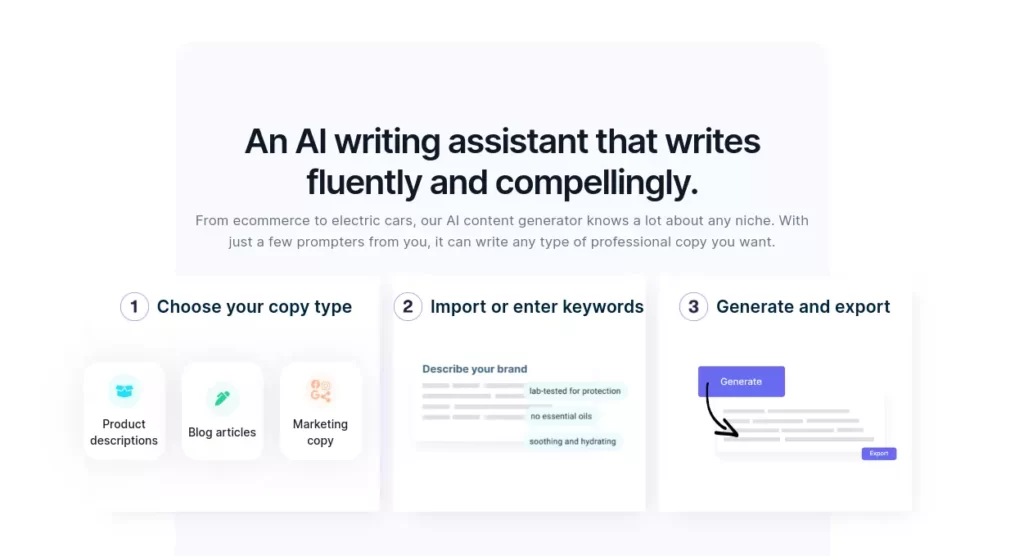 With the help of this A.I writer tool you can rank your website on the google SERP ranking page within a short time.
When you are creating informative blogs & ad copy for your website you can see the deadline time to finish it, In this case
To Whom Hypotenuse.ai is suitable for?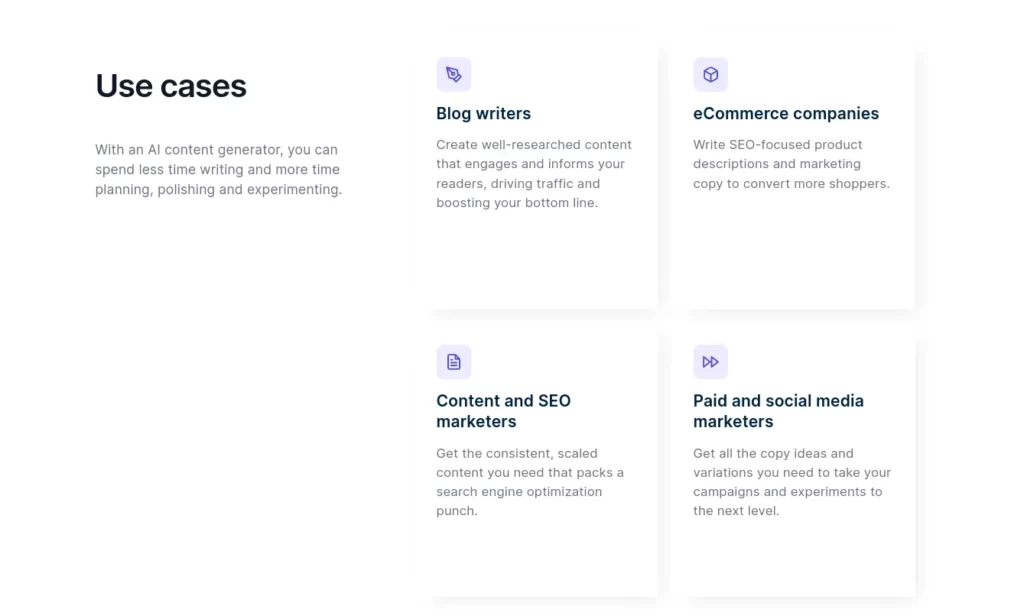 Hypotenuse.ai is suitable for every people like,
Business agency,
Content Writer,
Consultant,
Website Builder,
Email marketer,
Social Media Marketer and more.
Blog Writers – This software tool helps to blog writers write their blog with high intent long-tail content to increase user traffic and becomes tops position on the google SERP ranking page.
Ecommerce Companies – To increase sales in the eCommerce industry this software is highly useful because this ai copywriter tool helps with SEO-optimized descriptions and catchy buyer intent keywords to convert more sales.
Content & SEO Marketers – This A. I Copywriter software tool helps all SEO Marketers to build scalable in their websites and keep consistent your business.
Paid & Social Media Marketers – For social media marketers this A.I Copywriter software tool helps to create the best content to publish with high engagement and it is also used for the campaign.
Hypotenuse.ai Pricing
Hypotenuse.ai software tool will vary depending on pricing and plan.
Within an hour you can write the content according to your choosing plans and features.
You can make content in more than 20+ languages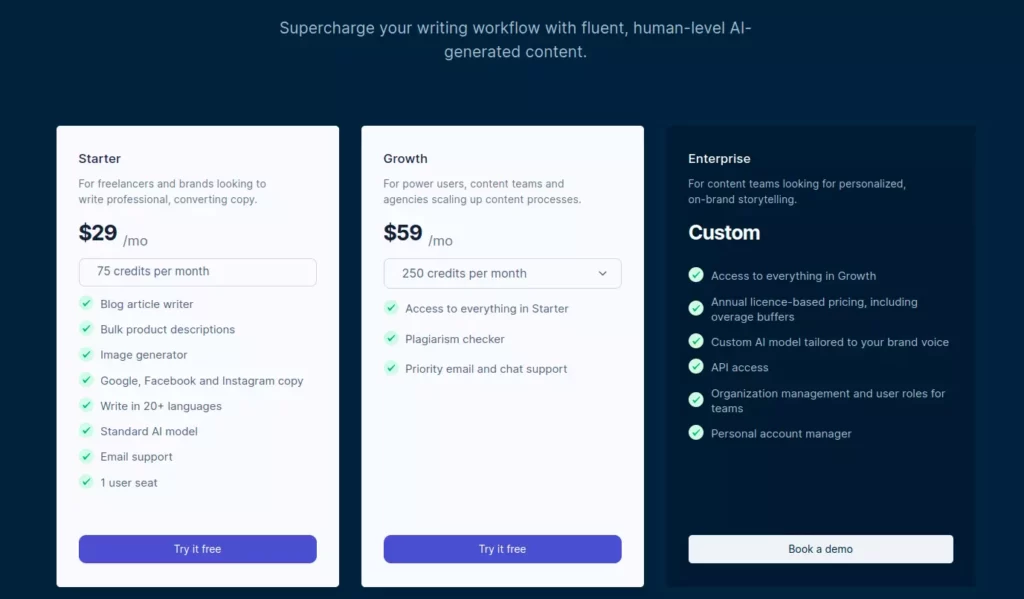 Monthly Plan for Hypotenuse.ai Software Tool
Hypotenuse.ai copywriter tool has 3 plans to use,
They are,
Started Plan – $29 Per Month
Growth Plan – $59 Per Month
Enterprise plan – Custom Plan
Hypotenuse.ai Plans Details
Starter Plan
In this plan, you have 75 Credits to use it
1 seat will appear in the stater plan
You can write articles automatically
By using this copywriter tool you will be able to write bulk descriptions for your eCommerce website and others too.
With the help of this A.I tool you can use ad copy from google, Facebook, Instagram, and more.
Support 20+ languages to write content with A.I model software tools.
Chat support by Email is available in this starter plan.
Growth Plan
In this Growth plan Hypotenuse.ai software tool, it has 250 to 500 credits.
1 Seat is available in this plan
In this tool, you will write blog titles, descriptions, and ad copy for Instagram, Facebook, Google, and all other social
It has default A.I model for voice and other features
Plagiarism will be checked automatically if you need your content to check.
Integration with Shopify is accepted with bulk copy generations.
Customized CSV reports will be available.
Enterprise Plan
This plan has many new features which not had in the starter and growth plans.
You can give access to users to handle the account with the organizational team and others.
API access will be there it will give more functionality
All other features will be added with Growth Plan.
Hypotenuse.ai Features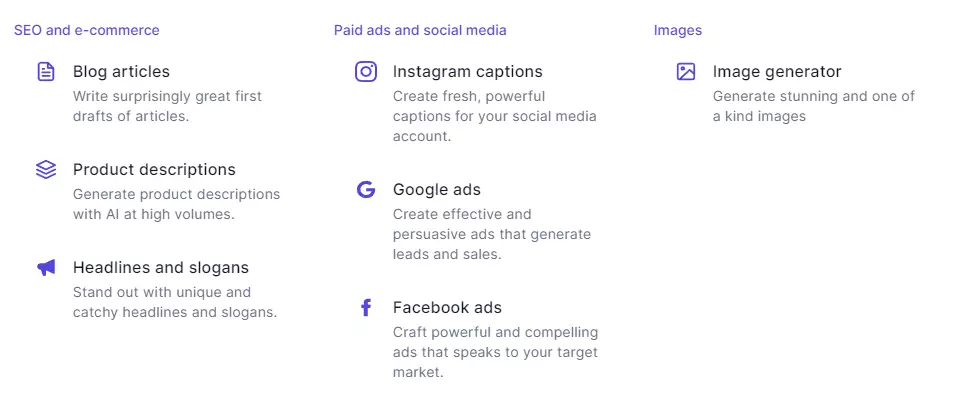 There are more features available in hypotenuse A.I copywriting software tool, they are,
SEO and E-Commerce
Paid Ads and Social Media
Images generators
SEO and E-Commerce
In SEO and E-Commerce the A.I Copywriter tool play important features for all business.
Blog Articles
Headline Description
Headlines & Slogans
Blog Articles – This software tool will help you to write long-format content to post on your website or other blogs within a short period of time.
Headlines & Slogans – This A.I Generated content to help you to write the best headlines and Slogans for the eCommerce website in the product section.
Product & Description – For E-commerce, it's easy to write content for the product names and descriptions to increase sales.
Paid Ads and Social Media
A.I Content writer tools help to run a business on social media, such as
Instagram Captions
Google ads
Facebook ads
Instagram Captions – If you are interested in captions to write on Instagram then it's good to use Hypotenuse.ai for better results.
Google Ads – Every new business focuses on google ads to run their business to get more successful and give awareness of their products or services. To give awareness or to run paid ads you need content.
For this content, you need to use this A.I generated a tool to give a better result for your business.
Facebook ads – Facebook campaigns are also one of the best ways to generate more traffic for every business. On this Facebook you can run ads by posting video content, story content, feeds, and other options.
Images generators – This Software tool helps you to generate good images for your content to post in social media and other websites to generate traffic.
Hypotenuse.ai Pros & Cons
Hypotenuse.ai Pros
You can write content in more than 20+ languages
Copymatic.ai software is user-friendly to use
Very Low Price software tool used for all types of business
API access is available
Enterprise Plan has the best features compared to the other 2 plans.
Hypotenuse.ai Cons
Need to give more integrations to connect
Review and Rating for Hypotenuse.ai
| PERFORMANCE | RATINGS |
| --- | --- |
| Usability | 9.4/10 |
| Performance | 9.8/10 |
| Online Ratings | 9.1 |
| Support Rating | 8.9/10 |
| Implementation Rating | 9.1/10 |
Hypotenuse.ai Trusted by

Conclusion – Hypotenuse.ai Review
Not but not least, in this hypotenuse.ai software tool, you will be able to use more functionality among the content writing to post in blogs, websites, and other uses. By the way, all business people will get benefit from using this software tool to save more time with writing content.
By using this software tool you can easily write content and upload it to your own usage, There is more content writing software tool available in the network.
Like
Jasper
Writesonic
Copymatic.ai and others.
You have to choose from this one for your business because these are the most important software tools used by all business people, agencies, & consultants too.
FAQ About Hypotenuse.ai Software
Is Hypotenuse.ai free?
No, you have to pay monthly basis to start with hypotenuse.ai software.
What is Hypotenuse.ai?
Hypotenuse.ai is the software tool used for writing content with A.I Generated a tool within a short period of time. Every Business website with content is built by A.I generated tools only.
Hypotenuse.ai Pricing?
Hypotenuse.ai pricing will differ according to their pricing plans. There are 3 plans available in this software, you can choose between them and try to write content with A.I generated for your websites.
Editor's Choice