Benefits of Salesforce CRM for Small Business – CRM (Customer relationship management) allows every business to manage customer's data information.
With the help of CRM you can store customer data, insights, track all information in one place and even you are able to store customer contact and account information.
What is Salesforce CRM?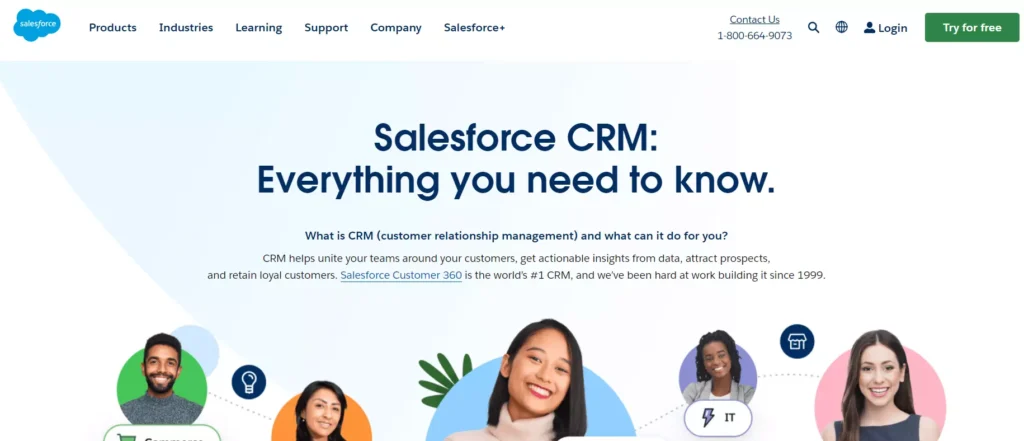 Salesforce CRM is one of the best CRM used by all categories of business like marketing, sales, IT, Customer support, Ecommerce business. You can use this one CRM for all types of business. It's great.
With have such features in Salesforce you can able to keep your customer happy,
With the help of salesforce 360 you are able to integrate CRM platforms and also Connect Apps. This Salesforce is used in many fields like Industries, Net Zero, Slack, MuleSoft, Tableau, and more other stuff.
Read more
Benefits of Integrating CRM with Websites?
How to Integrate CRM with Website
Best CRM Modules helps to Enhance Customer Relationship
Why is Salesforce CRM used for?
Salesforce CRM Software used for more reasons,
They are,
Salesforce CRM helps to attract more buyers using its personalized marketing strategy.
Salesforce easily identifies customer needs and solves their requirements.
It helps in Ecommerce industry to deliver the best experience in shopping.
In all channels, Salesforce CRM helps to respond faster to customer chat support.
Salesforce will automate the time saves.
What is Salesforce CRM for Small Business?
Salesforce CRM is one of the top CRM used by all business sectors. Even This CRM is used by small businesses to enterprise business levels.
In the current scenario Salesforce has more than 1500+ clients including giant companies like Amazon, American Express.
It is the fastest growing CRM widely used for small businesses to fill the sales pipeline through improved sales, retention, and productivity.
What are the benefits of Salesforce CRM for Small Business
Sales force is the cloud based CRM platform that enables all businesses to manage customer interactions, sales and marketing. In Salesforce CRM you can synchronize data from worksheet, emails.
To capture emails, meetings, phone conversations, Einstein Activity is more helpful.
Here are the benefits of salesforce CRM for small business,
Enhanced Customer Insights
Improves Sales Productivity,
Streamlined Marketing Activities,
Enhanced Collaboration,
Scalability
Do you need to buy CRM stock?
Enhanced Customer Insights
CRM helps to enable all businesses to gain salesforce 360 of their customers to store all data in one location. By storing all data in one location you are easily able to understand the customer's needs, behaviors.
Improves Sales Productivity
Salesforce provides some features to help sales teams to manage their workflow efficiently. Yes, Salesforce helps in lead management and real time data analytics which helps the sales team to drive more sales in less time.
Streamlined Marketing Activities
Salesforce helps to streamline the marketing activities in small businesses to create and execute marketing campaigns. You can use the campaign in email marketing, social media advertising and other stuff to generate more leads and drive more conversion of your business.
Read more about Advantages of CRM.
Enhanced Collaboration
With the salesforce you can collaborate with your teams to work effectively on their locations. Which includes shared calendar task management, real time collaboration features.
Scalability
Being a cloud based platform, Salesforce is scalable and easily customized to grow your business.
Key Features of Salesforce for Small Business
There are more features available in salesforce, but here are the important features,
They are
Content Management
Sales Management
Marketing Automation
Collaboration
Customization
Mobile Accessibility
Scalability
3rd Party Integration
Personalized User Experience
Content Management
In Salesforce, the CRM allows businesses to track important customer information such as interaction, contact details and more.
Sales Management
For small businesses, salesforce helps to improve sales and increase productivity. These features will include sales forecasting, sales performance tracking.
Marketing Automation
With the help of the Salesforce suite, Marketing automation tool helps to automate campaigns, streamline marketing and be able to track ROI of your business.
Collaboration
Salesforce helps to collaborate your business with team and customers. You are able to share information and collaborate in real time.
Mobile Accessibility
Salesforce CRM offers mobile applications for their users to access the features and works anywhere and anytime.
This feature allies every small business person to stay connected with salesforce customers and sales team employees.
Scalability
Salesforce helps to scale every business.
3rd Party Integration
In salesforce you are able to integrate more apps and features. Salesforce AppExchange currently has over 4000+ applications.
Personalized User Experience
Salesforce CRM helps to give better user experience for the clients to understand the insights and data for their business.
You are able to have access to monitor the client connections, transactions and more chats.
You have to read more about Workforce Monday software also.
To whom does Salesforce use it?
Salesforce is used for more industries, like
IT industry
Education Industry
Automobile Industry
Retail Industry
Banking Industry
Insurance Industry
Pricing of Salesforce Small Business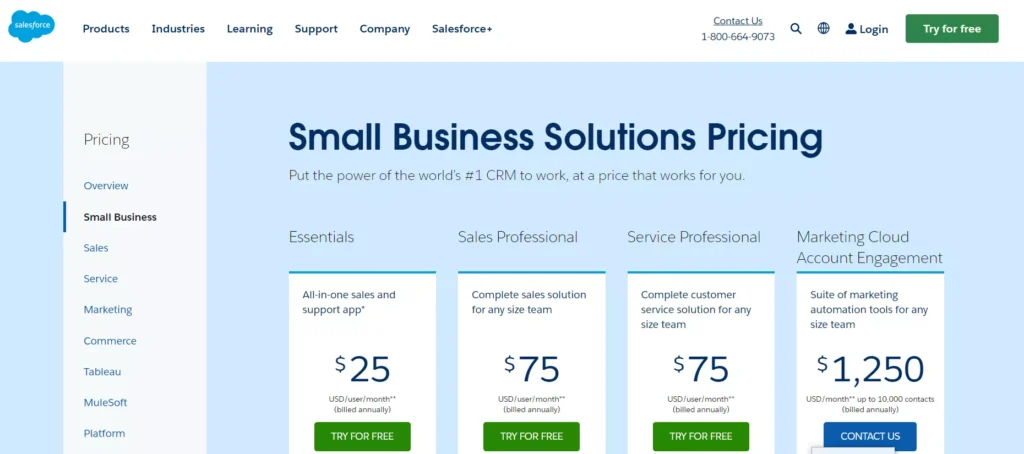 In salesforce, There are 4 plans available for small business, they are,
Essential plan – $25 per month
Sales Professional plan – $75 per month
Service Professional plan – $75 per month
Pardot Growth plan – $1,250 per month
Wrap up
Finally You will get the idea about the salesforce and how the CRM is useful for small business. By providing a comprehensive set of features and analytics, Salesforce CRM helps to enable every small business to streamline their sales process, helps to improve customer interaction, CRM also helps to improve every customer satisfactions and helps to increase revenue growth. This CRM has a user -friendly interface that helps all newbies to understand the features easily.
If you are just starting out or looking to grow your business to the next level, Salesforce is the CRM which helps to drive more revenue to your business for the long term.
FAQ
Is Salesforce suitable for small businesses?
Yes, Obviously Salesforce is suitable for small businesses with the help of increasing conversion rates. Pricing is not as high, So everyone will be able to afford this Salesforce CRM.
Which is the best CRM software for small business?
There are more CRM Software available in the market place but the best 5 CRM are,
Salesforce CRM
Zendesk CRM
Pipedrive CRM
Why is Salesforce good for small businesses?
Salesforce is good for small businesses because Salesforce CRM helps to grow faster in the sales pipeline. Yes sales are higher with better conversion in salesforce.
With the help of salesforce CRM you are able to do smart marketing, improve sales and productivity, and retain capabilities.
Is Salesforce free for small companies?
No, you can try salesforce CRM for free trial. The Salesforce CRM price starts from $25 per month.
How many small businesses use Salesforce?
There are more than 100,000+ small businesses using salesforce CRM for their business to drive more sales and good conversions.
Recent Blogs