In 2023 jasper.ai and frase.io are more powerful tools to generate brainstorming content ideas using AI (machine learning).
With the help of Jasper and Frase.io you can create the best engagement content quickly and easily within less time.
Jasper and Frase.io helps you to create unique content and also helps to improve SEO (Search Engine Optimization) for your blogs, articles and ecommerce product content.
So, In this article we have covered everything about pros, cons, features, pricing plans, major differences about both jasper and frase.io.
Frase.io vs Jasper AI – Overview
Every Business person struggles to write content for their business, yes I too struggle in an early period of time to write optimized content for my business before knowing the jasper and frase.io software tool.
After using these tools, it's very easy to write articles, blogs within a short time and also it saves me more time.
These two frase.io and jasper AI tools help you to generate optimized SEO content with solid proof.
Both 2 AI tools have the same functionality with different key features, and pricing plans. So find below to know more about these two AI software tools.
If you need to read frase.io review?
What is Frase.io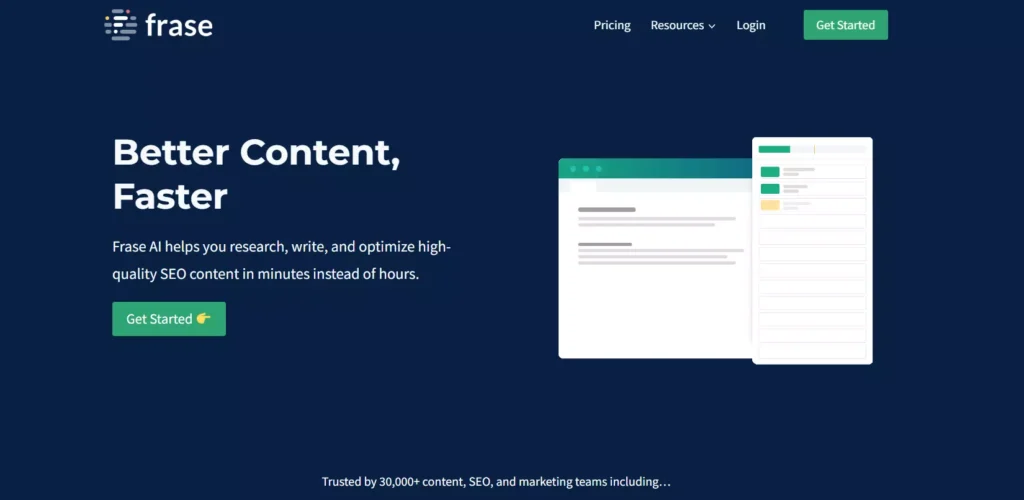 Frase.io is the Artificial intelligence software tool, which helps you to focus on Optimized SEO content with keywords to write best articles. With the help of frase.io you can easily write your own content in a quickest way.
By using the Frase.io AI tool you can generate more content within a short period of time. You know you need to wait for an hour to write brainstorming content.
Frase.io has more options to use. Similarly the templates are very useful for people who need to write sales copy, blog posts and more of them.
Frase is a Keyword based approach tool. If you enter your keyword into the search bar icon, frase.io AI takes care of the rest of the items.
Accordingly, Frase.io AI software tool search on the internet and show the top result of the given keyword and also helps you to show the similar content in the search engine ( google, bing, yahoo., etc)
By showing this existing content, frase.io starts to generate unique brainstorming content for given keywords and given topics in the search bar.
Frase.io takes less time to complete great content and changes accordingly with comparing competitor content in search engines and publishing it on live with your permission.
Frase.io helps you to beat your competitor's content with identifying suitable keyword suggestions given from frase.io. Frase.io also tells it to refresh the content when it needs to push ranking on search engines.
Frase.io helps you to notice the ranking opportunities and also helps to boost ranking on search engines by providing better content.
In 2023, Frase.io is mostly usable by all SEO experts and in all marketplaces to serve its needs.
What is Jasper.ai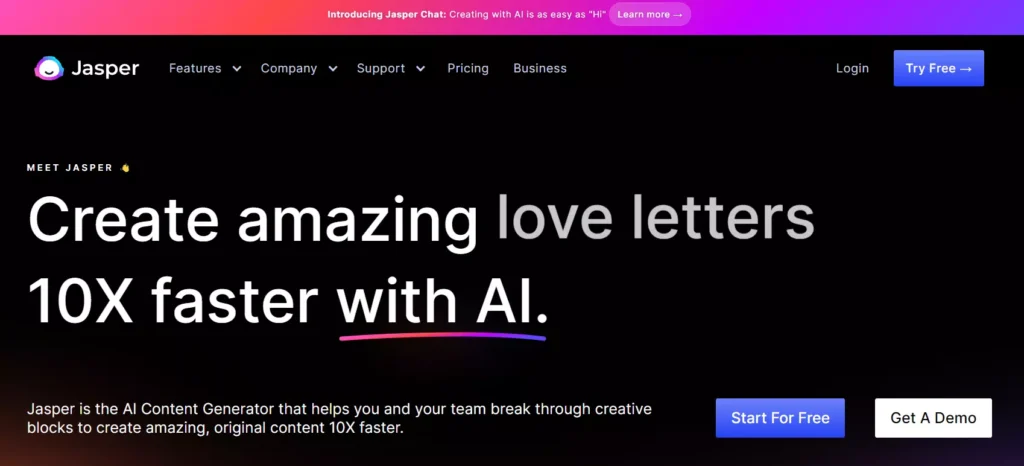 Jasper.ai is one of the best Artificial Intelligence software tools, helps you to create 100% unique content. Compared to other AI tools, Jasper AI is 10x Faster to write great content.
Jasper.ai helps you to save more time and generate more efficient quality content for your business.
Jasper.ai helps to write brainstorming content for Agencies, Freelancers, Professional Writers, Entrepreneurs, small business, large business and more business.
You are also able to generate content automatically with the help of jasper.ai special features.
Jasper AI helps you to write,
Product descriptions,
Articles,
Sales copy,
Blogs,
Long form content,
Short form content,
Create content for landing pages, and more.
Jasper.ai helps to write SEO friendly content with more optimization. This also helps to create no plagiarism content which will be more helpful for content writers.
Jasper AI helps content to enhance with better ways to improve its quality better than competitor content available in search engines.
Jasper AI software tools have breaks language barrier. Yes, Jasper has more than 25+ languages to generate content for all kinds of people. It's really a cool feature, that everyone can use this jasper AI to generate content in their own language.
Jasper AI has the best interface which will help all users to use this software tool without any disturbances.
You can use all features within the same dashboards. You no need to switch multiple applications in multiple tabs or windows.
Wow. It's a great feature for users to use it.
Frase.io vs Jasper AI : How does it Work?
Both Frase.io and Jasper AI work with one click options. Yes, If you choose certain keywords on their search bar and click to generate. Now See, you can get the unique brainstorming content within 5 minutes.
But, you can see some different features and options when fraser.io, Jasper AI works to generate content. (Algorithm will be change)
Let see,
How Frase.io Works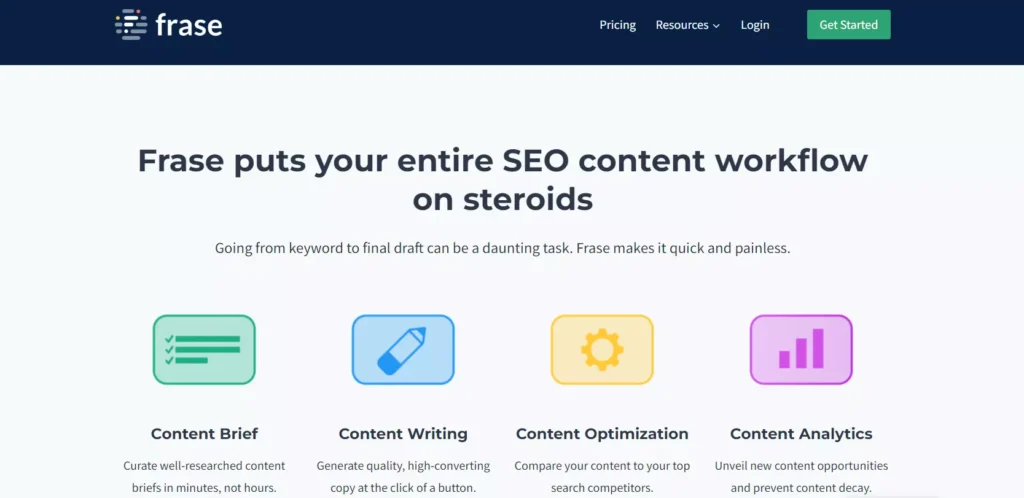 By using Frase.io software you will increase your ranking factors on all search engines. Frase.io is typically a SEO ecosystem highly modified to help content to get rank well to index in the top ranking page of your websites.
Before generating content, Frase.io checks twice on top ranking pages in search engines and analyzes the competitor content and creates its own unique content to beat competitors in ranking.
After Creating content with Frase.io, the AI tool will ask permission to upload the content live. Once you verify the content and change the keywords, and more stuff you can upload it on your website or others websites.
Before uploading content on a website, check the scores of your content if it is more than a good percentage you can ready to post.
Frase is only for SEO purposes only, you need more content to generate you can go with article generators.
How Jasper AI Works

Compared to Frase.io, Jasper AI also has more features and functionalities. I think you already know about Jasper? Right. It will be 10X faster than human writing and other software tools.
With using Jasper AI you will do more functions,
Like,
Content Writing,
SEO optimizations,
Quality & unique articles,
Blog Post,
Ad copy,
Essay,
Templates and more stuff.
Before Writing content with Jasper AI you need to feed keywords to start. It's so easy right.
Just adding keywords into Jasper AI dashboard.
Now, Start to click Generate options to create your own unique content, Now see. Within lesser time Jasper AI is able to generate more content. ( It's Unbelievable right).
Yes, Creating content is super easy with the help of Jasper AI.
Compared to Frase.io, Jasper took less time to complete the content with optimizations with Quick.
Best Comparison : Frase.io vs Jasper AI
| | | |
| --- | --- | --- |
| Key Features | Jasper AI | Frase.io |
| Content Types | You can generate Long form of content | You can generate Long form of content |
| Surfer Integration for SEO | Yes, you can | No |
| SEO Features | Yes | Yes |
| FAQ Integration | No | Yes |
| Plagiarism Checker | Yes | No |
| Style and Tone to write | Yes | Default |
| Content Brief Structure | Yes | Yes |
| Supported Languages | 25+ Languages | – |
| Free Trial | Yes | Yes |
| Ratings | 9.3/10 | 9.5/10 |
| Ease of use | Yes | Yes |
| Grammar for AI Writing Assistants | Best | Best |
| Style Editor | No | Yes |
| Citation Finder | No | Yes |
Key Features Compared : Frase.io vs Jasper AI
| | | |
| --- | --- | --- |
| Key Features | Jasper AI | Frase.io |
| Best Content Outlines | Jasper AI cannot create outlines for optimizing keywords, but it works well with pre-existing Templates. | Frase.io is best to use with curated optimized content. |
| Refresh Content | Jasper AI refresh your old content to give best result | Frase.io not have this features, it will update later |
| Compare Competitor | Jasper AI does not have such options to compare competitors to write content. But Jasper AI is still in the benchmark of SEO friendly. | Frase.io will compare content with competitors on top SERP ranking websites and start to make content for you. |
| Remind for Better Ranking | Jasper AI does not show any reminder or analytics in their dashboard. | Frase.io shows ranking keywords analytics and it will even help you to rank non-ranking keywords by providing quality content. |
| Languages support | Jasper AI support 25+languages to create content | Frase.io does not have that feature, but it only creates better outlines and important points. |
| Research and Outlines | Jasper AI can research well and give good unique content without any duplication like plagiarism. | Frase.io can research but create outlines of content only, but it's enough to rank better on SERP. |
| Fast | Jasper AI completes content with AI within lesser time. | Frase.io completes content with AI within lesser time. |
Frase.io vs Jasper AI : Which is best for SEO? Why to Choose?
Both frase.io and jasper.ai are good tools to optimize your content to rank on SERP (Search engine ranking page).
Anyway, which is best?
Most People say frase.io is best to use for content optimizations. Yes, Absolutely they are right. Frase.io helps to maximize optimizations and provides better insights and reports compared to jasper AI.
Even if any Google algorithm changes, Frase.io supports to give better results for their client or users website.
Frase.io helps to research keywords and content automatically, which will reduce your time to write brainstorming content.
Frase.io helps to create marvelous content outlines and SEO optimization keywords, which will help you to bring your keywords into top pages on google.
Final thought about two AI tools,
If you do not have a better content writer or to create brainstorming ad copies in your company, you can choose Jasper AI. Jasper AI gives better content with lesser time.
Yes, Jasper AI gives its own metrics which is a phenomenon to use for content generations.
If you need to rank well on search engines by using such important features like Content optimization, Title, Create marvelous outlines then you have to choose Frase.io.
Yes, Frase.io offers NLP optimized content with integrated Copyscape into the frase.io dashboard.
Which helps you to get non plagiarism content quickly.
If you are starting to use both 2 AI tools, you can do it. Check which tool is better for your website or in business. Because Tools will work well based on business needs.
Frase.io vs Jasper AI: Pricing Plan
Here we have collected the pricing plan for both frase.io and jasper ai software tools,
Let's see the pricing plans.
Frase.io Pricing Plan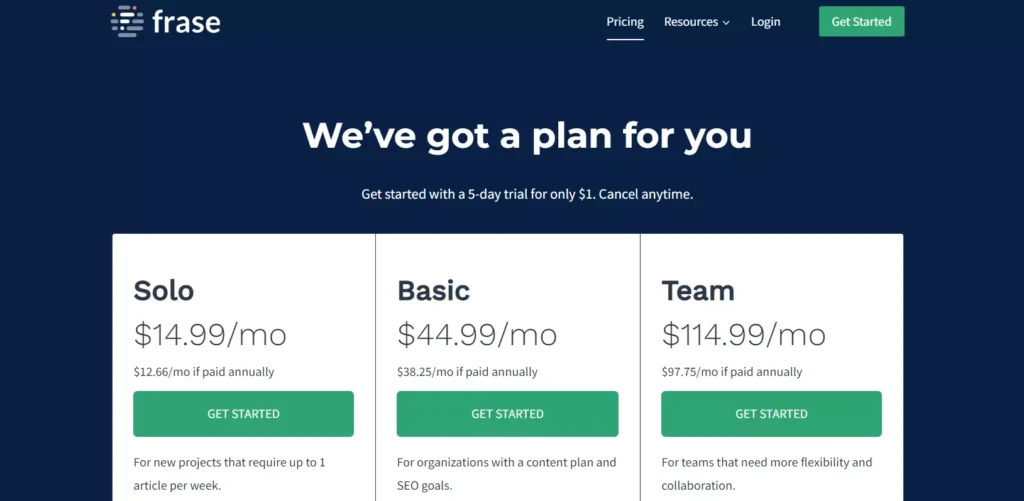 In Frase.io you can use it for a 5 day trial with only $1. You can cancel it at any time.
Frase.io has 3 plans,
They are,
Solo Plan – $14.99 Per Month
Basic Plan – $44.99 Per Month
Team Plan – $114.99 Per Month
If you pay Pro Add on for $35 Per month you are eligible to use unlimited AI generated content with more premium features (Such as Keyword search volume, SERP Data Enrichment, Frase AI Writer), which will help your website to boost in ranking factors.
Jasper AI Pricing Plan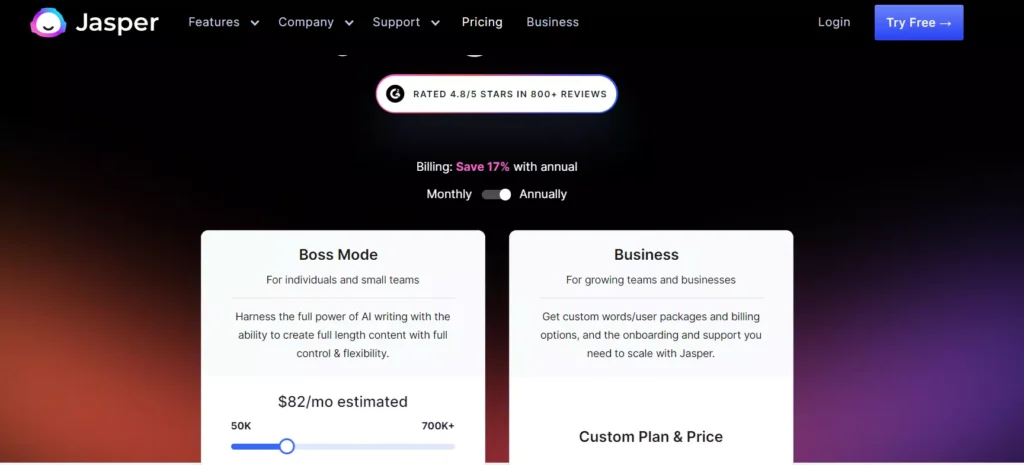 In Jasper AI you can use it for a 5 day trial, with 10k Credits.
Jasper AI has 3 pricing plans,
They are,
Starter Plan – $29+ Per Month
Boss Mode Plan – $59+ Per Month
Business Plan – Custom Pricing in this plan ( $499+ Per Month)
In a custom pricing plan, you can handle more than 5 users with more custom AI templates and admin workspace features.
You will also have a dedicated account manager for this plan.
Frase.io vs Jasper AI: Pros & Cons
Every software tools have its own features with more benefits and drawbacks,
Let see what are they,
Frase.io Pros
Frase.io well researched content briefs in minutes.
You can generate high quality outlines, and high converting copy with one click options.
Frase.io will compare competitor content in search engines before starting to write an outline.
You will see the content analytics in the dashboard
Frase.io helps to find depth content analytics to increase ranking
By using Frase.io you can save more time
Frase.io helps you to paraphrase and rewrite the content if needed.
Frase.io Cons
You can only write outlines of content, not build for writing.
Jasper AI Pros
Jasper AI helps to write content with 10x faster
Jasper AI helps to write 100% unique content
Jasper AI has Chrome Extensions
Jasper AI creates, shares it own recipes
Jasper AI helps to write better SEO friendly content for search engine
More templates available in Jasper AI
Jasper AI has Grammar checker, Plagiarism Checker tools to generate unique content
Jasper AI supports more than 25+ languages
Jasper AI Cons
Jasper AI removed unlimited plans from its roster.
Jasper AI repeated the same content for some time.
Frase.io vs Jasper AI : Features Comparison
Every AI tools build with their own customization and own features to help every user for their business purposes. Lets see the features of frase.io and jasper AI.
Frase.io Features
Frase.io has own features like,
Content brief recommendation – Helps to write brief content with well researched content in less than a minute.
Sentence rewriter – This feature will help to rewrite the existing content into new content with accuracy and readability.
Audit SEO – With using frase.io you can audit SEO for your content.
Content Writing – You can write content with outline in frase.io with one click.
Content Optimizations – Frase.io compares your content with top search pages, it will help you to get some ideas about it to boost your ranking page.
Competitor Analysis – Frase.io helps to analyze competitor content
Content Analytics – Frase.io helps to analyze old content and helps to improve new content decay.
Jasper AI Features
Jasper AI have more features, They are
Text Summarizer – Jasper AI helps to write text summarizers with keypoints.
Paragraph Generator – To captivate your reader, jasper ai creates paragraph generators
Product Description – Jasper AI helps to write Product descriptions in websites, emails, social medias
Creative Story – To engage your readers on your website, jasper ai creates marvelous story
Content Improver – To improve old pieces of content into new, content improver will be used.
Blog Post Topic Ideas – To create blog post topics, jasper ai is used.
Blog post Outline – To generate blog post outlines, jasper ai is used.
Blog Post into Paragraph – To write better paragraphs in blogpost, this option is used.
Blog Post Conclusion Paragraph – To write better conclusions (Wrap up),for your blogpost, jasper ai is used.
Features to Benefit – This option helps you to write feature products with its benefits.
Sentence Expander – Jasper ai helps to expand short sentences into long form of sentences with interesting and engageing.
Personal Bio -To capture the attention of audiences, jasper ai helps to write better bio.
Facebook Ad Headline – Jasper ai helps to write quality facebook ads headlines to get maximum clicks and conversions.
Company Bio – To write a company bio, jasper ai will help more.
Facebook Ad Primary Text – Jasper ai helps to write better ad copy in primary text.
Google Ads Headlines – Jasper ai also helps to write brainstorming headlines for run ads on google workspace.
Google Ads Description – Jasper ai also helps to write brainstorming descriptions for run ads on google workspace.
SEO (Title and Meta Descriptions) – To write better seo title and description jasper AI will help a lot.
Real Estate Listing – To sell homes quickly, jasper helps to write creative content.
Amazon Product Features – To create key features, bullet points of the product in amazon.
Amazon Product Descriptions – Jasper AI helps to write amazon product descriptions with listings.
Perfect Headlines – Jasper AI helps to write high converting headlines with world's best copywriters templates.
Wrap up : Frase.io vs Jasper AI
Testing software is over.
Finally both two AI software tools perform well in their own category. In my opinion you can use both software tools once and check manually with your business.
In my case Frase.io will give the best content outline, but jasper ai helps you to generate SEO optimized content.
Both two software tools generate high quality content quickly to help to achieve certain goals.
From my point of view,
Frase.io Provides in-depth content analysis and keyword metrics.
Jasper helps to provide better content optimization and easy to use its interface with more automations.
If you are interested to read AI text Generator, AI story generator you can.
FAQ – About Frase.io vs Jasper AI
Which is better: Frase.io or Jasper AI?
Really it is a hypothetical question. In my opinion, Frase.io is better than jasper.
Is Jasper Ai good for SEO?
Yes. Jasper ai is good for SEO, because jasper produce 100% unique high quality content with SEO optimized, without has plogiarism.
Is Frase good for SEO?
Yes, Frase is good for SEO. It will help you to generate outline of blogs from analyzing competitor top ranking page results.
What is Frase AI?
Frase ai is the best tool for writing content outlines to rank well in google ranking pages. More than 30,000 business people trusted frase.io.
Is Frase worth it?
Yes, Frase is worth doing for better SEO in 2023.
Is Frase free to use?
Yes, frase.io is free. You can sign up for a 5 day free trial.
Is Jasper AI free?
Jasper AI is free for the first 10,000 words and you have to pay for a paid version to continue.
Can Jasper.ai rewrite an article?
Yes, you can rewrite an article or blog using jasper advance features and options.