Socialpilot Review
Socialpilot.co is the software that helps social media to post content regularly and get reporting data with content curation. Mostly Socialpilot.co software tool is used in the USA. Because the USA knows which software work for their Business to reach high Profitable portfolio.
Do you know why the USA is the top country in the world? Because they are using the Best software and tools like Socialpilot.co.
The best software will always give good results to you.
Here this socialpilot software Support Instagram, Facebook, Twitter, Linkedin, Youtube, Pinterest, Tiktok and so on.
You can share more than 300 posts and use the above 100+ Social media profiles in one socialpilot.co account.
Sharing your data and making scheduling features with the team play an important role in this software tool. Based on these features most USA-based Small Business companies use this software widely.
You can detail analyze data floating on your social media account and keep watching your analytics data which helps you to do additional activities.in your social media.
You can able to set up a calendar to schedule your Post for social media in this software.
Socialpilot.co is a great tool in the Social media management tool industry, which has competition with the Best tools like Hootsuite and Buffer. There are more than 100000 Social media management software tools listed on the internet but Socialpilot.co software plays an important role here.
Compare to all small to enterprise businesses Socialpilot.co software has a good reputation. This software has goodwill and good userfriendly so every SMB peoples buy this software and use its features.
Mostly this Software tool is focused on the scheduling concept.
Like,
Facebook Schedular,
Pinterest Scheduler,
Tweet Schedular,
Instagram Scheduler.
Socialpilot Pricing
Socialpilot Pricing is suitable for all small business, medium business, and enterprise Businesses with completely no Credit card details required.
You can use it with 14 Days of free trials.
Let's see about Socialpilot Pricing Plans
Agency Plan
Studio Plan
Small Team Plan
Professional Plan
Monthly Plan for Socialpilot.co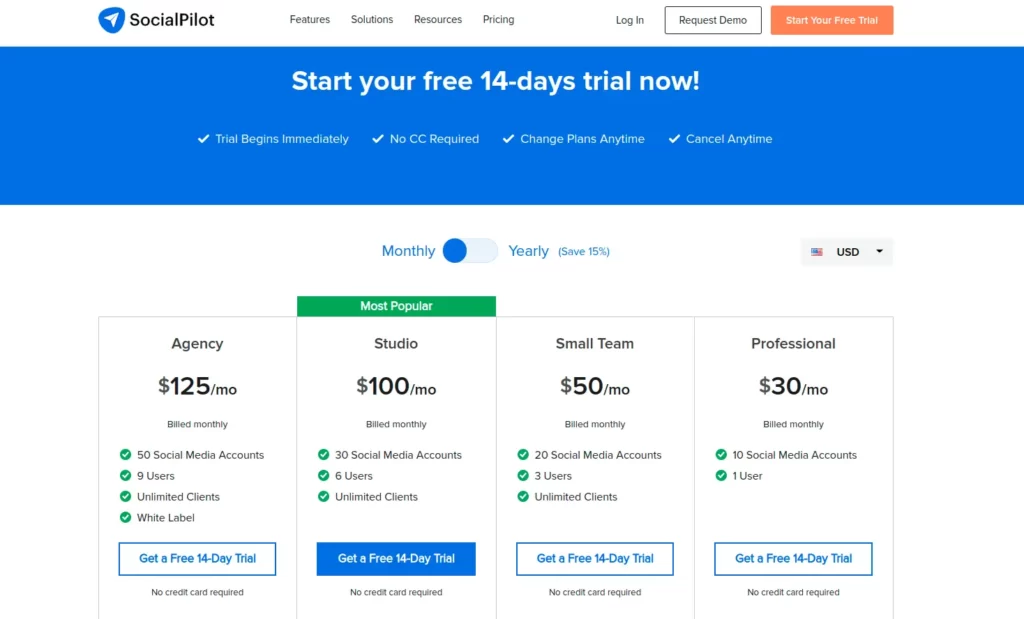 Agency Plan
In this agency plan you will be paying $125 per month, and need access to 50 social media accounts, 9 users able to use, have unlimited clients with white labels.
Studio Plan
In this studio plan, you will be paid $100 per month. This Studio plan is the most popular plan used by many small business companies to handle their all social media accounts. You can handle most 30 social accounts, You can use with 6 users, and handle Unlimited clients.
Small Team Plan
In this small team plan, you have to pay $50 per month. In this plan, you will handle 20 social media accounts, with 3 users and handle unlimited clients.
Professional Plan
In this Professional Plan, you have to pay $30 per month. In this plan, you will handle 10 social media accounts with handle 1 user.
Yearly Plan for Socialpilot.co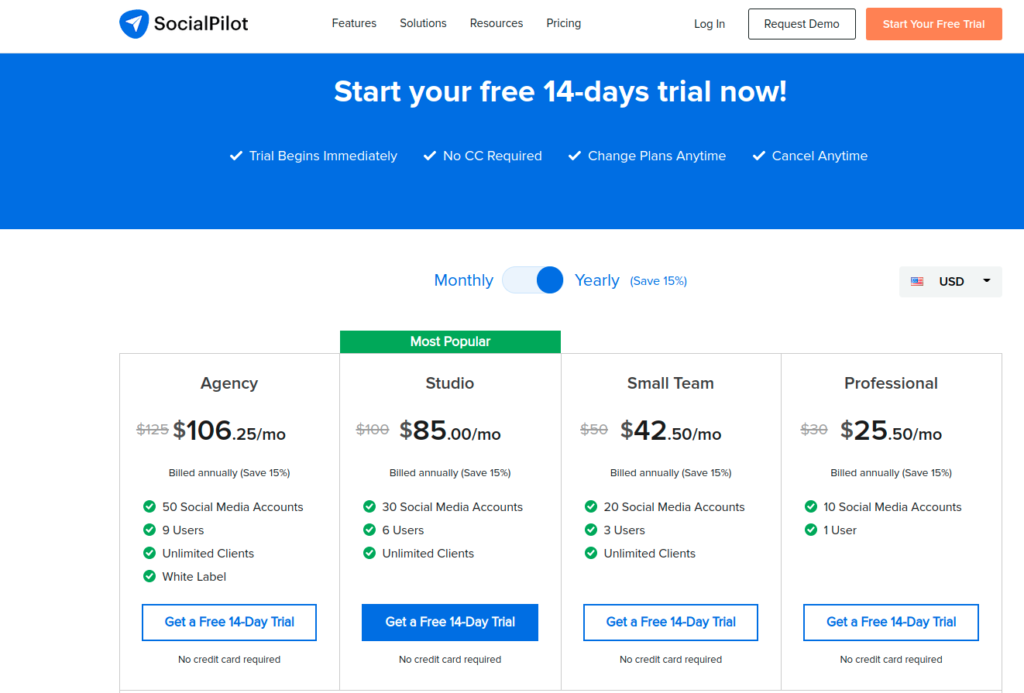 Agency Plan – $106.25 Per Month
Studio Plan – $85.00 Per Month
Small Team Plan – $42.50 Per Month
Professional Plan – $25.50 Per Month
Note – In All Plans, you can able to use a 14-day free trial without giving your Credit Card number.
Socialpilot Features with Comparison
In Socialpilot software, you can use social media management tools, and also you can able to use advanced features.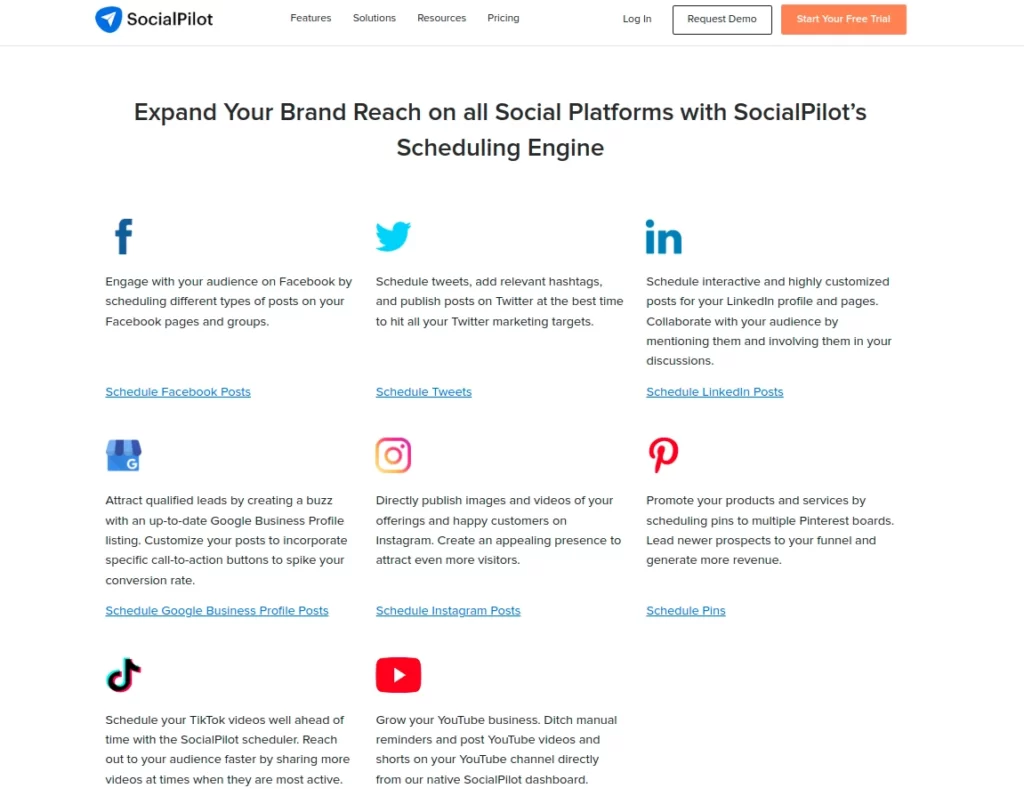 Basic Functions with Socialpilot
In all Plans, in socialpilot software tool, you will be doing basic things, such as
You can schedule posts from RSS feeds,
You will be get supported by the Socialpilot tool
You can handle more than 10+ social media accounts as per plan and pricing
Team Management will be done according to your selected plans
More than 9 social media accounts you can able to use
Socialpilot Pricing will be based on the plan.
Socialpilot Publishing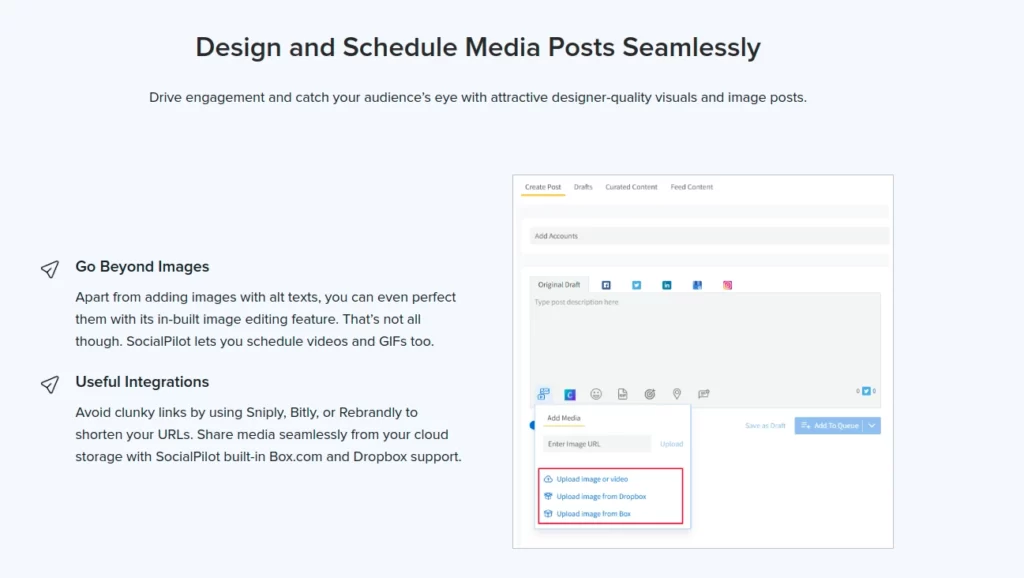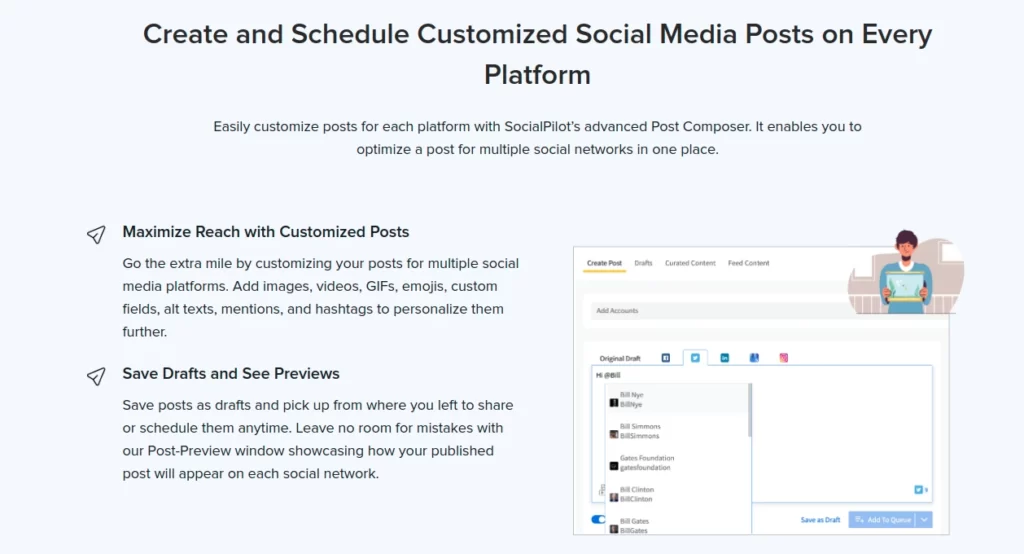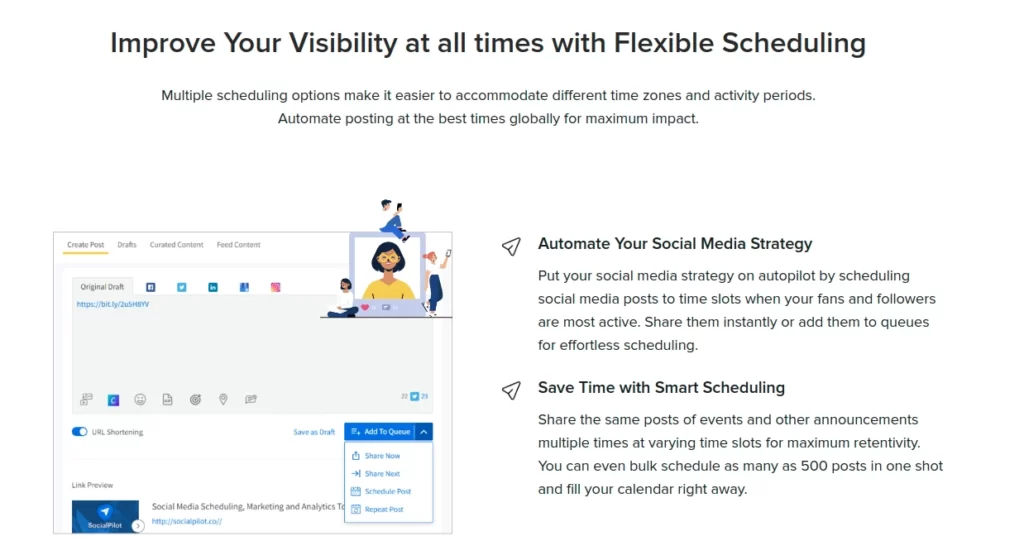 Smart Queues
With these features of smart queues, socialpilot will directly add your content to the queue for auto-scheduling your post. With the help of the queue, you will post content according to prime time.
Scheduled Post
With these features of socialpilot tool you can manage the post and able to schedule the post individually within your best time.
Bulk Scheduling and CSV Uploads
One of the best features of socialpilot tool is this, You can post multiple different posts with images and posts at a single time. This function gives more usability to many business people.
Calendar View
In this calendar view, you can schedule your post easily according to calendar dates, and if you need to change post at different times you will be simply dragged and dropped on certain dates.
Post View
In this feature, you will be able to see a preview before you publish a post on all social media which helps you to see the preview version easily.
Customize Post From Each Platform
In this feature, you will customize images after you selected your post according to your social media. You can change content, and hashtags similarly from all social media accounts and you can customize from one end.
URL shortener
In socialpilot software tool, you can short your post URL if it has long with the help of bit.ly, snip.ly, rebrandly before you publish your post.
Boost Post
You can boost your Facebook, and Instagram posts with the help of adding Facebook ads account in socialpilot software tool after scheduling your publishing post and boosting your post according to your plans.
Group Accounts
In these group accounts you can group your client all social media accounts in one place and if you post images on social media you can single click with the tool, then automatically post will be published. While scheduling content you can simply select a client group rather than click an individual social profile.
Socialpilot Content Creation

Content Curation and Discovery
If you search for a keyword you will get unlimited content for social media and you can schedule this post also.
GIF & Video Post
In this socialpilot software tool, you can also post your GIF and Video posts according to your business needs and schedule.
Multiple Image and Carousel Post
On every social media platform, you can able to edit the images individually with more than one image and post it simultaneously.
Draft Your Post
You can able to edit your post and make it in the draft, when it needs you can schedule the particular images to publish on social media.
Audience Targeting
You can ensure the right audience for your business with the help of a Facebook audience and more before you schedule the post. In this socialpilot tool, you will choose the right audience as well.
Mentions your Tag
By using post composer in socialpilot you can directly target your tag accounts and easy to build the right audience in the snipper approach method.
Instagram Image Tagging
By using Post composer in socialpilot you will be able to collaborate with tag and other Instagram accounts directly with your image post.
Location Tagging
In socialpilot software, before you schedule your post you will tag the location. This will help your post to show in certain locations around.
Custom Call to Actions
By using social composer in socialpilot, you can add landing page links to your Facebook post, and GMB post which increases your CTR on your business landing link.
Image Editor
In socialpilot tool, you can edit images, ratios, text, and stickers for every social media account.
Visual Editor for Social Media App
In socialpilot tools, You can create your own images, and also you can choose your existing image to mention watermark by using the mobile app.
Usage of Socialpilot Analytics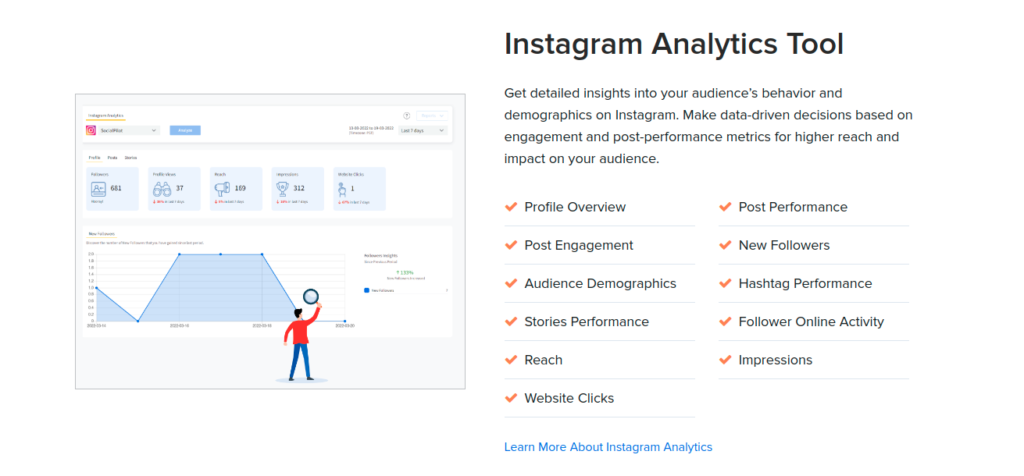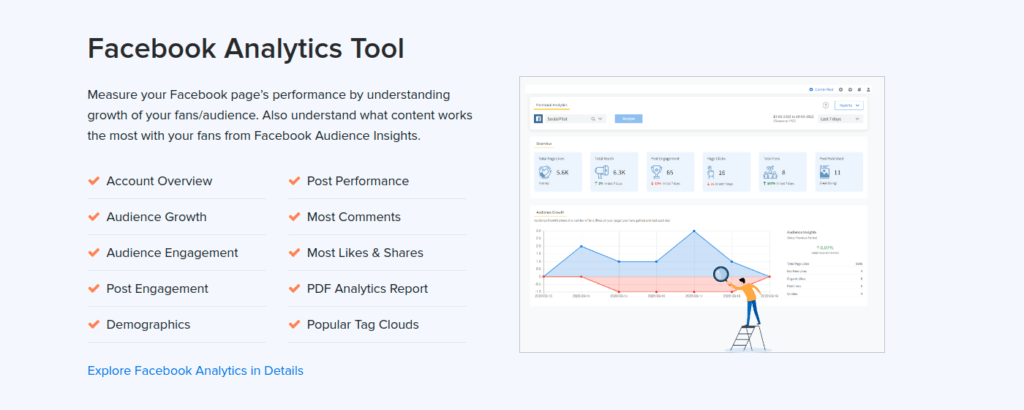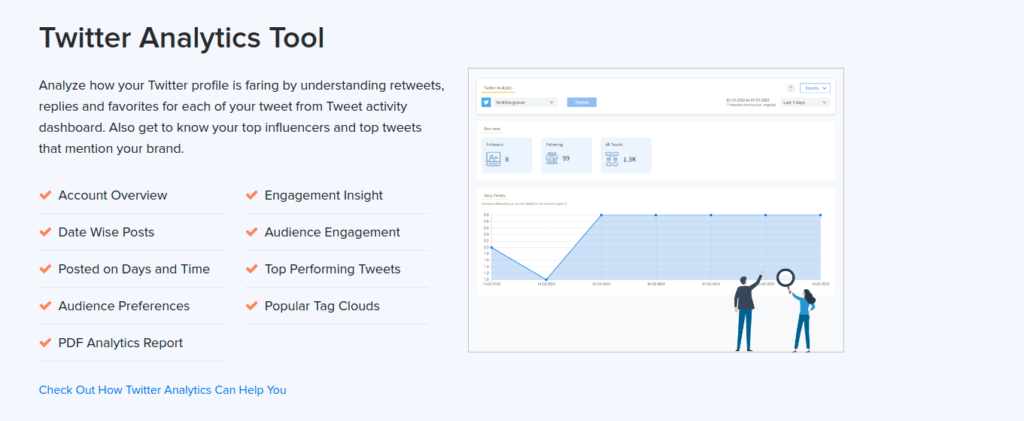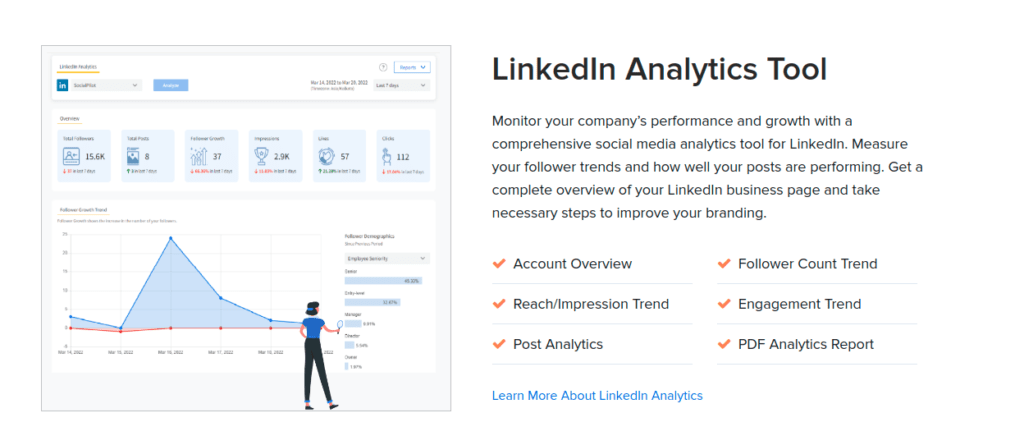 Detailed Social Media Analytics
In your socialpilot account, you can able to handle more analytics data, and you can implement new data streams. You can analyze the ratio of all social media accounts by getting your audience insights, audience behavior, the best time to post, the Performance of your post, and so on.
Post Performance
You can able to find the performance report basis on socialpilot account such as which post performing best to your audience and which posts not performing well. You can see the performance matrix by every individual social account with socialpilot software tool.
Whitelabel Reports
You can customize your report with a PDF file
Send PDF Report via Email
In this Socialpilot software tool, you can share PDF reports whenever you need and you can share this PDF with your client at any time.
Schedule Report
In this socialpilot software tool, you can automatically generate and share your monthly, weekly, and daily reports via email. This feature is absolutely good.
Uses of Socialpilot in Social Inbox
Replying to the Comments
You can reply messages to on your Facebook, and Instagram and keep your conversation regular without any disturbance.
Reply to Messages
You can able to answer the queries rise by your followers on Instagram, and Facebook within a single window of socialpilot software tool.
Reply to story Replies
You can respond to all Instagram stories in the socialpilot software tool directly.
Reply to Facebook Page post
In this socialpilot software, you will respond to all replies from your Facebook page directly with the help of a single window screen in socialpilot dashboard.
Team and Collaboration with Socialpilot tool


Many social media management tools do not have the best team and collaboration features, but in this socialpilot tool collaborating with team support is good. This is also one best thing to buy this Socialpilot software for small and enterprise business to handle their Social media management.
Client Management
Onboarding client and new user account easily share by secured link, Collaborating with clients is not an easy to process in socialpilot software.
Content Approval Workflows
To approve content from socialpilot team manager or you will easily approve it from your dashboard. You can also able to approve the content which has been scheduled by the content creator.
Facebook Ads
Highly socialpilot tool will be used for Facebook ads to Boost their post, images, content, and so on.
Schedule Boost Post
By using this socialpilot tool you will be get scheduled by weekly, or monthly on Facebook according to your client's needs.
Boost Popular Post
You can boost a high-performing post on your Facebook, and also socialpilot software tool suggests you to post performing content with the help of these SMM tools.
Ads Analytics
Most importantly you will measure the audience and get reports according to your performance in Facebook ads and be able to calculate ROI.
Using Integration & Apps
Zapier Integration
Without using a single line of code you can integrate your accounts with zapier integration. This feature is so good for all who don't know to code. After integrating with zapier you can do a lot of marketing work for your business.
Browser Extention
You can able to use the Browser extension for your work to post your content on social media from anywhere.
Mobile app
Socialpilot software will work on both ios and android. With this software you can create posts, publish posts, see analytics data, and able to create your content with your socialpilot mobile app.
Canva Integration
In this socialpilot software tool, you can set up integration with canvas premium or pro. With this canvas software, you can create the best catching images to post on your social media.
Dropbox and Box.com Integration
Dropbox integration will help you to upload different images for your business with socialpilot tool. You can directly upload the images with Box.com also while you schedule the post this work will be done.
Support and Community with Socialpilot
Customer Support
With this socialpilot software tool, you can get reliable access to get support via email, chat, mobile application, or through call. All this support will be done at your own convenience time.
Concierge Setup
One of the best features of this socialpilot tool is this, You can get assistance for setting up your accounts, the integration works, customizing tools, and others from Socialpilot.co team.
Self-Service Knowledge Base
In this software tool supporting articles are always available to you to get more information about how to set up accounts, integrate set up, and how to customizing accounts. So with the help of this article, you can able to do these setup processes.
By using these all features in your social media management, you can run your business in the most profitable way and you will get more ROI return for your business. Socialpilot software is best for all business people.
By any mistakes happens to your account in socialpilot, you will directly get assistance from the support team via email or calls, with your comfortable time, with this you can clear your error in your account within a short period of time.
What is Social Pilot Used for?
Socialpilot is the software tool used for social media management works to post content, images, and videos on different types of social platforms with scheduler. This socialpilot software tool is mostly used by agencies, small business people, and others. You will manage more than 30 different social media accounts for you and your clients.
Prons & Cons of Socialpilot Review
In this chapter, you will get more information about the advantages and disadvantages of socialpilot tool.
Pros of Socialpilot Software tool
Value of money is worth buying this socialpilot software tool
The feature is most unique in this software tool
User-friendly tool and ease of tool for every business people
Customer Support services are one of the best features of this socialpilot software tool.
Cost is good for small business people to buy this best software in Social media management.
Compared to other SMB software this socialpilot software is the best in all features and integration parts.
This tool is an updated and consistent tool, for social media purposes. With this tool, you can do multiple professional roles.
You can do all types of activities such as share, edit, integrate, upload, schedule, and others which is easy for all.
It's an easy to process to track your scheduled post.
Analytics data is good in this software.
With help of socialpilot software tool, you can save more time, and you are also able to maintain more than 30 accounts based on your plan and pricing.
Cons of Socialpilot Software tool
Socialpilot software tool upgrades their software often, so you have to learn all the time when it will be upgraded.
FAQ for Socialpilot Software
Is Socialpilot tool is easy to use?
Yes, with one click you will be set up entire fields in socialpilot software tools. You can able to set up multiple accounts with one click process.
Which Social media would socialpilot connect with?
Socialpilot account will be connected by Facebook, Instagram, Twitter, LinkedIn, GMB, Pinterest, & VK
Can I schedule an Instagram post on Socialpilot?
Yes, of course, you will be scheduled for an Instagram post on Socialpilot but you need to click manually to publish the post or you can get a notification message when your scheduled time gets arrive.
Is Socialpilot provide API?
Yes, socialpilot Provides API.
What is the best alternative software tool for socialpilot?
There are some software that has alternatives for socialpilot tool, they are
Hootsuite
Sprout social
Sendible
Eclincher and more.
Does Socialpilot have Free Version?
No, but you can try with a 14-day free trial, and after that, you have a good reputation among this software you can upgrade to the paid version or you can cancel at any time without using your credit cards.
Is Socialpilot Software a tool Legit?
Yes compared to other social media management software this socialpilot tool is legit and has a high good reputation, and people say this software is easy to use, compared to other software.
Socialpilot Software tool Trusted By