Brand24.com Review – Overview
Brand24 is the software tool that is mostly used for social media management purposes for seeing Analytics or your business data f. Per month actually 2,50,000 People search for Brand4.com software tool for their business. With the help of this tool, you can integrate with all social media to run your social business with one dashboard.
With the help of this software, you will be able to grow your followers in your relevant business.
In the previous module of marketing, you need to do direct sales to bring revenue for your business, but now the world is upgraded and moved online. You can do all your business online with the help of the internet.
This Brand24.com software tool is also part of this online business to save more time for you in the social media management process.
Yes, with the help of this social media software you will run a business with social and also save more time on your own. Brand24 help you to make money on social media platforms.
This Brand24.com software helps you a lot in your one of the part in social activities. Some features are also indexed in Brand24.com, they are
Online Reputation will be Protected – Focussing on ORM is one of the best parts provided by brand24.com. In this ORM brand4.com will get concentrated on Positive comments and reply to negative comments ahead from the internet. This will improve the trust in this software tool.
Sentimental Analyze – This software tool will help you to analyze the detection of positive, negative, and neutral thoughts automatically.
Quick Notification – You will receive a quick notification when someone gives negative comments on Brand24 software.
Focus on Customer Satisfaction – Track and review all social media, blogs, and websites mentioning this software name. Learn from the pros and cons given by the customer when using this software, and with it, you can improve better features and give the best engagement rates for you and your business perspective.
Customer Satisfaction is given more importance to this software tool.
Measure KPI – You can track your performance ratings and engagement ratio for your business. If you need a report for analysis you can download it by PDF file also, By downloading PDF files you will save more time.
Able to Track Hashtags – Brand24 software tool help you to track the hashtags used by you for your business, and is able to track your competitor's hashtags also. You can track various hashtags and find influencers too for your own business.
To Whom Brand24.com is suitable for?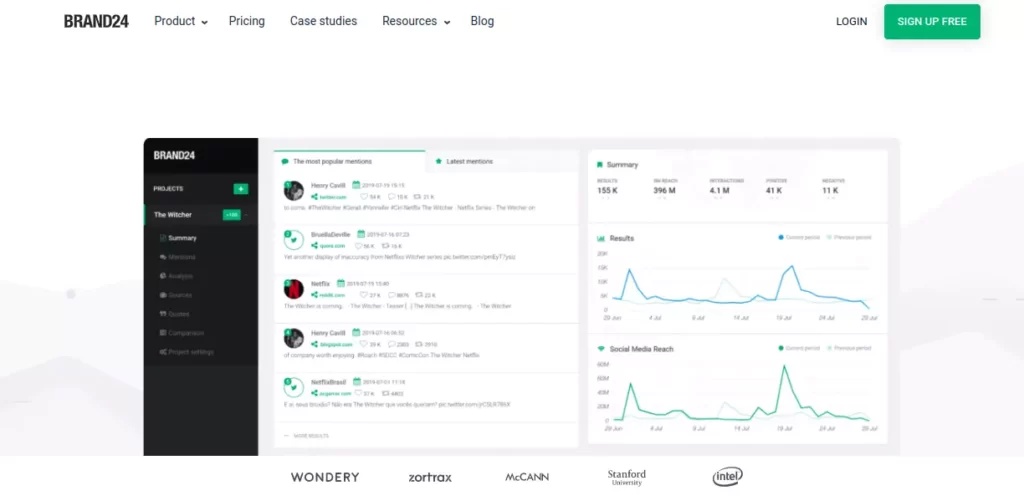 Brand24.com is suitable for all business people, marketing companies, influencers, and more. Mostly this software will be used by small company also to maintain their social media in a single dashboard.
This software has the best ratings and testimonials. Because of this User-friendly many single users also use this software and also refer this to all business people.
Simple Process used by Brand24.com
Try with a Trial plan
Buy your interesting plan
Track your business
Post content
Use analytics
Keep moving towards the best performance
You know what? Brand24.com software tool growing massively this year, and also attracted top-tier companies like Uber too.
Brand24.com Pricing
In the brand24.com software tool, 4 plans are available
Brand24.com has a 14-day free trial to get some idea and knowledge about this software.
You can cancel it anytime
There is no contract for this company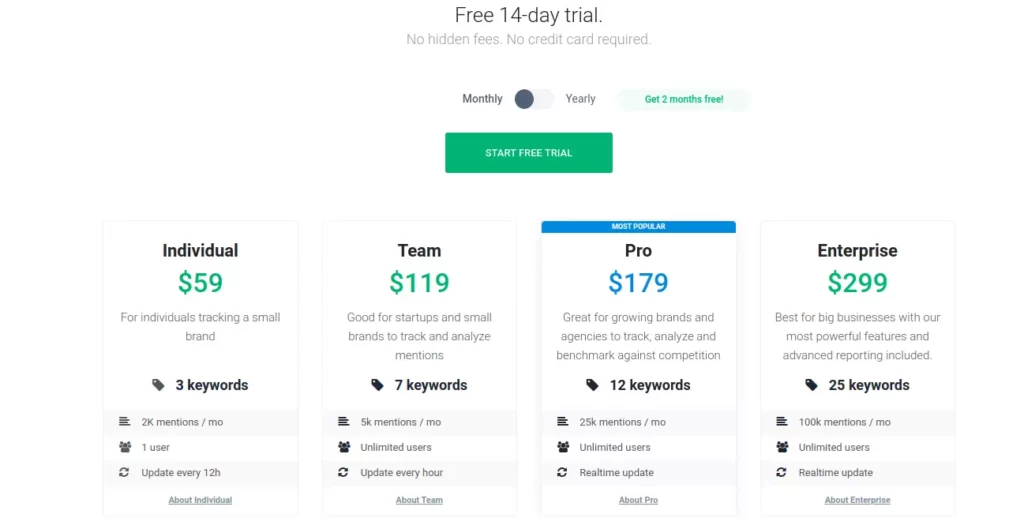 Monthly Plan for Brand24.com Software Tool
This Brand24.com software tool has 4 pricing plans which are affordable for all users and clients.
They are,
Individual Plan – $59 Per Month
Team Plan – $119 Per Month
Pro Plan – $179 Per Month
Enterprise Plan – $299 Per Month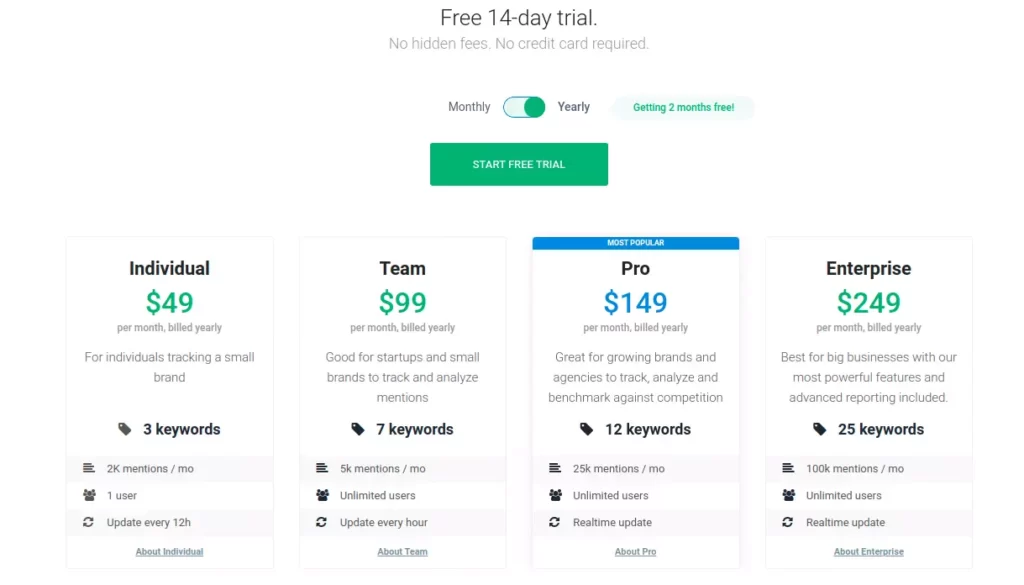 Yearly Plan for Brand24.com Software Tool
The yearly plan includes 2 month-free options,
Individual Plan – $49 Per Month
Team Plan – $99 Per Month
Pro Plan – $149 Per Month
Enterprise Plan – $249 Per Month
NOTE: No Credit Card is Required for Each Plan in your 14 days trial
Brand24.com Plans Details
Individual Plan
In this First plan, you can integrate with Facebook, Instagram, Twitter, News, Blogs, and forums.
1 user will get access to mention Projects, Chosen keyword crawl in the website by the system every 12 hours.
You can able to track likes, shares, comments, reach, and engagement ratios on Brand24.com Analytics data which is highly used by all business people.
With the help of this tool, you will make daily reports and weekly reports.
You can set up alert messages by push notification, or a Custom email notification from this software.
By using Boolean search you can filter the data you needed for your business.
With the Brand24.com software tool, you can sort the data by dates, popular posts, and more.
You can get access to brand24.com by website dashboard and mobile application also.
One of the best options in the brand24.com software tool is you can add extra users, you can add tags, and set up groups in the same Individual plan.
The supporting process is extraordinary by Brand24.com. The company will support you to set up the account through webinar, email support, chat, Product Training, and dedicated account managers for this individual plan.
Team Plan
The team plan will give additional features compared to the Individual plan
In this Team plan, you can integrate with Facebook, Instagram, Twitter, News, Blogs and forums, Medium, Quora, Youtube & Tiktok.
Unlimited users will get access with mention projects, Chosen keywords crawled on the website by the system every hour.
With this tool, you can track the engagement ratio of likes, and shares for every image you posted.
You can track the reaches, sharable links, word count, and most active profiles in the simple analytics tools of Brand24.com Websites.
Help to make daily reports, and weekly reports.
You can see push notifications from the mobile app and custom email notifications from the software tool.
By using Boolean research you can filter the data and engagement report.
You can sort data by mentioning important posts and popular content.
With Brand24.com you will add bulk actions to add extra users to the account with tag and grouping mentions.
Providing support services is the best in brand24.com software tool Because it is supported by webinars, chat support, email support, Product training, and also has dedicated account managers.
Pro Plan
This plan is used by growing business people and small agencies.
You can integrate with more features like Facebook, Instagram, Twitter, News, Blogs, Forums, Medium, Quora, Youtube, Tiktok, Reviews, Twitch, and Newsletter.
From this software tool you will get data from likes, shares, comments, engagement ratio, sharable links, see trending hashtags, the word count of the content, able to see active profiles on social media.
With an analytics tool, you can find influencers for your business, analyze sources, analyze sentimental content by AI-generated options and see the presence score of your Business on social media.
In this plan, you can take white label reports, excel reports, and PDF format reports of your business, and your client's social media accounts.
If you need you can collect daily reports, and weekly reports to see performance analysis.
You will also get alert messages from storm alert, push notifications by mobile app, and web.
Filter options have more data in this plan compared to the Team plan and Individual Plan. You can filter by boolean search, engagement rates, reaches, languages, and source of traffic.
You can sort the data by important posts, popular posts, and particular dates.
With this Pro plan, you will get access by Web and mobile app.
With Brand24.com you will add bulk actions to add extra users to the account with tag and grouping mentions.
In this Pro plan, you get more support from the company side, by chat, email, dedicated account managers, webinars & product training.
Enterprise Plan
This plan is used for enterprise businesses and large agencies to use all the features given by this Brand24.com software.
In this Enterprise plan, you will be connected with some most important social media management tools, they are Facebook, Instagram, Twitter, News, Blog, Forums, Medium, Quora, Youtube, Tiktok, Twitch, Reviews, Newsletters & Podcasts.
You can able to see more details in the analytics dashboard by trending hashtags, sharable links, engagement performance in likes, shares, comments, the word count of posts, most active profile sites, and more.
In an enterprise plan, you can report the workflow result to your client by downloading it in Excel, or PDF files.
You can see and download daily reports, and weekly reports and get notifications from the mobile app and web dashboard.
This software will help you to filter some major data such as reaches, engagement rates, sentimental analysis, Language, and source of traffic in your social media.
Enterprise plan helps you to sort dates activity and Popular posts activity in a single dashboard itself.
You can able to access the data from the web dashboard and through your mobile app also.
You can mention tags, grouping, and add users in the particular project manually which helps you to save more time focusing on your other business side.
Supporting with chat, email, account manager, webinars, and product training will be processed in Brand24.com all plans, which is awesome.
Brand24.com Features
In the Brand24.com software tool, you will be able to use all features according to your selected plans. Features will vary as per plan. Here are some features available on Brand24.com,
Mention Feed
Discussion Volume Chart
Marketing Analytics
Influence Score
Sentiment Analysis
Alerts
Data exporting
Filtering
Mention Feed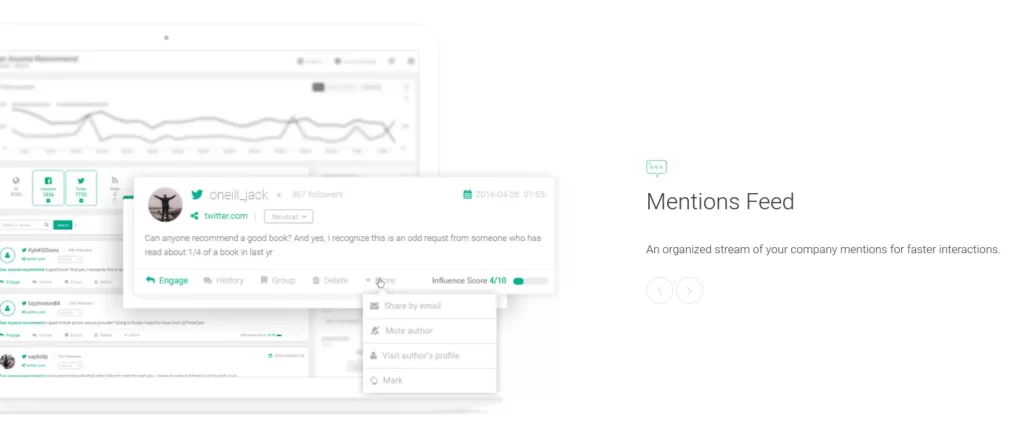 You have to make discussions with your post in feeds, stories, and content with your audience, and collect the information, keep upgrading the suggestion given by your user, it will increase your engagement rate in your business and your business on social media goodwill also.
Discussion Volume Chart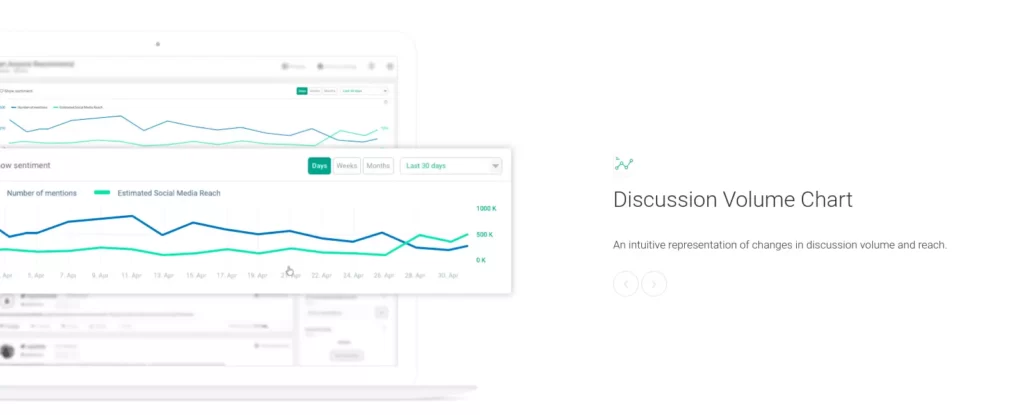 In the volume of the chart, you will get more information about your post in graphic matrics, by seeing this matrics and chart you can clearly able to get some ideas regards engagement purpose. So in case you implement ideas in your business it actually works but you have to take corrective actions.
Marketing Analytics

In social media marketing, there are many competitors that are growing together to get more engagement rates and performance for their business. In case, you need to do Marketing analytics for all data, events, scheduling posts, content, and more.
By analyzing analytics reports on your business you can get the best vision to move forward your business to the next level. So be focused on Marketing Analytics.
Influence Score
To make better activities and overcome to get the traffic you need to do some actions for your social media business. So, In this case, you can choose your influencer within your same industry and keep posting your post by his/her. Definitely, you can increase your traffic for your business with these techniques.
Sentimental Analyzes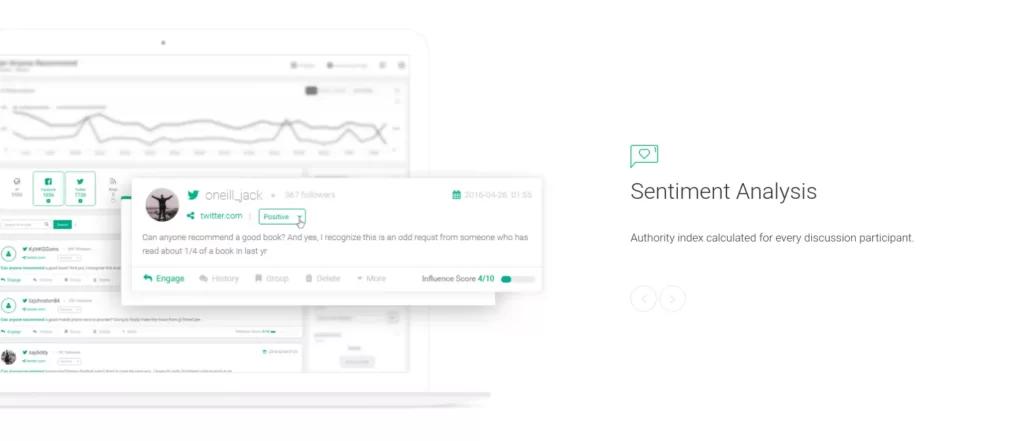 When you are using Brand24.com software for SMB, you should watch the positive, negative, and neutral comments in your post. You have to take action and reply to them immediately because customer engagement & customer satisfaction is most important in every business. Watching the reply from your audience gives better performance for you for future tasks.
Alerts

You have to be alert to the volume of discussion under your brand. Customize your alerts from push notifications and mobile apps. Keep tracking all messages that send to you from your audience, and keep priority tasks among this work. To give reply messages to your customer gives more CTR rate for your business.
Keep your reply message with quality standards.
Data exporting

With the key statistics, you will be exporting the data for daily, weekly as per plan and you can download it on Excel file and PDF file whenever you needed from Brand24.com.
You also automate to download the report as per your wish.
Filtering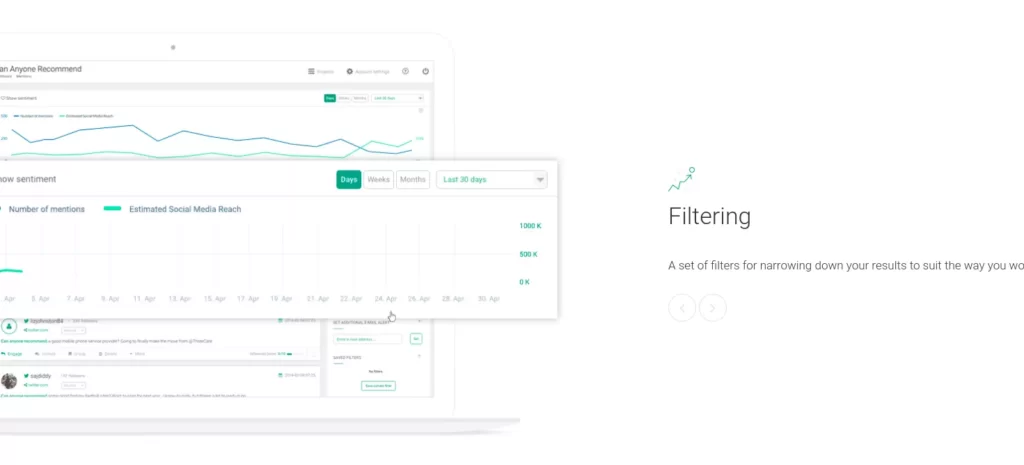 You have the access to set up and narrow down the result for the best and most important data for yourself. You can filter the data according to your importance field such as Languages, source, reaches the performance of your post, engagement rate, and more with boolean search.
Media Monitoring Re-invented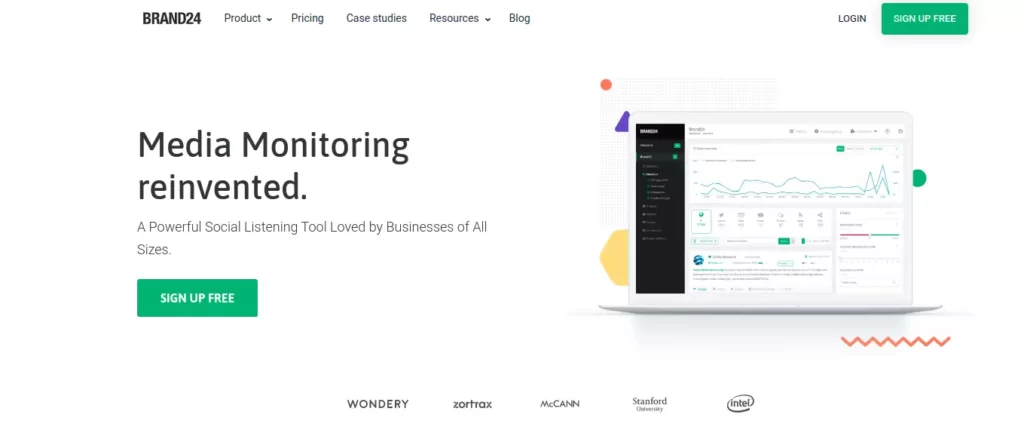 By using this simple Monitoring you will run a social media business by,
Get Customer Insights – Software will help you to collect all insights with location, tags, hashtags, and more.
Engage your customer – With the help of insights, you can engage with your customer and keep interacting more and more with your customer and generate sales.
Find Influencers – Having social media metrics plays a game changer for your business but almost you can try with influencers too in your industry it will give you additional exposure for your business.
Grow Your Sales – Keep tracking and detecting the sales on social media. Find the people which already looking for your product and keep interacting with them and drive sales from there.
Protect Your Brand Image – By engaging your customer interaction online with messages you will keep your brand more protective and trustable software.
Analyze your KPI and monitor your insights in social media and do competitor research to overcome success in your industry.
Media Monitoring and Social Listening Agencies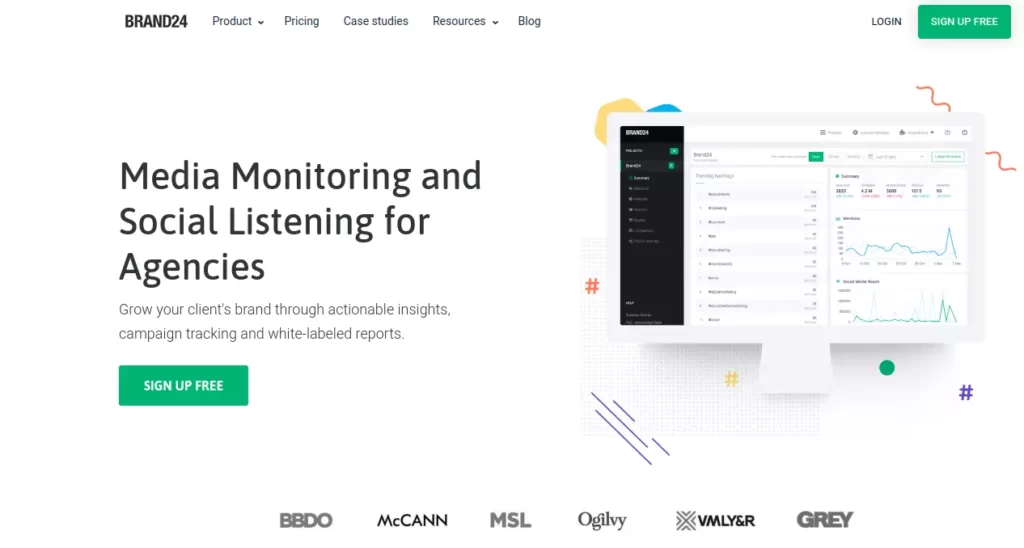 By using tracking campaigns, and insights reports you will monitor your social activities.
By using competitor analysis and brand reputation you can stand out from other agencies and make your report customized with unique.
With the help of PR measurement, and Hashtags analytics you can able to track campaigns.
Slack Integration in Brand24.com

With the help of Integration, you save time from navigating one tool to another tool.
Before escalate you have problematic comment sections
To increase the engagement you have to assign the task to a better performer.
Be the first to improve customer satisfaction and company goodwill.
How to set up Integration with slack?
Log in to the account if you have already signed in. If not create the Brand24.com
To add Slack Integration go to "Account settings" and click "integration"
Select the project from the dropdown menu
To know more set up click here
Brand24.com Pros & Cons
Brand24.com Pros
You can set up your own project and handle it in real-time.
Free trial version available for 14-days
Customer support is fast and reliable
Provide detailed information in the dashboard and monitoring
Brand24.com Cons
Review and Ratings for Brand24.com
| PERFORMANCE | RATINGS |
| --- | --- |
| Usability | 9.7/10 |
| Performance | 9.8/10 |
| Online Rating | 9.1 |
| Support Rating | 8.8/10 |
| Implementation Rating | 8.9/10 |
Brand24.com Trusted by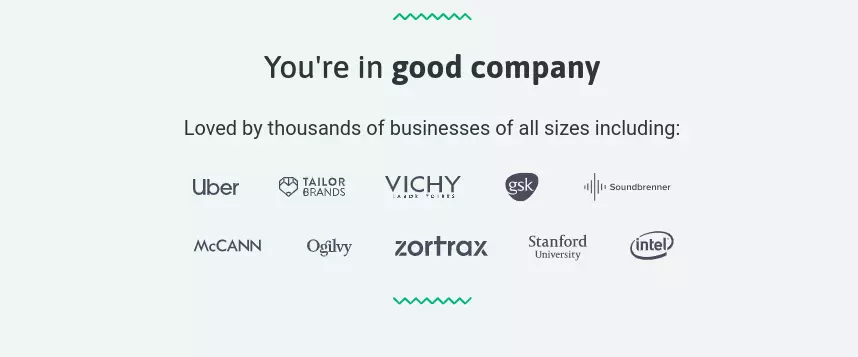 Conclusion
Not but not least. In this brand24.com software, all media and business people use it widely to get more accurate results. This Brand24.com software varies from other software analytics tools because its features and function are different from other accounts. You can get the best assistant with brand24 employees or a single dedicated manager to import the setups. You will not face any problems by using this software tool. Try this and check for 14 days. If you get interested you can pay and upgrade to your chosen plan.
Anyway, Best of luck with your new Brand24.com analytics tool for your social media management work.
Brand24.com Office
For coops and help
Brand24 Global Inc.
121 Executive Circle Daytona Beach, FL 3211
FAQ About Brand24.com
Is Brand24 easy to use?
Yes, Obviously, this analytics software is very very useful for large businesses, small businesses, and solo business people. This tool is user-friendly for all to use it.
Is Brand24 legit?
Yes, This brand24 software tool is used by more than 10,000 people all over the world with top-tier companies also using this tool like Uber
How does Brand24 work?
Brand24 tool is used for many business purposes to see analytics data and performance metrics. This software tool will track all the important keywords on Facebook, Instagram, Twitter, and more.
Editor's Choice