Pallyy Review – Overview
Pallyy is one of the best analytics tools in the Social media management business. In this digital world, many companies introduced social media analytics tools with more features, yes I accept that.
But who is using that software? This is the point I am asking you.
Many business owners, social media influencers, industry's are commonly using social media analytics tools and many other tools to reduce their time work and get more information about their performance in Social media insights.
Because when they use the social media analytics tools they will get detailed reports from their social accounts.
By using a social media analytics tool you can get equal performance metrics for your business by
You can count Followers' growth on Instagram, Twitter, Facebook, Linkedin, Tiktok, Pinterest, and more.
You will see performance analytics
Demographic details
Engagement ratio on your business and more.
With the details, you can also increase your followers
But these all features you can get it on paid software tool and also they will so high compare to pallyy software.
By using this Pallyy software you will get all features that are used for social media business at a low price.
Pallyy software helps you to schedule the post for your client and business owners to save more time. This software tool will help you to find the best time to post on social media which will help you more to get high engagement rates and performance for your business.
Pallyy software has many options with a user-friendly dashboard like,
Customize the card and filter your data
Drag column to re-order
Able to see calendar board and table view
Able to see analytics
You can see by visual Planner
Collaborate with team
Upload the images and videos on social media with a single click
Schedule your post by drag and drop method
Able to create and customize columns, and more.
One Click Scheduling – With Pallyy you can schedule the content, and images and be able to post with one click on all social media platforms.
To Whom Pallyy is suitable for?

Pallyy is suitable for all people who are using social media for their Business.
Like,
Small Business
Medium Business – Agency
Large Business – Enterprise
This pallyy will use to save more time by scheduling the post on the major social networks, such as Facebook, Instagram, Linkedin, Twitter, Tiktok, and more.
You can use pallyy for free and paid versions also. The free version is enough for people who use social media for personal reasons. But if you subscribe to upgrade then you will get a lot of features, and options to use for your Social accounts. By using this free version you can make money also on Instagram, Twitter, Facebook, and more.
Hundreds of brands and business people use pallyy every day with the free and paid versions.
Simple Process by Pallyy
You can get a 14-day free trial and you can use this software free for 1 set of social media accounts.
Pallyy Pricing
Pally has 2 pricing plans
Pallyy has a 14-day free trial to get some idea and knowledge about this software.
You can cancel it anytime
There is no credit card needed.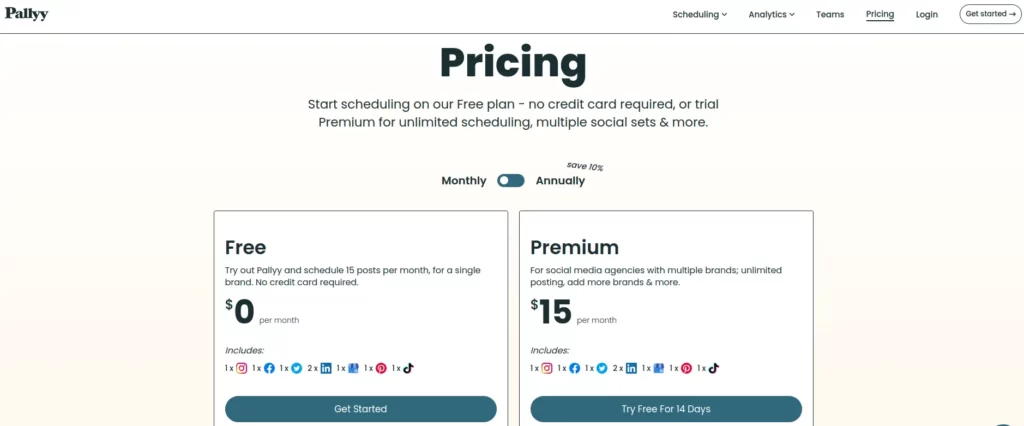 Monthly Price for Pallyy Software
In this pallyy, the company has 2 plans for social media management purposes to use it.
They are,
Free Plan – $0 Per Month
Premium Plan – $15 Per Month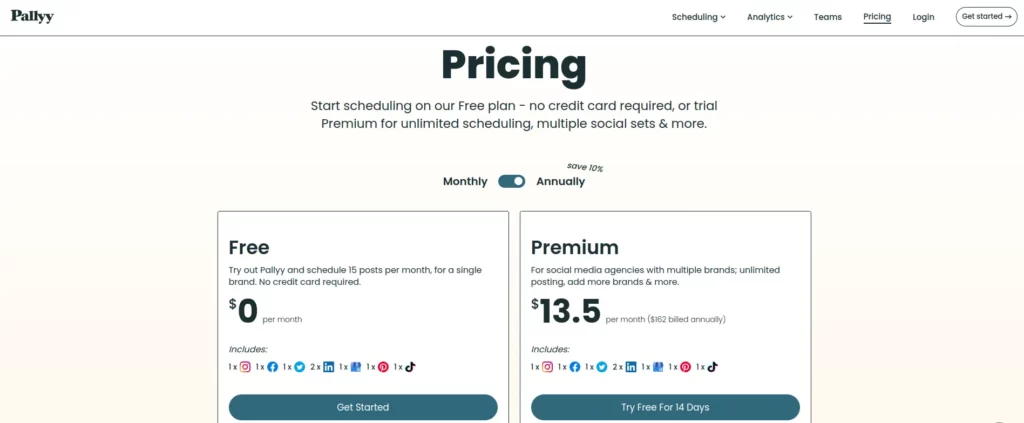 Yearly Price for Pally Software
Free Plan – $0 Per Month
Premium Plan – $13.5 Per Month Annually. So you have to $162 Per Annum.
This plan is widely used for all business owners, agencies & enterprise business purposes. Every day 100+ New Users use this software tool to grow their social media accounts and reduce their time.
By using this tool you can consume more time and save it to use for other business purposes.
NOTE: No Credit Card is Required for these plans, You also try with your 14 days trial.
Pallyy Plan Details
Free Plan
No credit cards are required for using this free plan for your business.
With this free plan, you can get integrated with Instagram, Facebook, Twitter, Linkedin, GMB, Pinterest, Tiktok, and more.
You can post up to 15 post with scheduled options
Feed Planner tool you can use in this free plan
You can take a report for your monthly performance.
If you need to post videos, and images you can schedule it. ( Note: Now Pinterest only has the option to schedule it )
With the help of calendar view and board, you can schedule your post and do publish it on social media.
In TikTok, you can publish videos with scheduling, no need to try push notifications for this purpose in this software tool.
If you need to change any post on different dates you can change it by using the drag and drop method.
Calendar view helps you to check your updates to post images weekly or daily.
You can able to create notes for reference in your social plan.
You can create a visual planner with a grid view and more according to your interest.
Bio link grid helps you to add to your scheduled post.
You will grant permission to add your location in your post and other stuff. (Instagram and Facebook)
You can able to tag users for your post.
You will save your post in draft and add it to publish when you needed.
You have great options to check the best time to post on Instagram.
To keep your layout clean you can add your first comment on Instagram.
Free Plan for Instagram Analytics
In the free plan, you can able to check your historical data for up to 30 days limit.
You can allow tracking your 1 competitor's insights, and engagement rates only on the free plan.
Grand permission to allow customized dashboards.
With this plan you can check views, likes, clicks, reach, and more for 30 days period.
You can able to see your top-performing posts in your dashboard.
You will see story insights, and track the locations, countries, city of your followers for only 1account.
Free Plan for Linkedin Analytics
You will see historical data for your account for 30 days in a free account.
You can see demographic insights on who visits your page.
The free plan gives individual updates about how many people view your account. (30 days period)
You can able to see follower insights on your demographical. (30 days period)
Reply on Instagram
In the free plan, you can see your comments on grid view or by feeds.
You can see which comments need to reply to.
Use sort to see new comments and views.
You can save comments for repetitive comments.
Explore on Instagram
If you need to find the content you can use search names, hashtags, or tagged users in a free plan to find it on.
Bio Links
You can able to track Link clicks and an Impression account only for 14 days only for the free plan, if you need more time you need to upgrade with it.
Premium Plan
In the premium plan, you will pay only $15 per month.
You will integrate with Facebook, Instagram, Twitter, Linkedin, Pinterest, and more social media platforms.
If you need to add an additional social set you have to pay more than $15 per month. (each set)
If you need to add additional users you have to pay $29 per month.(each)
You can able to use Customized reports in Analytics
Use Custom Domain
Post unlimited posts on social media by scheduling
You will schedule with bulk
You can inspect to use the bio link for your social media accounts in Premium Plan.
With this free plan, you can get integrated with Instagram, Facebook, Twitter, Linkedin, GMB, Pinterest, Tiktok, and more.
Premium Plan Essential
By adding more $29 dollars, you can invite users to collaborate with your teams.
You can able to create unlimited customized reports with sharable and downloadable PDF files.
To share your content on the grid page you can use your own domain or custom domain.
To be able to see the feedback from users, you can integrate with your teams and take action to reply to feedback.
You can assign team members on your premium plan, to notify comments from users.
To send an email notification you can tag another member of your team.
You will be able to change the post into approved, denied, or under review, all options available on the premium plan.
Scheduling on Premium Plan
You can schedule images, and videos and publish them. ( Only in Pinterest Available)
In this Premium plan, you can auto publish carousel images and videos on both Instagram and Facebook.
With the help of calendar view, you can plan and schedule your post.
You can able to auto-publish the Instagram reels by scheduling, No notification is needed. Schedule Instagram stories also with notification, and publish on the best time to post on it.
Also able to schedule your TikTok videos to publish on social media.
Thumbnails and cover images will be used in the premium plan.
If you need to change the date, time, or post you can do it by drag and drop method.
The calendar view helps you to see the day and week reports.
Premium Plan initiated to take notes, for future posting.
In the Premium plan, you can use a visual planner, bulk scheduling, Bio-link, Locations, and more.
On Instagram, you will tag users too.
Draft options also are there to draft it and schedule it when you need it on Social media.
You can see the Preview of your Instagram posts before you going to publish them on Instagram.
The best time to post on Instagram will be noted in the premium plan of pallyy.
In pallyy you can add Instagram's first comment, to keep your caption clean.
Premium Plan Instagram Analytics
You can see backup historical data for 2 years in the Premium plan.
In this Premium plan, you can track engagement rate, performance, and hashtags for 10 competitors.
You can set up Custom Dashboards for analysis.
In the premium plan, you can see Audience insights, Post Insights, and story insights, and can track the location of your followers too.
Premium Plan for Linkedin Analytics
In Linkedin Account for the premium plan, you can see 2 years' backup of historical data.
You can able to Visitor Insights, Follower Insights, and Update Insights in your Linkedin Account.
Reply on Instagram by Premium Plan
On Instagram by using the premium plan, you will be able to see,
See Multiple Views,
Able to see reply messages, able to see unread messages in this plan.
You can delete comments and save comments when the repeated question will ask you can send saved comments to them.
Explore on Instagram with Premium Plan
If you need to find content for your post you will search by username, hashtags, and people-tagged post.
You save posts in the media library to re-post when needed.
If you take posts from other users and mention their names in the caption, you need to give credit to them.
Bio Links by Premium Plan
You can create your bio with List style & Grid Style
By using this bio link on your social media you can track both link clicks and impressions.
Pallyy Features
Pallyy will give more additional features for you in their plans. You can use these features absolutely in your social account and build high performance for your business. By using these features you can able to make your social account active in all fields.
Some of the features in Pally,
Teams
Instagram Bio link
Instagram feed Planner
Instagram comments
Instagram Toolkit
Instagram Analytics
Facebook Analytics
Linkedin Analytics
Teams

By using these features, you will automatically collaborate with your team and finish your work in time. You can use all teamwork charts in one dashboard, so it's very simple for you to finish your scheduled work accordingly.
In this feature, you will keep track of every post in pallyy account. You, your team member will change the status of images to post or denied, are they have a chance to draft your post?
Tag the team – If you need to get someone to grab attention, you can tag them into their social account, so they will get a notification at the top of the app.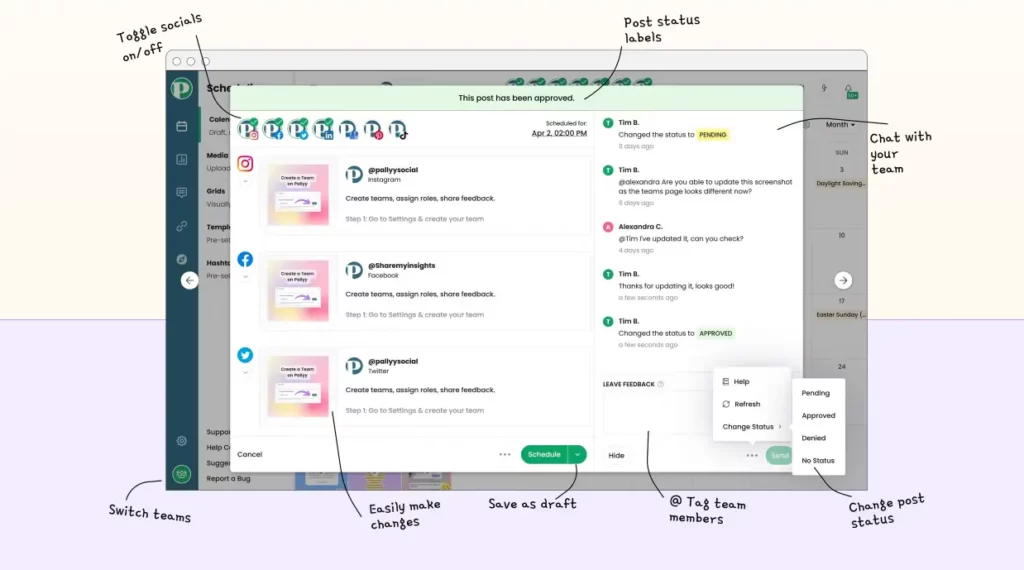 Feedback in One Place – If you have many inbox messages, and feedback messages from users, don't be tired, you can collaborate with your team member and send feedback reply messages.
Share your Calendar – In the pally software tool, you can share the calendar, for upcoming days and impress your client. And the client makes a decision about posting times.
Control Over Team – In this feature, you will create and invite unlimited teams without any cost.
Instagram Bio link

Pallyy will also have a bio link feature for their user which helps more.
Create Bio Link – In this bio link, you can create the buttons, change the color, and add the theme to give more attraction to the clients and users.
Customize as your Link – In this feature, you can choose the current theme or you can create it as your own, and add buttons and more.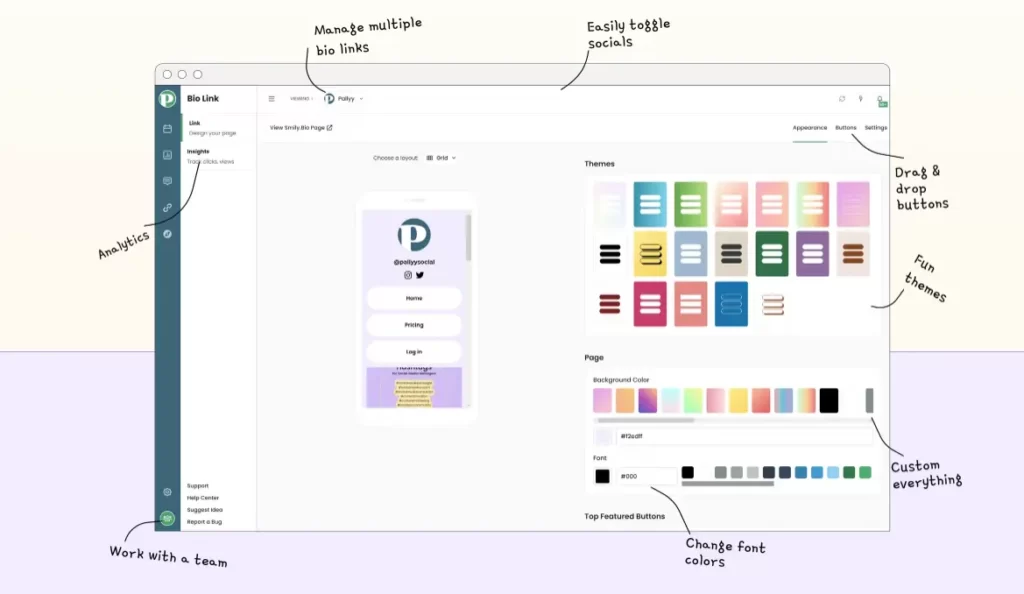 Bio-Link with Instagram Grid – In your Instagram account you can create a Grid view and use the Instagram bio link & post on social media with button clicks.
Add Social Links – You can add social links in your bio, so users also come via in bio link, so you can have a chance to get traffic for your social accounts.
Instagram Feed Planner

If you create the Instagram feed planner, then you have a chance to share this with your client, and you get the chance to approve your feed planner from the client side.
If you make your Instagram feed planner complete, then you get the chance to sync the feed planner into the calendar, So it's easy for you for posting regularly as per your feed plan by Instagram with scheduling options.
Instagram comments

In your Instagram feed, you can see the messages from the Grid view on Ig, If you need to comment on them, you can do it with the grid view itself, it so simple to use.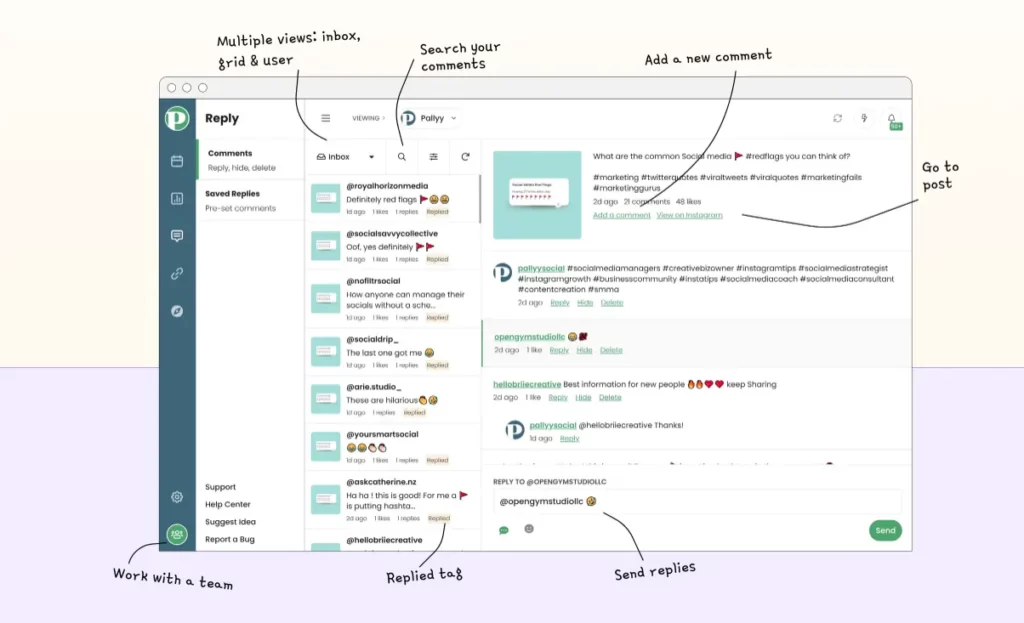 You can able to see all audience comments on your Instagram account when you have on User view in your IG account.
If you missed any comments from users sent to you, you can able to find them in a second by searching them.
Instagram Toolkit

You can able to schedule your post and publish it with one click process, Pallyy will make all steps from publishing to reach.
By scheduling, you can save more time and you can also integrate with the canvas tool.
Pallyy will track 2 years of data in-depth, which helps you to do some action to improve your social media.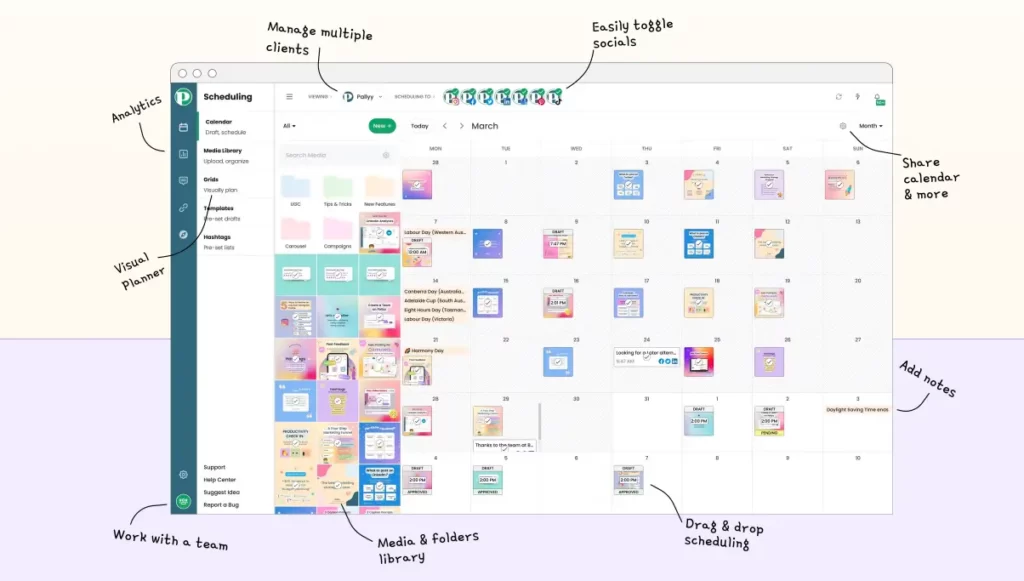 Pallyy will never miss any comments, it has options to save, delete, hide, show, and more.
Pallyy has bio link options too, which helps you to get traffic for your account.
Instagram Analytics

In Pally account, you can connect more than 10 accounts to track their performance. Which helps you to track competitor analysis.
You can create and share the performance report to the client in Excel or PDF format, with customized reports.
You can able to see the audience insights through which they grow their followers, post reaches, impressions, and more.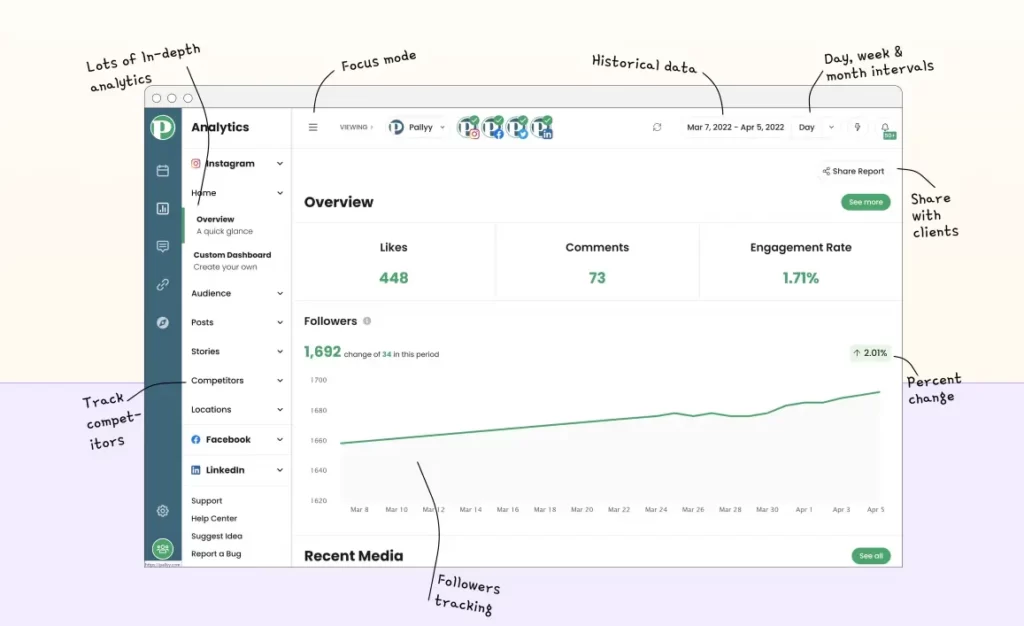 You can track the post which gives better performance for your business and with that, you can create like it for the future.
You can also track the story analytics on Instagram which also helps you to see after 24 hours.
In the IG analytics tool, you can use the custom dashboard to see all data in one place of pallyy account.
Facebook Analytics

On the Facebook page, pallyy will help you to collect the basic and all reports on your Facebook page, this software will tell the performance data like views, followers, shares, and more.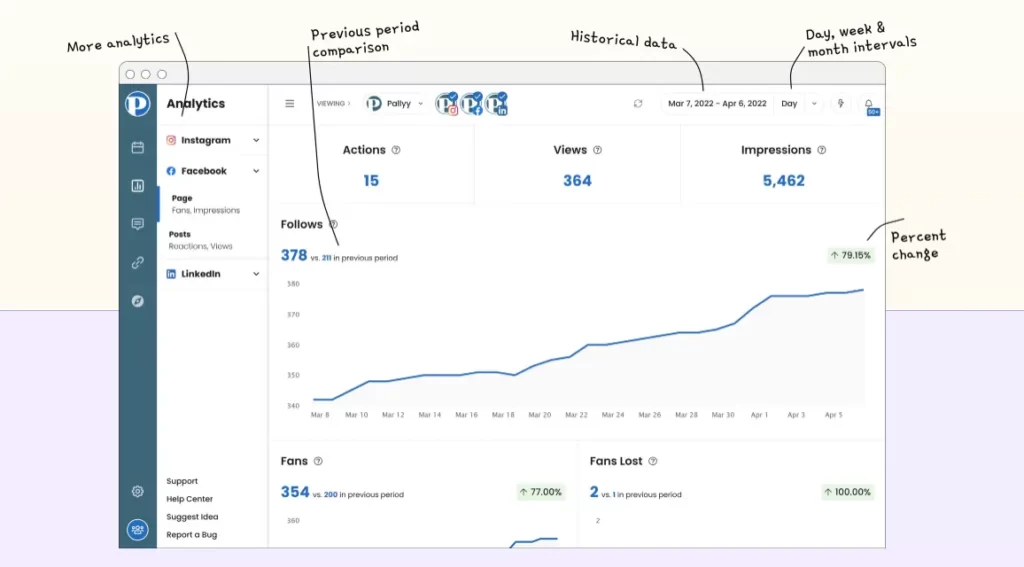 Tracking is the key to beating the previous performance data, so keep tracking every post and content to overcome it.
In Facebook analytics, you can see the overview of your post reaches, impressions, shares, and other data.
Linkedin Analytics

Professionals and beginners all use this pallyy account.
Keep watching your content growth rate and performance, with this you can able to create better content in the future.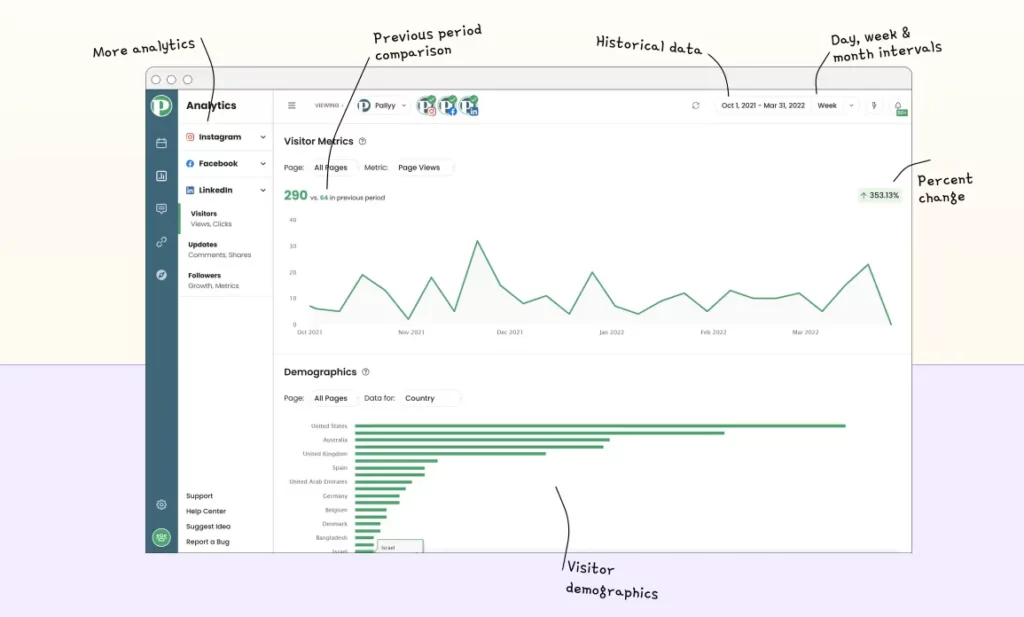 See the breakdown of your followers, country, and engagement rates.
Keep an eye who see your profile, and content. So in the future, you can able to target these people more.
Pallyy Pros & Cons
Pallyy Pros
14 days free trial for Premium Plan
A free plan is also available and managed by 5 social media accounts with 1 user.
Having More Automation
User-friendly for all users
Price is very less compared to other analytics software tools
Visual is the first scheduling
Powerful social scheduling software tool
Have Custom domain features, customized report features,s and more.
Customer Service is good.
Pallyy Cons
Additional social set charged separately in this pallyy account
The white label feature is not present in this tool
Comment management only works on Instagram
Review and Ratings for Pallyy.com
| PERFORMANCE | RATINGS |
| --- | --- |
| Usability | 9.7/10 |
| Performance | 9.1/10 |
| Online Rating | 9.3/10 |
| Support Rating | 8.7/10 |
| Implementation Rating | 9/10 |
Pallyy Trusted by

Conclusion
Not but not least, This Pallyy software is useful for all business people, because this software has the best quality standard to give almost accurate results to you. This software tool integrates with Instagram, Facebook, Twitter, Linkedin, and more to give a better performance rate at a low price of cost. Just $15 for the month you are using this software. To see extra details pick up this
You can able to see the analytics report on all social media. Powerful social schedular and workflow are great in this software tool.
It's a great platform for all small business owners. Especially for social managers. By using this tool they can save more time.
Try this tool with a free version or 14-day premium trial and give your suggestion to us. We are eagerly waiting for your response.
Pallyy.com Office
You can see the detail address on twitter account, Melbourne, Australia
FAQ About Pallyy.com
Is Pallyy legit?
Yes, of course, this pallyy software is a great tool for all social media managers to save more time. You can schedule the post and publish it on various social media platforms. Building more trust on this pallyy account is increasing day by day.
Is Pallyy free?
Yes. Pallyy software is free for a lifetime and if you need an extra feature you need to move to a premium plan which cost will around $15 Per month.
What is Pallyy?
Pallyy is the social media software tool to analyze the data from analytics and is used for more. This tool works extraordinary in Scheduling bulk posts on Facebook, Twitter, LinkedIn, GMB, Instagram, Linkedin and more.
Which scheduling tool is best?
Pallyy is the best scheduling tool with a low price compared to other tools used for social media management purposes.
What is the easiest social media scheduler?
Pallyy is the easiest social media schedular in all over the planet. Every other industrial business people use pallyy to get the best and most accurate performance metrics report and analytics data for a low price cost.
Editor's Choice