Sendible Review – Overview
One of the most important tools used for social media management is Sendible. This tool is user-friendly and used for single users to multi-user. The interface is pretty good and gives more data compared to other social media tools.
This tool is used to get more engagement ratings in your social account and increase your followers on Instagram also.
Sendible is designed for helping business people, and influencers save more time from posting the post, videos, images, and reels, automatically with the Sendible AI tool.
You will scale your all social media activities in one place on sendible dashboard. This sendible software will help you to make your social accounts highly engaged, grow your followers and reach a wide audience and improve your social media activities.
It's easy, right?
Yes, Offcourse this sendible software will help you a lot, just try it with the free trial version and you will get an idea from the free trial period itself.
After that, you can buy your interested plans with price and you can manage all social media accounts in a single place on Sendible software tool.
In this sendible software tool, you can integrate with Facebook, Twitter, Instagram, Linkedin, Youtube, and Google My Business(GMB)
On Facebook, you will manage your FB page, groups and dark posts also and with the help of an analytics tool you will get your audience insights.
On Twitter you can schedule tweets, you will be able to send a direct message, you can use hashtags methods for your SMB and you will get able to access Twitter analytics.
On Instagram, you will implement a lot of activities to grow your account. You can also buy software to grow your followers but it's on your wish. By using this sendible you can post images, videos, and a carousel in the Instagram business profile. Within app notification, you can schedule the post & other stuff.
In Linkedin, you can analyze the performance metrics with an analytics dashboard and you can post your post, or content automatically or manually.
On the GMB page, you also schedule the post to publish but sendible software has some restrictions for the franchise.
On Youtube, you can schedule content, and videos and reply to the comments on your channel and you will be view analytics information. Over 30,000 marketers, and agencies people using this sendible software for their social media management works.
To Whom Sendible is suitable for?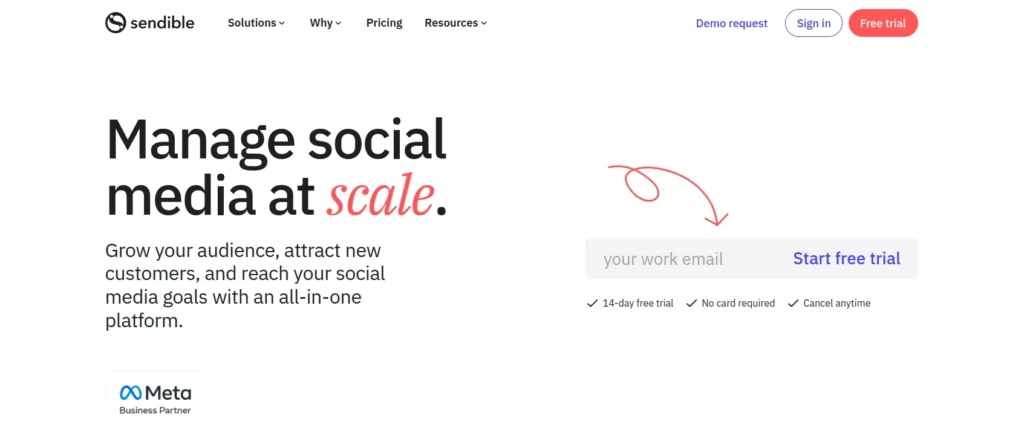 Sendible is used by many businesses and different industries to scale their growth. Yes, many giant marketers, influencers, brand ambassadors, and managers, are often using this business software to scale their business into growth.
In that case, this sendible software helps a lot. You also can try for your business, it's okay if you have at least small business, by using this wonderful tool you will increase your business growth and other activities will increase side by side.
Simple Process used by sendible
Tailor your content
Have clear settings
Show your result with published content
Sendible Pricing
Sendible has 14-day free trial to get some idea and knowledge about this software.
For using this trial version you don't need to enter Credit Card details
You can cancel it anytime
There is no contract for this company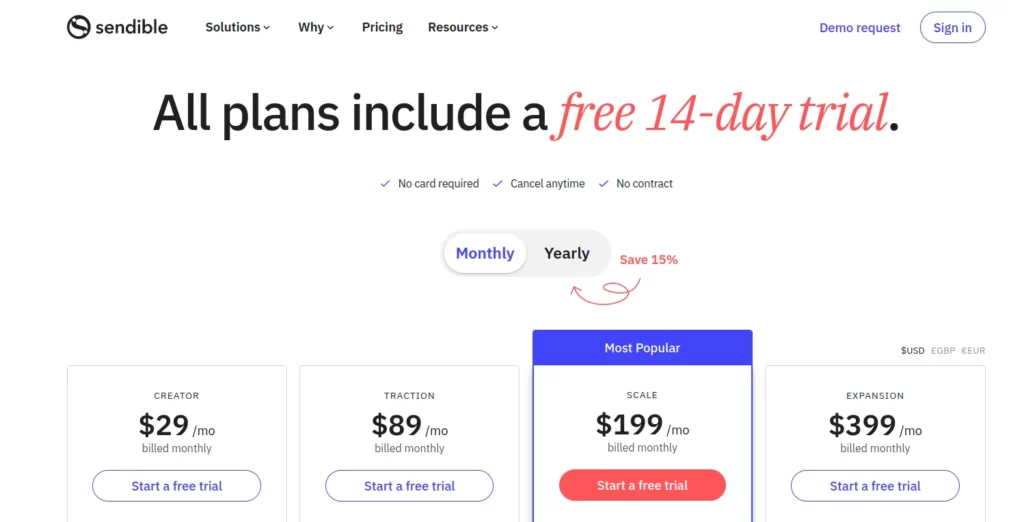 Monthly Plan for Sendible Software Tool
Sendible is introducing 4 types of plans for their users.
They are,
Creator Plan – $29 Per Month
Traction Plan – $89 Per Month
Scale Plan – $199 Per Month
Expansion Plan – $399 Per Month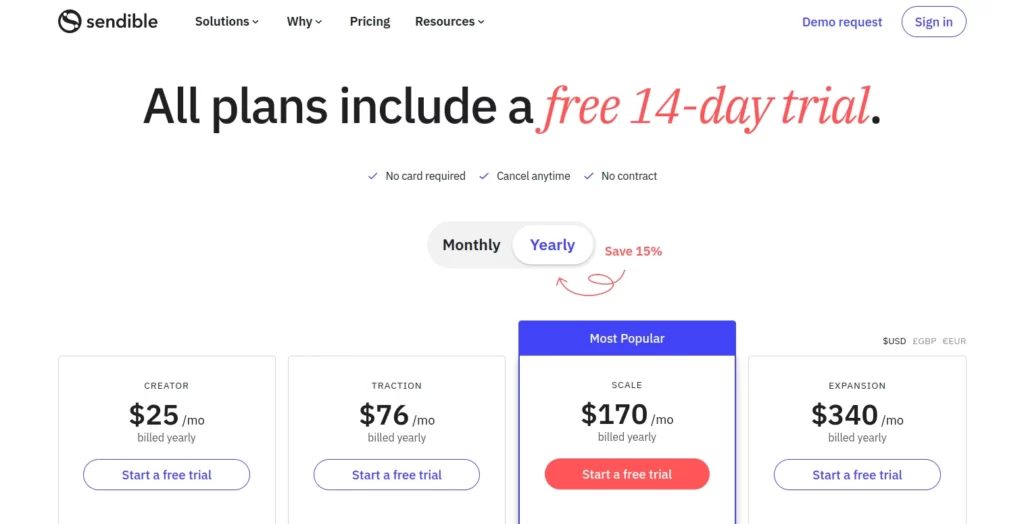 Yearly Plan for Sendible Software Tool
Creator Plan – $25 Per Month for the year
Traction Plan – $76 Per Month for the year
Scale Plan – $170 Per Month for the year
Expansion Plan – $340 Per Month for the year
NOTE: No Credit Card is Required for Each Plan in your 14 days trial
Sendible Plans Details
Creator Plan
This plan is helpful for freelancers to manage different social media platforms into single dashboard accounts.
1 user will manage 6 social media accounts in this creator plan.
Facebook, Instagram, Linkedin, Twitter, GMB, Worpress & Youtube you can use this software tool to integrate.
For all the social media accounts you can schedule unlimited actions.
You can plan and publish a post, videos, stories, and other stuff.
You can allow to monitor your performance and reply to your follower's messages at the same time.
Make a report on your performance and create your own content suggestion after looking at your competitor's activities on social media.
Traction Plan
Traction plan is the second level of sendible software. This plan is widely used for startup companies and branded companies.
You can collaborate with a small team and use this software too.
4 Users will use this software and handle more than 24 social media accounts.
You can integrate with Facebook, Instagram, Linkedin, Twitter, GMB, Worpress & Youtube on this sendible.
You can create collaboration with the team to discuss feature plans, check the personalized demo, and so on.
Scale Plan
This plan is one of the most popular plans in this software used by many business marketers, agency people, and big social media companies. Because this plan has good features compared to the previous plan.
This Plan is suitable for growing companies such as you. This software will help you to get recurring reports and performance data.
7 users will use this software with 49 social media you can handle from one dashboard.
Sendible will integrate with Facebook, Instagram, Linkedin, Twitter, GMB, Worpress & Youtube
Many features are instantly updated by this software.
Expansion Plan
This expansion plan can buy with big agencies and marketers for $399 per month.
With the help of this plan, you will automate your report and customize also.
15 users will handle this plan and 105 social accounts will be able to handle it from one single box.
Supported with branded companies like Instagram, Facebook, Twitter, Linkedin, and some stuff.
You can able to scale your features and plan according to your needs.
You have a dedicated account manager to support your work.
Will manage client permissions too, by using this software.
Sendible Features
Sendible have some important features to you to get some more ideas given by their company, they are,
Dashboard
Publishing
Collaboration
Analytics
Monitoring
Mobile
Integrations
Dashboard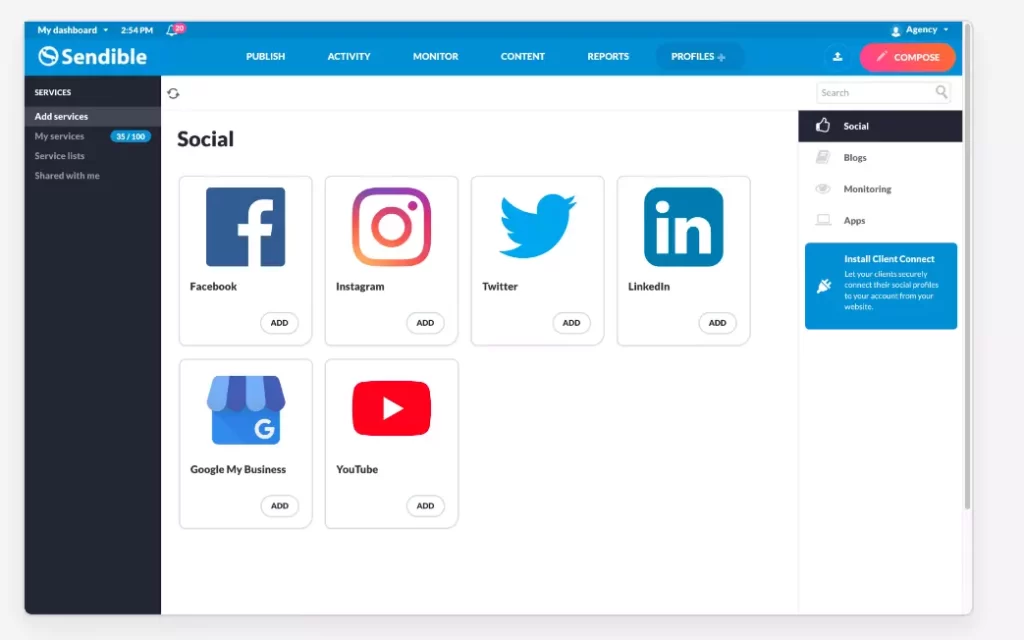 If you have a Sendible account dashboard, then no other dashboard is needed for you to see the performance reports, analytics reports, actions, and engaging rates, Because all Quality will be on Sendible itself. This is the reason why all managers, clients, and social media agencies buy this software tool.
You don't need to jump from one tab to another to check any actions that need to be, done because in this software tool you will get access to all works in the dashboard itself. You can send messages, and post images from one dashboard.
You will get more flexibility in using this sendible software tool.
You can stay focused and keep an eye on all activities from one dashboard itself.
You can use automatic sentimental analysis to check messages with high priority from the client side.
You can track and identify all messages in your client's social media from different accounts also in one single place.
With the sendible software, you can create branded presentation report and customize it to give it to your client and prove your ROI of the social media activities.
You can have more integration set up with all social media platforms, and have direct access to canvas, dropbox, youtube, and google drive with one click action.
You can build trust and credibility with your client by using your best social media management reporting.
Publishing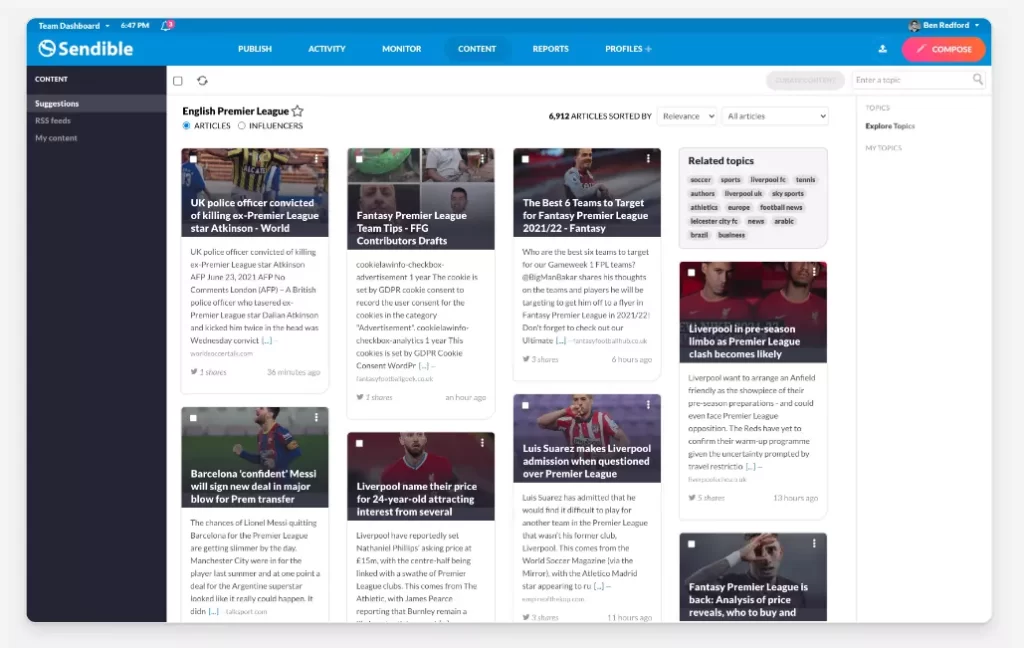 You have to tailor content for your client's social media, to post on social networks, it will save more time. Make to plan their calendar and update what next have to do on social media.
Sending posts, images, videos, story to publish on social media in bulk has to make more time to complete the task, but with the help of sendible you can tailor your content and schedule it.
So, it's a simple process to save more time from publishing.
You can able to make a group of social media posts and create a campaign to make it much easy to publish the content according to time without any mistakes happening.
You also schedule post time and specific days with the help of the campaign. This will keep your client's social media active.
In the calendar view, you can visualize social media activities for past, present, and future posts. You can easily re-arrange the post as you needed from just the drag and drop method.
With great visual content, you can make more engagement with the client's audiences. Here you will be able to upload images, and videos according to your ideas.
Follow trusted RSS feed on your industry and publish related quality content to social platforms by a day or when you publish new feeds on the social platforms.
Using Content suggestions you can able to share and post fresh content with the quality. This will help you to get more engagement ratings from the audience. Quality content Suggestion gives by sendible software which helps you to create articles or post events.
With the help of integration, you can upload, and download royalty-free images for your post from canvas, Flickr, and some sources.
You can create a design from sendible dashboard to post on social media within the same software itself.
Sendible will help you to plan the entire campaign and import bulk posts for scheduling and publishing.
Collaboration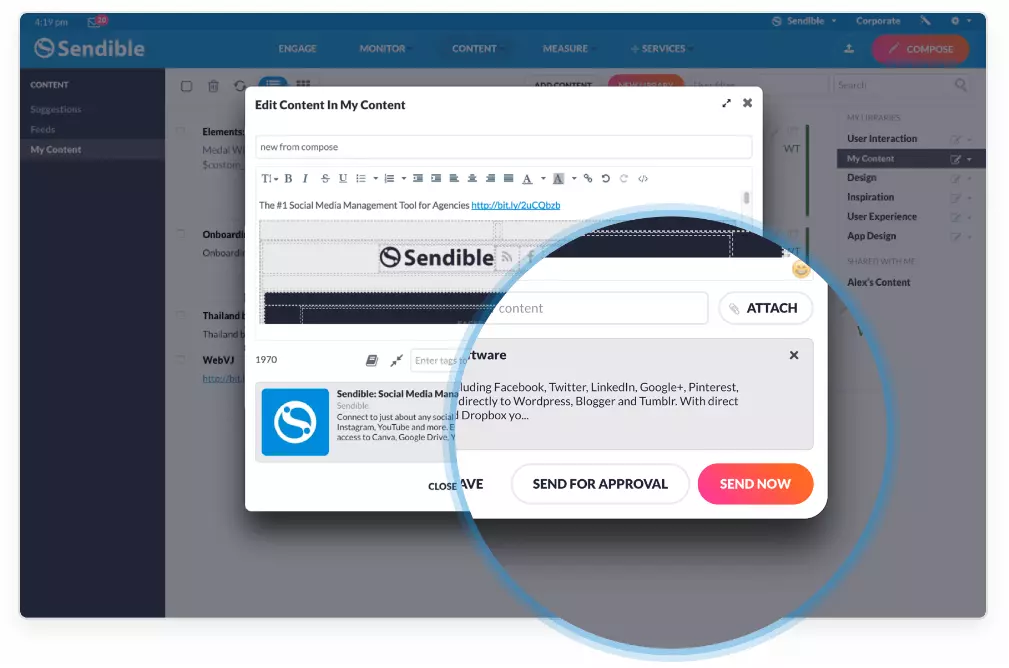 With the help of collaboration, you can manage with your team to create posts for your client's social media. If you allow others to contribute to creating content it will help you to finish work as soon as possible.
To give the best customer support you need to give delegate messages from sales opportunities, and support issues it will help you a lot.
You can have access to approve all social media activities before scheduled or publish on the internet.
In sendible software, you can able to set up limited access to your teams. Because no need to give all access to all users, it's not mandatory.
Analytics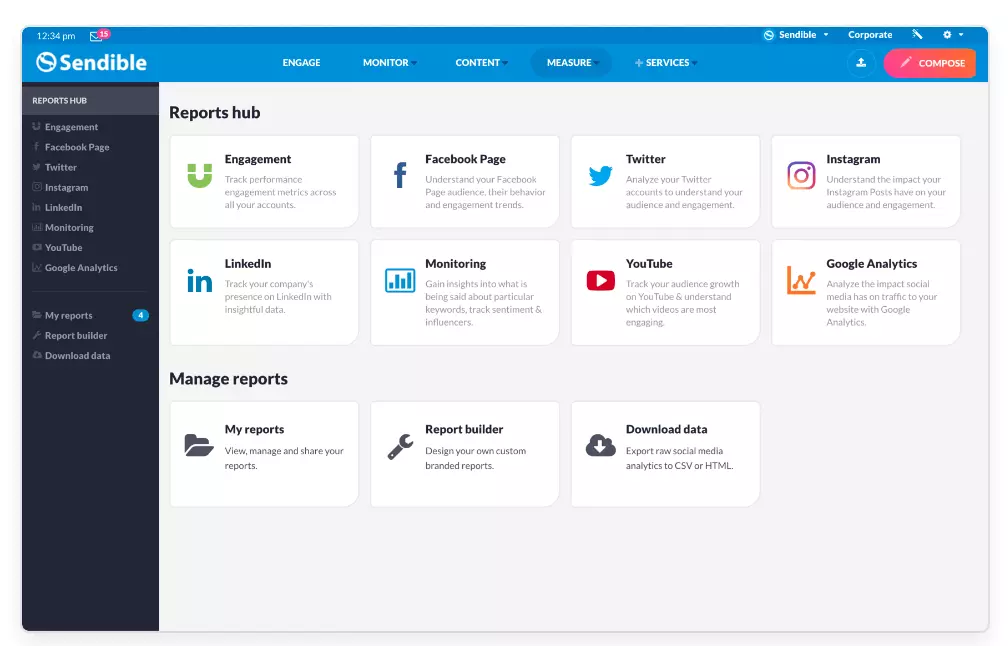 With sendible software, you will create dynamic data and collect different types of analytics dashboards to give to clients.
In sendible you will generate in-depth Analytics data for all Facebook, Twitter, LinkedIn, and Instagram. youtube, GMB, and more.
You can collect information from engagement, combined audience, and post from all social software tools.
This tool has above 250 modules for reporting data. You can choose from one of them and impress your client with your performance metrics. You can tailor by drag and drop method to create and export the data.
You will also be able to track the performance of your team daily or weekly, the options are available on the company website and software tool.
On a daily, monthly, or weekly basis you can create your performance report by clicking one button as a pdf file.
With the help of analytics, you are able to create a high volume of content for your client audience interest rates.
You will be able to watch deeper insights analytics with the help of google analytics. You can see the page views, content, engagement rates, visits, etc.
Monitoring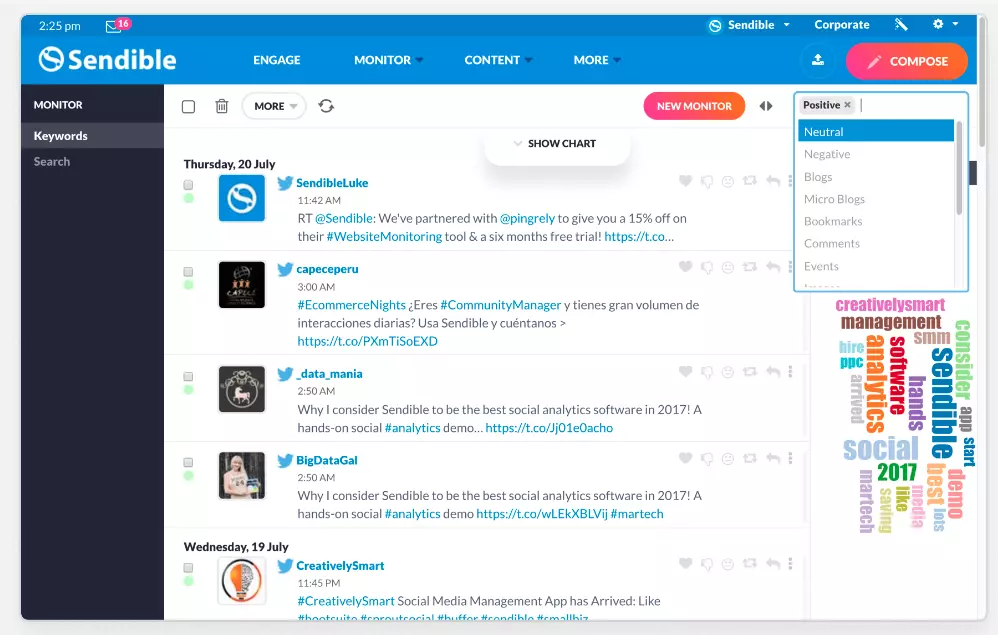 You can track all posts from different social media accounts on one platform of sendible. You can also monitor Instagram feeds also.
You can get an alert via email or in sendible account when you can get matching keyword criteria
You can have a conversation with team members who are well known to deal with conversations about keywords.
You have to monitor the presence of your competitors in social media activities, such as posts, the content type they published, using hashtags, and more.
With the help of social listening, you can make a lead with Twitter.
Mobile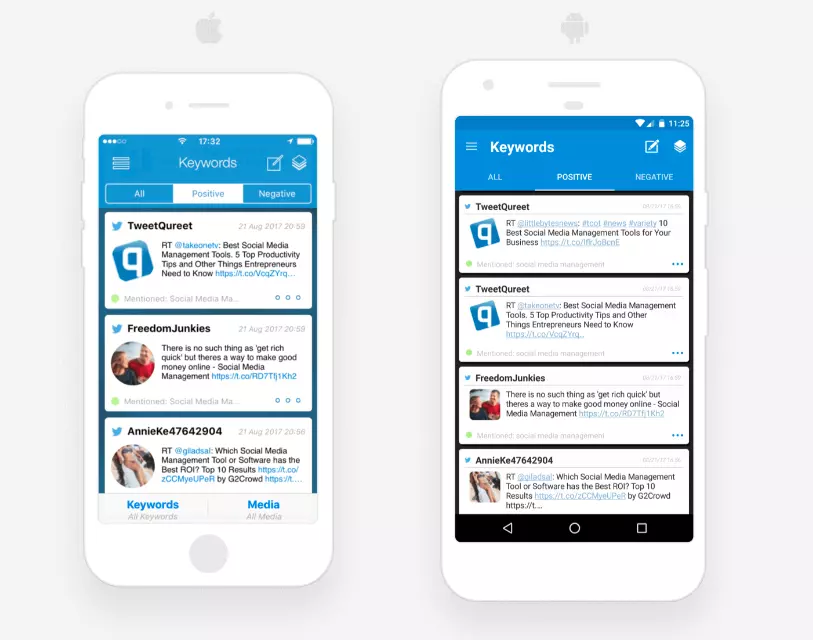 If you work remotely you have to maintain social media presence on Sendible mobile apps for android and ios too. So that you can publish content from anywhere without any lagging.
Don't give time for the audience to wait for your reply. You have to send a reply as soon as possible within a minute. This will give trust on your products and make goodwill
If you are not at the desk you can set up with push notification from the audience side, so you can reply from your phone itself.
With your mobile phone you can take control to get all access for posting images, videos, and articles on Instagram, Facebook, Twitter, Linkedin, Youtube, GMB, and so on.
Sendible has a sentimental analyzer to reply to audience messages with high priority and low priority. This option helps you to give a reply message as soon as for targeted and monitored keywords.
You have to keep track of social media engagement rates through your mobile phones. You will see the analytics data from the mobile app.
Integrations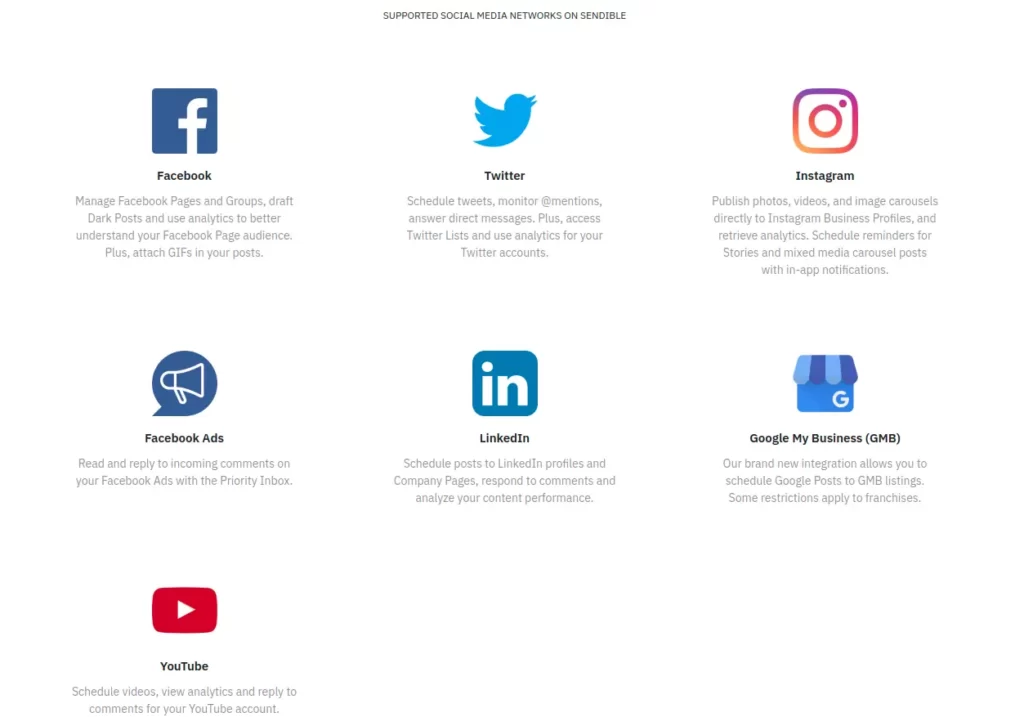 You will be integrated with Facebook, Instagram, Twitter, Linkedin, Youtube, GMB, Facebook ads, and more social media tools.
Sendible Pros & Cons
Sendible Pros
Easy to add content to every social media profile
Free Trial is available
This sendible software is user-friendly
You can schedule, create content and collaborate with your teammates very easily
Canva integration and the first comment are the best features in this platform
Customer Service is best compared to others
Creating reports is easy and customized with differences too.
The dashboard is very good and highly optimize for SMB purposes.
Sendible Cons
Connection Issue come
Price is so high for beginners
Review and Rating for Sendible
| PERFORMANCE | RATINGS |
| --- | --- |
| Usability | 9/10 |
| Performance | 9.8/10 |
| Online Rating | 9.1/10 |
| Support Rating | 8.8/10 |
| Implementation Rating | 8.9/10 |
Iconosquare Trusted by
Conclusion
Finally, Not but not least this tool will help you a lot. Compare to another social analytics tool this tool will help you a lot with effective great features. Try for free trials and use it once when it gives satisfaction to you then you can buy this tool with your interesting plan.
This tool is best when handling social media business, to save more time.
Sendible Office
3rd Floor, 311 Ballards Lane, London,
UK, N12 8LY
+1 1646 233 0357
+44 203 869 9438
+61 283 104 596
Get in touch with Iconosquare
FAQ About Sendible
What is Sendible used for?
Sendible is the social management software tool that helps you to save more time and publish more posts, and videos with just one click from setting up scheduling options.
Is Sendible easy to use?
Yes, Sendible is easy to use for non-coding people also. User-friendly is better than other software. This sendible has a simple interface that helps all others to use it from scratch without any coding knowledge.
Does Sendible automatically post?
Yes, In Sendible account you can able to post automatically with one click scheduling option by team or by yourself.
How many people use Sendible?
More than 25,000 People use Sendible in various business industries for maintaining their social media activities.
Does Sendible have an app?
Yes, Offcourse sendible has an app for both android and ios software which gives more flexibility to you to check regular performance for your client's social media accounts from anywhere on the planet you have.
Does Sendible post to YouTube?
Yes, you can upload video content for your youtube channel, which is great.
RELATED POST