Iconosquare Review – Overview
Iconosquare is the best software tool for social media management purposes. You can handle more than 4 accounts in this software tool. This tool helps you to save time from social media activities, by posting content with the help of a scheduling concept.
Many small business peoples use this tool for maintaining their social media accounts simply with not have much work.
You can assign the work, and schedule them to post on the internet that's it. Your work will be finished and other works are automatically done by Iconosquare software.
You can start this from today also without entering your credit card, you can use this for a 14-day free trial concept. If you use this software then you will save more time from other works. Using this software is very easy for you and other ordinary people also. Because it is more user-friendly software and simple and very easy to use to manage your social media accounts in a single space.
Yes, by using this software you will be managed more than 4 to 5 different social media accounts in a single dashboard of the Iconosquare tool.
You also set posts, and content, in prime time to publish all over social media such as Instagram, Twitter, Facebook, Linkedin and so on.
This tool is a powerful tool for finding analytics data from different social media platforms.
Iconosquare is found in 2011 in France. This tool is focused to get performance details on other social media platforms such as Instagram, Twitter, Facebook, and Linkedin.
To Whom Iconosquare is suitable for?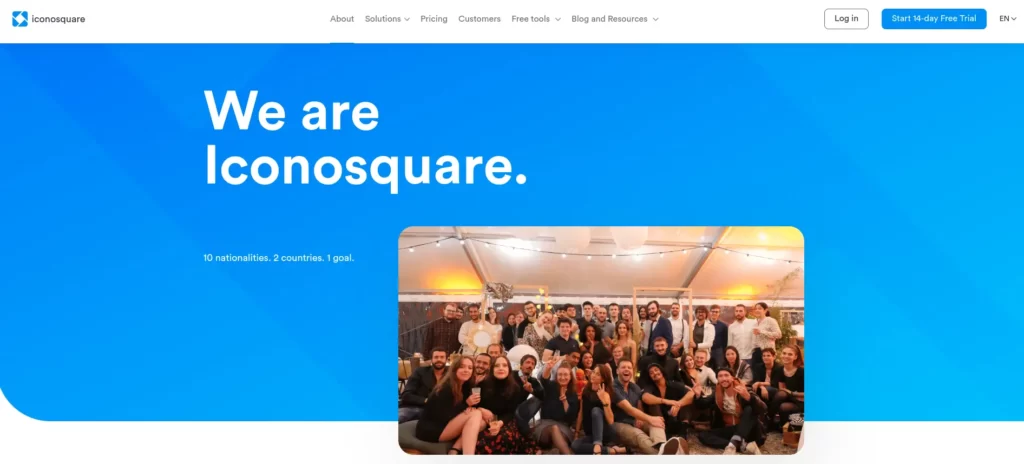 Iconosquare is suitable for 3 different types of business people, they are,
Small Business.
Enterprise Business
Agency Business
Iconosquare not only gives services to these business people, apart from that every single user also can able to use this Iconosquare software for give better performance to your business. If you need to get better performance and engagement rate with perfect analytics details from your Social media accounts, then it's time to switch to the "Iconosquare" software tool.
More than 300000 Peoples gain success in their online business and make more money by using this successful tool for their Social management.
By using this tool you get more flexibility to undercover your business with 24/7 monitor performance ratings on from the single tool.
Iconosquare works in Enterprise Business
By using this software tool, you can get optimize your social media and your social media management business. This tool will understand your audience's capability and gives accurate result for your SMB.
You can also able to build a community by using this software tool. Which helps you to get high engagement rates.
With this tool, you can identify your most reached content with likes, shares, reach, and so on. You will also analyze impression rate, engagement, and follower growth with a single dashboard.
You can schedule the content and post it, no matter where you are but you will have more time to spend on other works. Because automatic publishing will be undertaken by the Iconosquare software tool.
Iconosquare works in Small Business
This software tool is also used for small businesses to get more reaches, likes, and engagement. You will also increase your followers by using this software as the correct strategy.
If you need to build an audience and need to reach within a short period of time on Instagram then this software tool will help you to grow in all categories.
You can also schedule posts, content, and comment also in your Instagram account. Do you know how you can create an Ig account in less than a minute?
Yes, its pretty simple to create the account and make more followers through scheduling and posting at the correct time on Instagram,
Posting at the best time will give a quick success rating and increase more followers within a short time of your life.
You can schedule the analytics reports from your competitor and use them later, with different aspects, which helps you to grow in social media.
You can easily track the performance comparison for your competitor, and you can able to share performance reports from competitors with your client, manager, and yourself.
Iconosquare works in Agency Business
For agencies, they are using this software most frequently to get reports faster and make changes and give performance reports to their client. Iconosquare is helpful to track events, see to increase analytics details, give performance matrix, and so on.
This software tool is understand the needs of the content and give better performance related to particular content, post, reels, and more.
This software will Optimize its own insights to give the best performance for your social account.
You can download the report in PDF format and you can send it directly to the client by email also you can able to filter Organic traffic, Paid traffic differences in the same report also.
Flexibility in social activities gives the best in this software.
You can handle multi Profiles for different niche accounts in a single dashboard itself.
Iconosquare Pricing
Pricing differs according to its needs, and usage in social media, Price will vary and depends on features and functional activities. This Iconosquare software helps you in all levels of terms. You need to take better plans for your business. If you using a single social media account then you need to buy a basic plan, unless you are running an agency business you can buy other plans, it's up to you.

Monthly Plan for Iconosquare Software Tool
This Iconosquare has 3 Pricing Plans,
They are,
Pro Plan – $59 Per Month
Advance Plan – $99 Per Month
Enterprise Plan – You can contact iconosquare team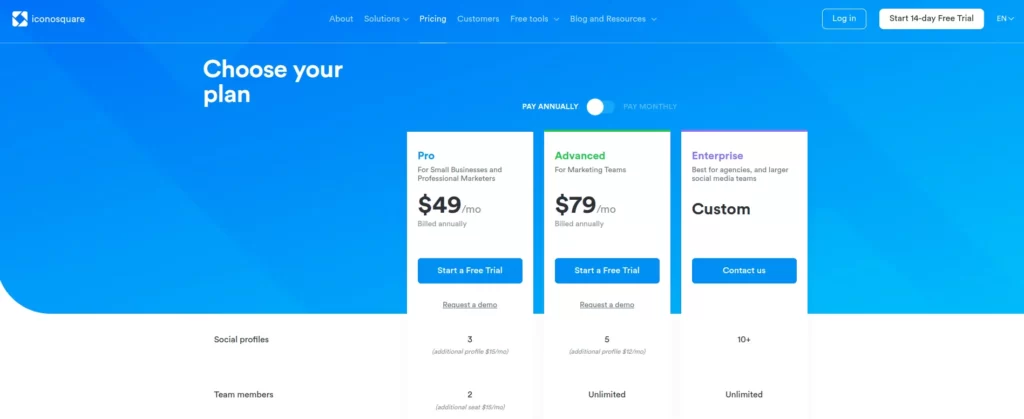 Yearly Plan for Iconosquare Software Tool
Pro Plan – $49 Per Month
Advance Plan – $79 Per Month
Enterprise Plan – You can contact iconosquare team
NOTE: No Credit Card is Required for Each Plan in your 14 days trial
Iconosquare Plans Details
Pro Plan
This Pro Plan is common for all but pricing will differ from subscriptions monthly and yearly.
You can handle more than 3 profiles from this plan, if you need an additional profile to handle then you need to pay $15 for that.
Handle team members will be 2
You can do competitor research per profile, you can see analytics details from this plan
You can schedule the post and publish later option is available in the pro plan also and you can download the performance report in the XLS file too.
Advance Plan
In the advance plan you can handle more than 5 social media
You will handle unlimited team members for your business and can see analysis also
In this Advance plan you can check more than 5 competitor profiles, and also analyze 5 profiles' hashtags also
You can able to see analytics details on Instagram, Facebook, Twitter, Linkedin, Tiktok
You can see the conversion rate and also schedule your post according to your plans.
You can able to download performance reports in both XLS and PDF files and also see the custom dashboards.
Enterprise Plan
On the enterprise Plan, you can handle more than 10 Social Profiles to manage
You can handle unlimited team members,
More than 10 Competitor Profiles on Facebook & Instagram you can handle
More than 10 hashtag strategies on Facebook & Instagram you can handle in an enterprise plan
You can see all conversion data, and schedule your post, reels, videos, and images as per your own time
You can able to export performance reports in charts, and download them in XLS, or PDF files.
Email access will be provided for you to send downloaded pdf files, and performance files to your client directly on iconosquare dashboard
Iconosquare Features
Iconosquare has some important features for managing social media for your account and your client's social media accounts also
Analytics
Publishing
Monitoring
Free tools such as
Link in bio manager – Omnilink
Random Comment Picker
Instagram Audit
Facebook Audit
Tweets on Instagram – Twinsta
Analytics

By using this iconosquare, you will get full access to the visit the analytics dashboard, from this you can check all your performance data from Instagram, and Facebook.
You can check impressions, reaches, followers count, rate per post, and average engagement with your post, with the help of this analytics you can optimize your content according to your business and you can re-do the work.
If you check analytics data, you can get more ideas to increase your social media platform.
With the help of this tool, you can check
Instagram Story Analytics,
In-depth engagement insights
Tags and Mention your Analytics
Competitor Tracking
Hashtag Tracking
You can check community analytics
Profile Activity
Publishing

By using this software you will have access to schedule your post and upload your content with more, in the same dashboard of iconosquare.
On Instagram, you will be able to schedule your content, post, and carousel story. And also include your favorite hashtag automatically.
On Facebook, you can also schedule your content, posts, images, and videos.
On Twitter, you can automate your tweets, and also even GIFs.
You can upload bulk images by using dropbox or one drive. You also categorize your images according to your interest in your social media account.
You can set it to preview your feeds.
Hashtag suggestions are also well done in Iconosquare.
Monitoring

Real-time Engagement – In Iconosquare software you will find real-time engagement ratings, to monitor your social account.
For conversation, you can monitor your clicks and activities on your social media. If any user comments on your post, you will get an instant message from the tool, and you can reply to them with the same dashboard.
You can monitor multiple competitors in the same dashboard with related business industries.
You will understand the performance statistics of your competitor and you will be benchmarked against it to overcome.
You can also monitor your hashtags and track everyone.
Iconosquare Pros & Cons
Iconosquare Pros
You can able to check a number of links on your website and Landing pages.
Free trial available
Provides best Insights
Reports have important features to send to the client
You can create custom reports quickly
Easily know the count of visitors to your account
You can monitor Insights data
User-friendly for beginners
Competitor Analytics is great
Social media analytics is good
The interface is simple and easy to use for you
Provides In-depth information
Iconosquare Cons
Not great to give separation between organic and paid leads
Generate reports for real followers
Only Includes Facebook and Instagram
Comment Tracking
Review and Rating for Sprout Social
| PERFORMANCE | RATINGS |
| --- | --- |
| Usability | 10/10 |
| Performance | 9.9/10 |
| Online Ratings | 9 |
| Support Rating | 8/10 |
| Implementation Rating | 8.9/1006d4cd0a8.9/10 |
Iconosquare Trusted by

Conclusion
Not but not least, Iconosquare is one of the favorite tools for Instagram influencers, and social media management companies. This tool is helped many business peoples to save in real-time. This software tool will give more value to your business, so you can try it with 14 days of free trials. Iconosquare is the user-friendly software that will use by all people to manage their business on social media such as Instagram, Facebook, etc.
Iconosquare Office
Office in Limoges
12 rue Armand Barbes,
87000 Limoges
France
Office in Berlin
Spaces Alte Post
Karl-Marx Street 97-99, Berlin 12043
Germany
Get in touch with Iconosquare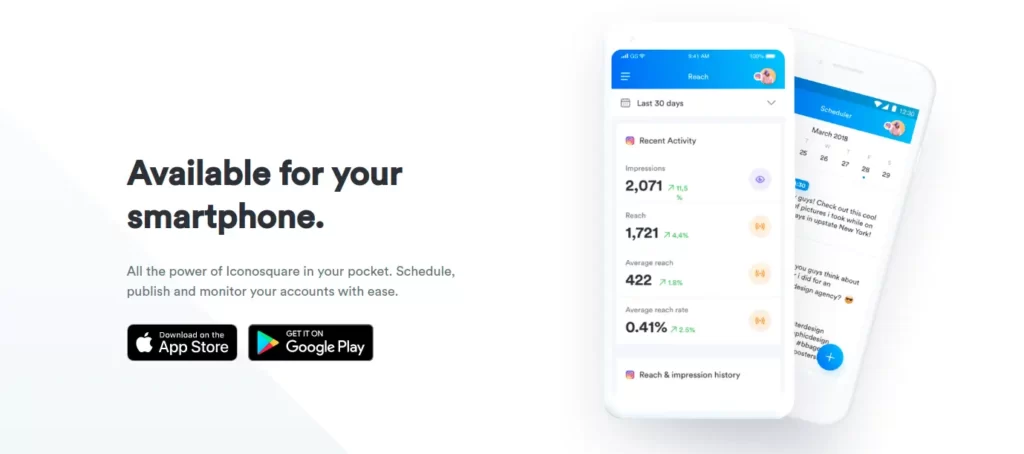 FAQ About Iconosquare
What is Iconosquare used for?
Iconosquare is used for analyzing your data from Instagram, and Facebook and gives better engagement performance to you. This tool will Increase your engagement ratings.
Is Iconosquare is free?
No, Iconosquare has a 14-day free trial, but after that, if you need to continue with this software you need to pay a little bit amount.
Who uses Iconosquare?
Iconosquare is used by the micro-influencer company to multi-level social marketing companies because this software deserves a lot.
Editor's Choice