Minter.io Review – Updated 2023
Minter.io is one of the best analytics tools for Instagram, Twitter, Tiktok, Facebook, and Linkedin. Minter.io helps you to get detailed statistics about Analytics data for your social media management business.
With this minter.io software tool, you can create customized report data for yourself and share it with your client. By using this tool you will get a clear, complete interface report for your Business.
This software tool will help you to give in-depth details about traffic, and engagement rates. Views, shares, and more in every hour. This software is widely used by small size businesses because of its features and pricing plan.
With Minter.io you can keep tracking of your hashtag's marketing in the campaign. You can able to see every hashtag view of users and track their analytics in this software in a single place. You can do a comparison between your account and your competitor's account which helps you to get an idea to bring your post into high conversion rates.

You can able to save more time by using minter.io. Because you can simply download your customized report in the format of CSV, PDF, XLS & PPTX.
Minter.io helps you to schedule the content and post daily, weekly, or monthly with the permission of the client, hence you will be up to date with your social media presence.
If your name or tag will be mentioned in any other post and description. You can easily find out your all tags in one place by using this minter.io tool.
In minter.io you can have access to invite your team members for your work, and you can able to restrict the access for important data such as passwords & payment processes.
To Whom Minter.io is suitable for?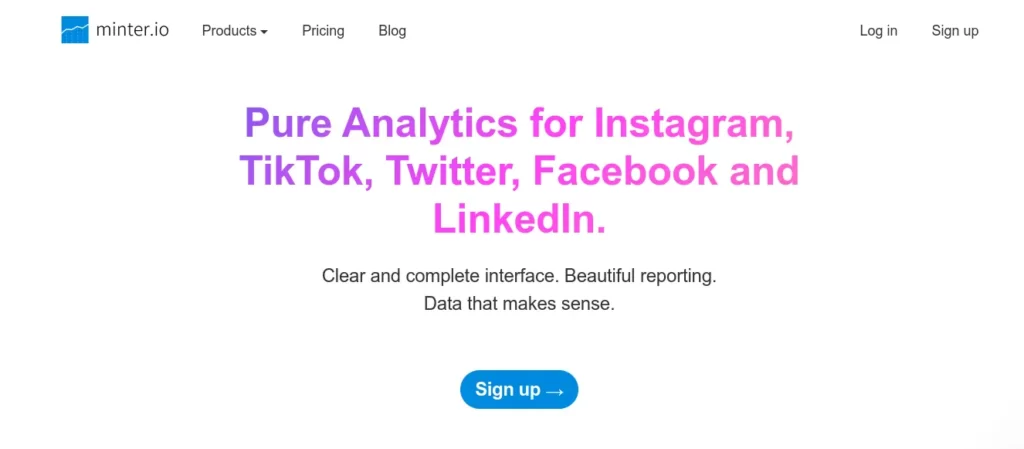 Minter.io is suitable for everyone who handles their business with also Facebook, Instagram, Twitter, Linkedin, & Tiktok.
By using this minter.io software tool you can able to make money for your own purpose by using some simple strategy.
This software tool helps you to grow your followers on Instagram, Linkedin, Twitter, Facebook, and more social media.
If you really need to know how to grow Instagram followers? Then you have to do some basic implementation works on the minter.io software tool.
Finally, this software tool will help for
Small Size Business
Medium Size business
Large Size Business
Minter.io Pricing Details
Minter has less pricing compared to other social analytics tools.
You have 14 days of free trial in this software.
No Credit card is required for buying this software
You can able to cancel at any time.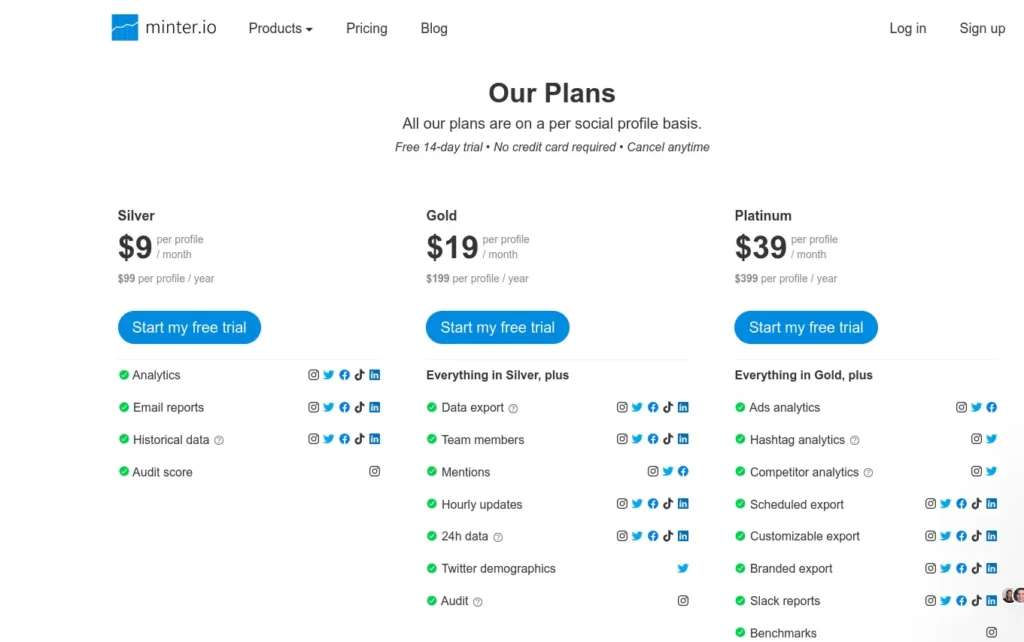 Monthly Pricing for Minter.io Software
In Minter.io software will have 3 different plans according to every business's needs.
So, here minter.io have
Silver Plan – $9 Per Month
Gold Plan – $19 Per Month
Platinum Plan – $39 Per Month
Yearly Pricing for Hootsuite Software Tool
Silver Plan – $99 Per Year
Gold Plan – $199 Per Year
Platinum Plan – $399 Per Year
NOTE: All Plans have 14 – days of Free trial with no credit card required
Minter.io Plans Details
Silver Plan
The silver plan is the basic plan for the Minter.io software tool.
In this plan, you will get all your analytics data for the social media platform. Such as facebook, Twitter, Instagram, Likedin, & Tiktok.
You can able to send email reports for all social media platforms mentioned in Minter.io software.
Able to see the historical data for five social websites.
In Instagram, by using this minter.io software tool you can audit the present score for your Instagram account.
Gold Plan
In this plan, you can do analytics of the following social media accounts. Such as Instagram, Facebook, Twitter, Linkedin, and Tiktok.
You can able to send the email report to all social media accounts.
Minter.io allows you to see the historical data for the social account. ( Facebook, Twitter, Linkedin, Instagram, Tiktok).
You can do audits with IG only.
In minter.io you can export all data from your social media accounts. ( Facebook, Twitter, Linkedin, Instagram, Tiktok)
In this plan, you give access to your team members.
You can able to mention your tags anywhere and you could find out your tags as per searching.
Information will be updated by every hour.
You will see the demographic insight for twitter in this minter.io software tool.
An audit with Instagram will be done in the Gold plan also.
Platinum Plan
In the Platinum plan, you will have everything with the Gold plan and have some additional plans.
You can see the additional analytics for your ad campaign. ( in Facebbok, Twitter, Instagram ).
Hashtag analytics will be done here to get more engagement rates from your audience and others too. (only used on Instagram, and Twitter )
One of the best options is to do competitor analysis for your business. With this plan, you can analyze your competitor and made different actions for your social business.
With the help of this plan, you can schedule the post accordingly with your client weekly and monthly basis.
You can able to customize your report for better analysis with export into PDF, XLS, PPTX, and more files for references.
You can replace the image in your export data in PDF, or PPTX, and use your logo to give goodwill to your client.
In the Slack channel, you get key metrics for daily, weekly, and monthly.
Minter.io Features
Minter.io has many features for only Instagram, Twitter, Linkedin, Tiktok, and Facebook. Let's see the features detailed,
Instagram Analytics,
Twitter Analytics,
Tiktok Analytics,
Hashtags Analytics,
Analytics for Agency
Analytics for Business
Slack Integration
Instagram Analytics

Instagram analytics you can use for your brands, agencies, and business purposes.
Followers Growth – You can able to track your audience growth every day with the loss and gain of followers count. You need to focus on a different strategy to build followers count more on Instagram and other social platform. See the historical details and implement your own strategy level.

Audience Insights – In Audience insights segments you will get all data related to demographic places, Locations, gender, and more. With the help of an audience, you can able to build a community around your brand.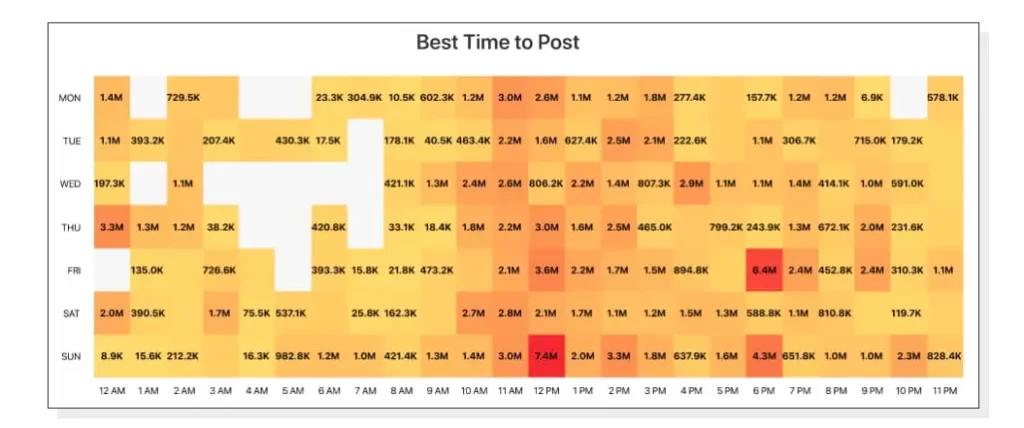 Engagement – In engagement, you need to see the performance metrics for your post, and see when the post will reach higher and when it is down. You need to note the best time to post on social media. If you find the best time, then you can boost your post on social media to get a high performance and engagement rate.
Instagram Story Analytics – You need to keep track of story reaches, and impressions to find a better performance rate. In the Instagram app, you can able to store stories for 2 weeks only but in this tool, stories will be stored forever, so you can easily get access and improve your performance.
Content Analytics – You know what? Content is the king. Yes, you have to focus on keeping an eye on the content of your business, with likes, shares, reaches, comments, impressions, and more. When you can able to notice the post which gives the best performance rate then you need to pick up that content and re-build for the future.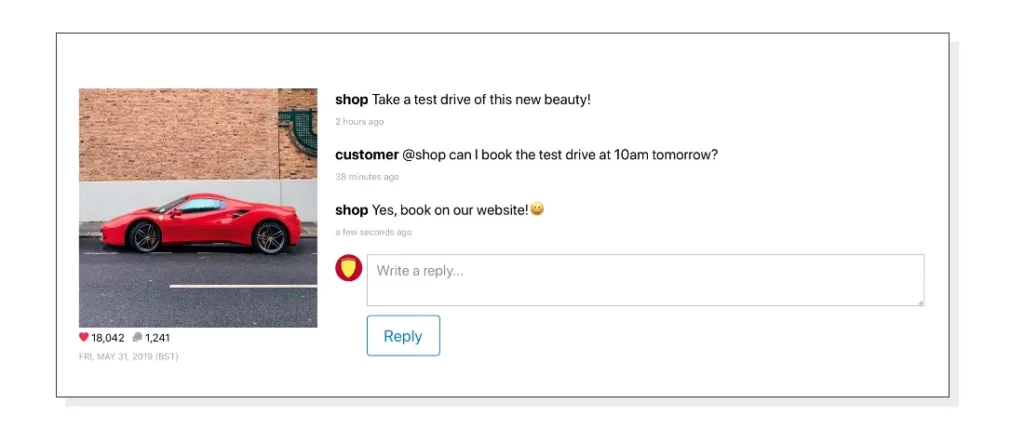 Instagram Mention Tracking – If you mention your brand name or particular hashtags on your post or description with the help of minter.io you can find it easily.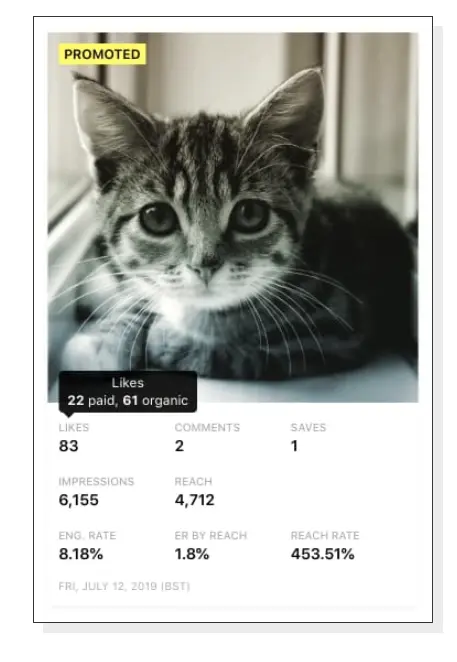 Instagram Ads Analytics – You can able to see the performance of Instagram ads with a breakdown of the organic and paid traffic. You can see with reaches, impressions, likes, comments, and more will be mentioned.
Benchmarks – Use Benchmarks to measure your brand. You can look at your growth with performance on posts, reaches, likes, impression rates, stories, and follower count.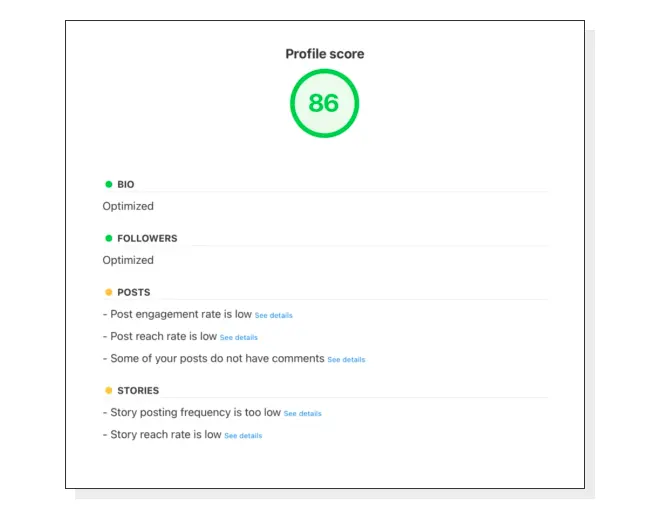 Instagram audit – Do an Instagram audit to make better performance with your followers, increase reaches, comment, shares, and likes and optimize it by performance report.
Regular updates – You can able to view regular growth updates with the minter.io tool.
Report for Instagram – You can able to download the performance report via PDF, PPTX, CSV, or XLS format. You can schedule reports to send automatically daily, weekly and monthly too.
Twitter Analytics
This Twitter analysis is used for brands, agencies, and business purposes.

Follower Growth – You can see your follower growth on Twitter which helps you to increase your performance rate. You can analyze the lose and gain follower reports on this software tool. You can use the Date Picker option to select the specific data and see the report for that data alone. This feature also help's everyone to see their twitter growth rate.
Demographic – By using this demographic you can see gender, location, and languages to build the relevant community for your brand. You can evaluate the follower ratio by this process.
Tweet Performance – In Twitter, you need to keep eye contact with your tweets, Identify the best performing content in your Twitter account, then take it that content as an example and make it as it like for another post.
Mentions – The mention option is used to track the brand names, and filter the important ones. You can also see your Twitter post is received positive, negative, and neutral messages.
Twitter Optimization – You need to find out the best engagement time on Twitter for your account which get high traffic with re-tweets and more hashtag trigger. By analyzing this you can optimize your future content on Twitter.
Reporting and Export data – In the minter.io software tool you can save more time by exporting performance reports by downloading on XLS, CSV, PDF & PPTX. You can schedule the report to automatically post daily, or weekly with one click process.
Tiktok Analytics

Tiktok Analytics is used for Brands, agencies, and Business Purposes.
Content Performance – In TikTok analytics, you can get reports for performance by views, engagement rates, likes, and shares.
24-Hour Data – With the 24 hours of published videos on your Tiktok you can able to see in-depth performance metrics.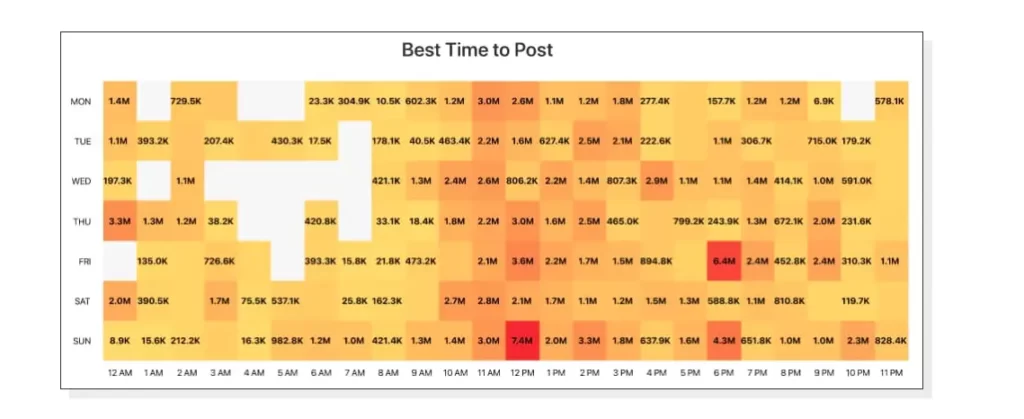 Tiktok Optimization – By posting at the correct time for Tiktok you can make your account optimized with better performance.
Report & Data Exports – By getting a report on your performance you can export the data by PDF, XLS, PPTX, or CSV files.
Hashtags Analytics

You can track Instagram hashtags for brand awareness for your Instagram account.
Hashtag Growth – If you need to measure the success of new products in your campaign you have to use a hashtags strategy to make it. Keep track of your post with your new hashtags which give results for your performance.
Hashtags Engagement – Keep monitoring your Instagram brand hashtags and see the performance. In the performance report, you can see the insights of your post, videos, carousel activities, and more.
Sentiment Rate – Hashtags overview gives the public opinion about a brand or any products. With your opinion, you can understand how people respond to the post you have shared.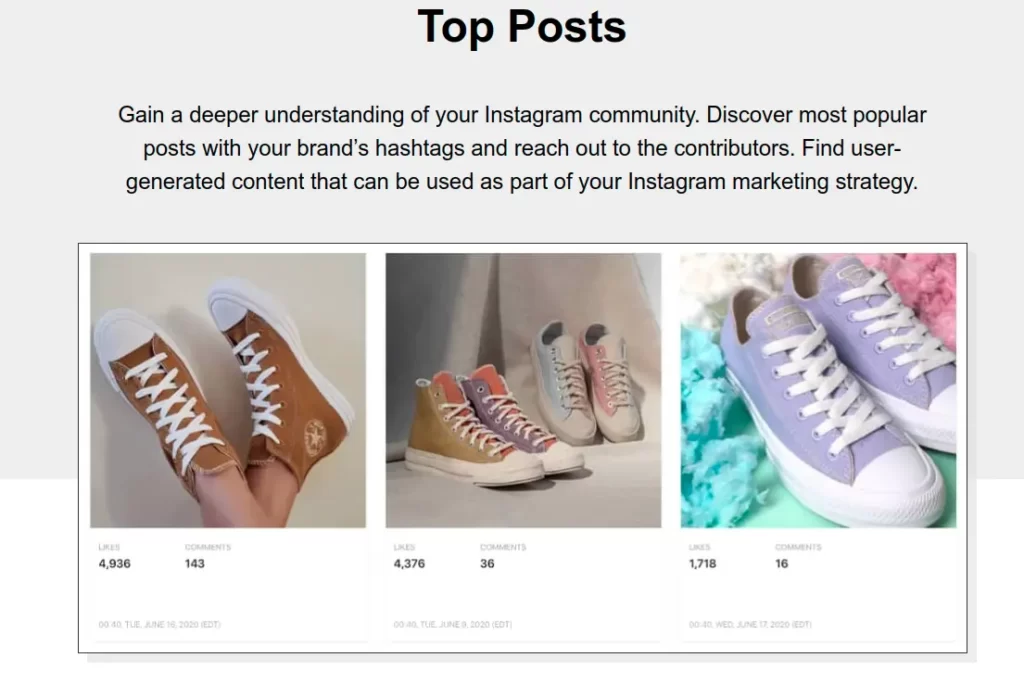 Top Posts – Keep using user-generated content to give more performance rate.
Reporting & Data Exports – You can download the performance report in PDF, XLS, PPTX, and CSV.
Analytics for Agency

Multiple Profiles – You can monitor all social media platforms in a Single dashboard. (Instagram, Twitter, Linkedin, Facebook, Tiktok)
Team Management – You can give access to your team to do specific campaigns, with your team of their own dashboard.
Report & Data Export – Performance report will be downloadable with PDF, PPTX, CSV & XLS files.
Branded Export – You can able to upload your agency logo in PDF and PPTX files to give better look.
Agency Plan for Minter.io

Analytics for Business

Competitor Tracking – With the help of a benchmark you can access the audience and growth rate.
Team Management – You can provide access to your team member separately with their own dashboard and restrict access from passwords and other important stuff.
Report & Data Export – Download report by PDF, XLS, PPTX, CSV
Email & Slack Notification – You can streamline workflow in the slack channel to upload the latest updates of account information. In some clicks you can export files with PDF, PPTX automatically to your inbox every day, weekly.
Slack Integration

By integrating your minter.io account to the slack channel you can able to send daily, and weekly reports for TikTok, Twitter, and Facebook.
Steps to add Minter.io to Slack for Integration
1. Add your IG, TikTok, Twitter or Fb report.
2. Go to the "Slack Integration" page.
3. Add your report to Slack.
4. Receive your Instagram, Twitter, or Facebook stats to Slack.
5. That's it.
Minter.io Pros & Cons
Minter.io Pros
Free trial for all plan
Data is reliable for Instagram
User-friendly and used by all people
Support well on Instagram
Performance metrics are accurate in all plans
Minter.io Cons
Need to upgrade all social media to integrate like Instagram.
Review and Rating for Minter.io
| PERFORMANCE | RATINGS |
| --- | --- |
| Usability | 8/10 |
| Performance | 8.8/10 |
| Online Rating | 8.1 |
| Support Rating | 8.8/10 |
| Implementation Rating | 8.9/10 |
Conclusion
Last but not least, in this minter.io software tool, you will get all information within and out details. This software tool will help you a lot for social media management purposes. Every normal small business to large enterprise business people mostly uses this software tool for that social business. Try it with the trial version and let's see what happens to your social media engagement rates.
Minter.io Office
Minterly,
Malaya Bronnaya Ulitsa, Moscow, Moscow City RU
Minter.io is located in London, England, United Kingdom.
Minter.io Review by Video
FAQ About Minter.io
What is Minter io?
Minter.io is the software tool that helps mostly for social media management business for Analytics.
How do I track Instagram analytics?
By using the best analytics tools like Minter.io you can track Instagram analytics.
Editor's Choice