Keyhole.co Review – Overview
Keyhole is one of the Analytics tools in the software industry, which helps you to get your performance data with a downloadable report within 2 minutes with one click. By using this keyhole.co software you can take the report as an automated process, saving more time.
So you can spend your time with your family, not creating a spreadsheet.
By using this keyhole.co you save more time from creating reports for your work. You can able to generate a quick report with sharable options.
In Keyhole.co you can download your report by PDF & XLS file which help you to see the exact matches of your performance in your social media business.
If you need the report to see or if you need to send a report to your client this software will help you to get an instant report at the same time.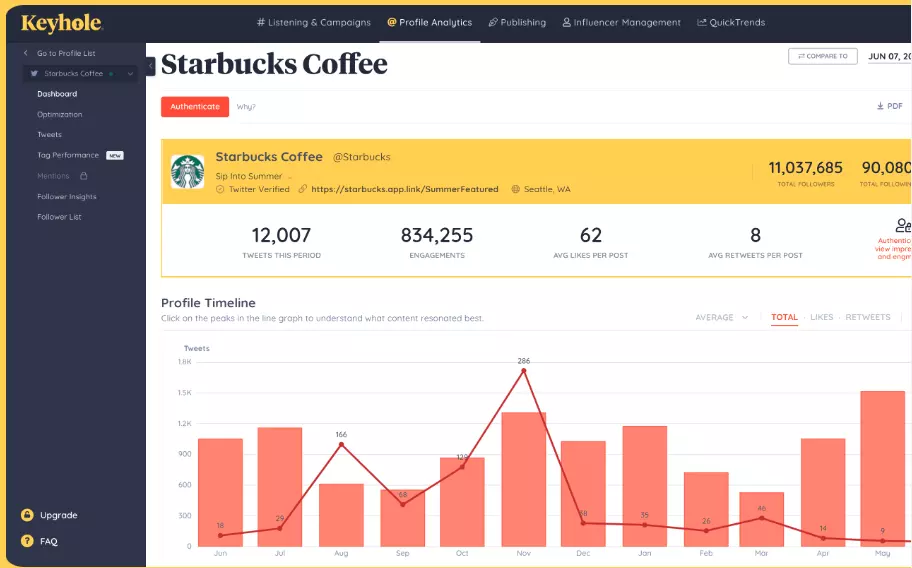 In this software, you can easily monitor the competitor's activities and you can research full details from your competitor and help to overcome them in the social media business.
Keyhole.co is integrated for all social media platforms such as Facebook, Twitter, Instagram, Youtube, Linkedin, Tiktok
You can Benchmarks against your competitor by using this software tool Keyhole.co
By using this tool you can allow influencers to set up their profile with a keyhole to get performance reports in instant time. Keyhole is helpful for your Instagram account to grow your followers with this software feature.
How do you increase your followers?
You can increase your follower count by buying Instagram software tools. It's not safe but you can show the count of your Instagram account.
But, it totally a wastes to buy Instagram followers online. You can go through with Keyhole.co and do step by step process to increase your engagement rate and follower count also.
To Whom Keyhole.co is suitable for?

Keyhole.co is an analytics software tool for seeing the performance rate and increasing the traffic organically with detailed analysis.
This software is used in various different industries, such as
Agencies.
Enterprise,
Non-Profits,
Entertainment & Medias,
Esports,
B2C Brands
Agencies – With the help of using a keyhole you can stop manual work and start by using automatic work for business. You can handle clients, Campaigns, and Influencers with a single dashboard. So, it is easy for an agency to do social management with one platform.
Enterprise – In this Enterprise business you can customize the report to get more flexibility. You will also get premium support for this plan.
Nonprofits – No credit card requires to start. 14-day free trials are available.
Medias & Entertainment – You can impress sponsors with your beautiful reports. Mostly Media and Entertainment content will go viral in the internet. So, use Quick Trends to get similar hashtags related to your Industry.
Esports – You can track your tournament hashtags and collect your reach, impression, and engagement rate.
B2C Brands – Get your targeted brand into the marketplace. By using Influencer Marketing you can boost it. So you will get a high volume of impressions and real time data.
Keyhole.co Pricing
Keyhole.co is used to build your brand awareness, Brand engagement, and Improve your ROI.
Keyhole.co Software have less price compared to all other social media software.
You have to chat with the company to get a better pricing plan for Keyhole.co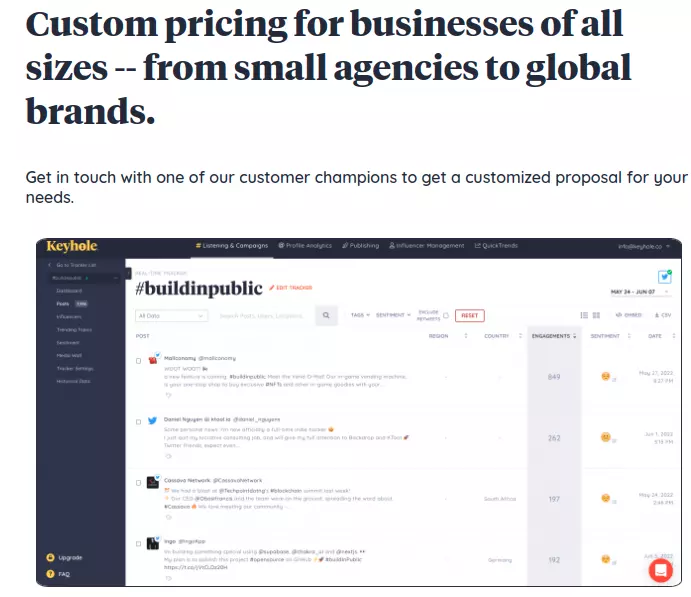 Monthly Plan for Keyhole.co Software Tool
Keyhole.co has 4 major pricing details,
They are,
Basic Plan – $49 Per Month
Plus Plan – $99 Per Month
Professional Plan – $199 Per Month
Enterprise Plan – Custom Price
Keyhole.co Plans Details
Basic Plan
In this plan, you have to pay $49 Per Month.
This plan is so familiar to small business people to manage their social media with one platform.
You can use 1 Social Listening tracker with 5 Keywords for your business.
In this plan, you can able to track analytics data only for 3 trackers.
You will manage up to 5000 posts in this basic plan.
Keyhole.co helps you to monitor the news, forums, and more related to your client's needs.
You can see insights by impression, engagement rate, and views for the social media platforms.
Plus Plan
In this plan, you have to pay $199 Per Month.
This tool is used by small business people to track multiple brands by finding their mentions, Optimizing, and reporting.
You can use 2 Social Listening trackers with 5 Keywords for your business.
In this plus plan, you can track up to 5 Social analytics trackers.
Post and maintain up to 5000 posts.
This tool helps you to find sentimental analysis and can download the performance report with PDF, XLS files.
Professional Plan
In this Professional Plan, you have to pay $199 per month.
This Professional plan in keyhole.co is used for mid-size businesses and small businesses also. Because midsize businesses have to track all performance data for their brand (Client). Basically, mid-size companies have more than 10 influencers to run a business.
You can track up to 5 social Listening trackers in this plan.
The professional plan helps you to see 10 social profile analytics data.
Able to post more than 20000 Posts in this plan.
Handle 10 influencers for influencer management.
You can have onboarding calling and download a white labeled report in this plan.
Enterprise Plan
In this plan, you have to deal with pricing from company executives.
This is the most likely plan for all business people to use for their social media purposes. In this plan, you will get more features compared to other plans in this software tool.
You can use and track unlimited hashtags and Keyword trackers.
Keyhole.co enterprise plan you can handle Twitter, Instagram, Facebook, and Youtube in the same dashboard.
In this plan, you will post from 2,00,000 to Unlimited posts for your social media management purposes.
You can check and filter the best influencers for your business to give the best performance rate.
You can able to download real-time data instantly by using this software.
Analyze the sentimental performance and download it all on PDF, and XLS files from the enterprise plan.
In this plan, you can set up Geo-location and Language filtering by yourself.
API access will be provided for influencer management.
Keyhole.io Features
In this keyhole.co you can see all essential features need to use for our social media management purpose.
Influencer Tracking
Social Media Account Monitoring
Hashtag Analytics
Publishing & Scheduling
Social Media Reporting
Hashtag Tracking
Keyword Tracking
Twitter Historical Data
Social Media Analytics API
Influencer Tracking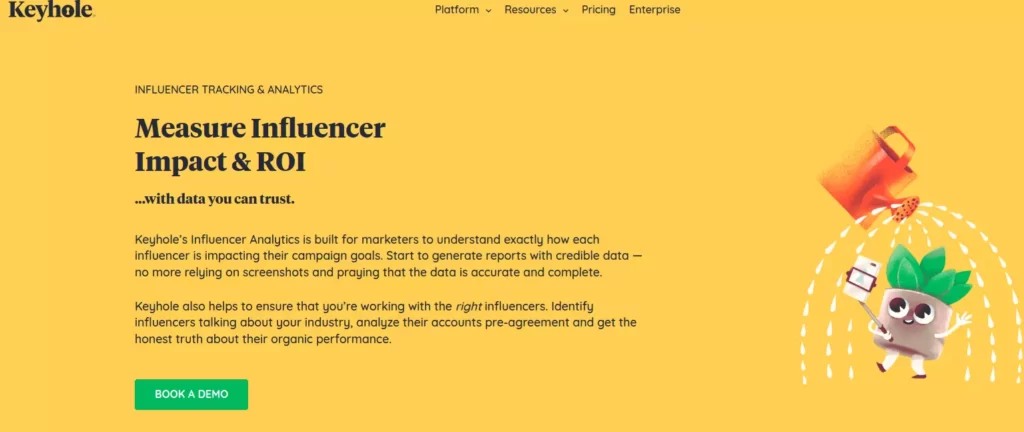 Influencer tracking is the most important feature in the keyhole.co feature. Because Keyhole.co analytics build for marketers to know about the performance results for their campaign level.
This tool is also helpful for analyzing influencer performance.
You can able to find the right influencer at the right time within your industry level. There is an option that has influencer tracking which you can track your influencer engagement rate and performance metrics.
In Profile Analytics you can check fack followers, this option is helpful for all people to identify their business.
With this tool, you can measure the performance report for views, comments, shares, reach, engagement rates, and more.
Keyhole Optimization helps to improve influencers' post-performance ratings.
Social Media Account Monitoring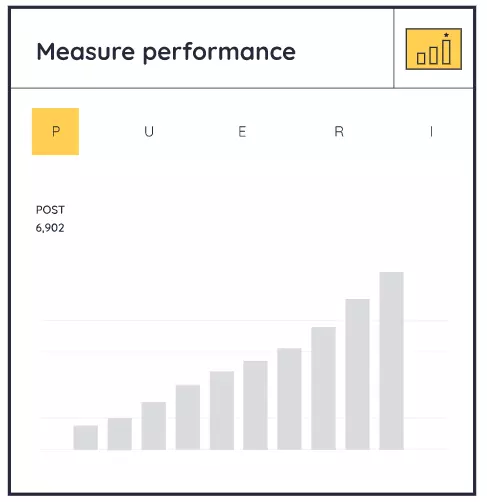 Measure Performance – In this keyhole.co you can measure your social media analytics with performance report, and also able to measure up to time. By Measuring this you can understand the report for engagement rate, follower gain accounts, and more.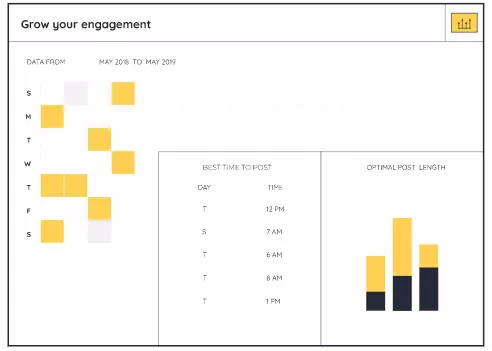 Increase your Engagement – You can increase your engagement rate by posting quality content to your audience. By posting the post at the perfect time you can increase your engagement rates for every post.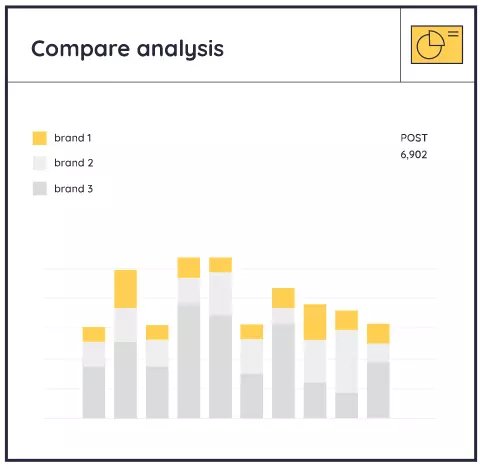 Competitor Research – By using this competitor research in your influencer account you can able to get ideas to cover them on social media accounts. By using this strategy you will see their workflow and content qualities.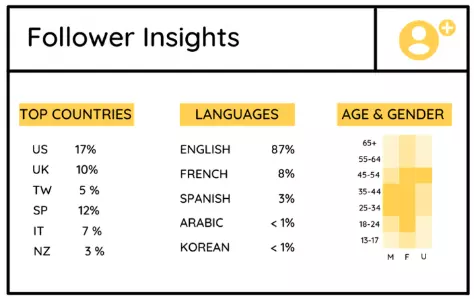 Inspect Followers – You can see the insights of followers' geography by location, gender, language, and age and you can also speak with them.
Hashtag Analytics

Make the correct decision for your business.
With the help of Hashtag tracking, you can create campaign data for Instagram, Twitter & Facebook.
Measure and report by hashtags analytics.
You can able to share your campaign result with your client or you can download the customizable report from keyhole.co tool.
With the help of this tool, you can get the keyword and hashtags instantly.
Data will save daily and stored in the keyhole.co software. You can take it whenever necessary.
Publish & Scheduling
With this feature, you can able to manage all social media activities in one dashboard, which helps all keyhole.co users to use this software tool widely.
You can schedule your convenient time to post on social media. Make sure with the prime time to publish your content on a social channel.
In the calendar view of the keyhole.co you can schedule all your future posts in one place, and you can able to see your past posts in the calendar.
In your profile, you can see a detailed view of your social media performance.
Keyhole.co gives permission to access some work files to your users.
Social Media Reporting

You can create the report on time and instant time. Some reports you can create in Keyhole.co,
They are,
Hashtags Reports
Social Campaign Reports
Influencer Campaign Reports
Brand Monitoring Reports
Custom Reports with White Label
Self-serve Historical Report
Hashtags Tracking

You can able to track particular hashtags by using the hashtags strategy.
Track hashtags often and find trending topics which relevant to your niche.
Keyword Tracking

In this keyhole.co software tool you need to track the keywords which have in online conversations.
If you get any important conversation, you will get the message through keyhole.co by using Machine learning.
Keyhole.co use trend analysis to track the trending keywords up to date. With a trending keyword, you can use it on your post to get traffic on it.
Twitter Historical Data
In this keyhole.co historical information will be sent by 1 business working day with a number of posts, engagement rates, users, impressions, & influencer details.
With Historical data, you will get downloadable data, insights, and Printed reports with PDF files which easily sharable to once.
Social Media Analytics by API

You can fetch Keyhole.co API from Twitter, Youtube, Blogs, and more social platforms.
API is used to track the conversation on brands, products, and hashtags by creating and managing by keyword tracker.
Keyhole.co API tracks any social media such as Youtube, and Twitter.
Keyhole API has no volume data compared to other ones, you can make bulk requests to API without charging an amount.
Keyhole.co Pros & Cons
Keyhole.co Pros
A helpful tool with customized reports
Best for tracking social media
Best tool for tracking influencers and Mentions
This Software tool is up to date
You can track hashtags by hashtag tracking options, which is more pretty to use.
Best tool likely for social media managers
Give the real number of results in all performance
For Social Reporting this tool works well
Insights are good in the dashboard of Keyhole.co
Report created on time
Give Accurate data by Keyhole.co API software
Fast and Sharable reports
Track all data accurately with measure every metric
Positive Customer Reviews
Language filtering & Geolocation
Keyhole.co Cons
Price will be high for some people
Advance level of features
Review and Ratings for Keyhole.co
| PERFORMANCE | RATINGS |
| --- | --- |
| Usability | 9.7/10 |
| Performance | 9.8/10 |
| Online Rating | 9.1 |
| Support Rating | 8.8/10 |
| Implementation Rating | 8.9/10 |
Keyhole.co Trusted by

Conclusion
Last but not least. Keyhole.co is the best social media management tool for Enterprise business companies to mid-level companies. This software has good review ratings as per some analysis on the internet. People love this tool for maintaining their social media to reduce their time scheduling the post and creating the report for social media performance.
This keyhole will automatically post on social media with the help of scheduling and easy to create customized reports within a short time.
This keyhole is best for agencies. Keyhole helps agencies, and marketers measure the engagement rate and performance by tracking analytics tools. This Keyhole has some important tracking features, they are Hashtags tracking, Keyword Tracking, and Influencer Tracking which help you to stand out from competitors and give better results on your social media. To see additional details click here
Keyhole.co Office
HQ Location
325 Front St W 4th FloorToronto, ON M5V 2Y1, Canada
FAQ About Keyhole.co
Is Keyhole legit?
Yes. Many companies widely use this tool to track social media performance on Facebook, Twitter, Instagram, and more…
How much does Keyhole cost?
Keyhole.co software has 4 plans for Small business people to Enterprise Business People. They are
Basic Plan – $49 Per Month
Plus Plan – $99 Per Month
Professional Plan – $199 Per Month
Enterprise Plan – You need to reach out company (Custom Pricing)
Is Keyhole free?
No, Keyhole is not free. But you can buy it for the basic plan.
Additional Keyhole Features
Keyhole have additional options to get more result, by
Campaign Monitoring
Influencer Marketing
Brand Monitoring
Event Monitoring
Market Research
Editors Choice