Analisa.io Review – Overview
Analisa.io is a software tool which widely used in the United States and all over the country to manage their social media activities in a single dashboard. This analisa.io software is fully automatic and works well on Instagram & Tiktok to get more followers for your business.
Do you know why this social analytics software tool is used widely in social media? Because this tool is fully focused and customized for 2 different social media accounts (IG & Tiktok).
Analisa.io is fully A.I generated software that helps you to check your whole analytics data in front of one single inbox. Analisa.io is a Saas Product.
This analisa.io software is structurally designed for Instagram, and Tiktok to get analytics data from these 2 social media accounts and use their strategy to get more success in your Business.
With the help of this tool, you will probably make more money with IG & Tiktok. This SAAS tool is used in 3 different platforms for business.
They are,
Small Business
Medium Business
Enterprise Business
This software is user-friendly and used for many niche-related businesses, mostly Influencers use this tool for doing influencer marketing.
Analisa.io Saas digital software was launched on 2019 in Singapore and Jakarta and also empowers their business in more than 57 countries.
Analisa.io software is used by various different organizations, influencers, small to medium business people, market agencies, education purposes, NGOs, eCommerce businesses, entrepreneurs, and also used by freelancers.
To Whom Analisa.io is suitable for?


Analisa.io is used for all industrial businesses because every industry needs a lead for its business to function. So in this modern world, you have to move to digital aspects, such as Instagram, Facebook, Tiktok, Pinterest, Linkedin, and some other social media platforms.
Eg,
You can use analisa.io software for the fashion design industry, Beauty industry, Personal care Industry, media, finance, technology, etc.
This analisa.io software tool is used by
Analisa.io Pricing
Analisa.io have different pricing plan according to their features and activities. For the monthly plans, they have 4 different categories, mostly plus plan is used by all industrial people.

Monthly Price for Analisa.io Software Tool
Basic Plan – Free
Premium Plan – $69 Per Month
Plus Plan – $149 Per Month
Pro Plan – $239 Per Month

Yearly Price for Analisa.io Software Tool
Basic Plan – Free
Premium Plan – $59 Per Month
Plus Plan – $109 Per Month
Pro Plan – $199 Per Month
Analisa.io Plans Details
Basic Plan
You can use profile and analytics data with a daily limit
Free of cost for this plan
You can see recent post activities in this analisa.io software on Instagram
No hashtags you will be researching for this software tool for Instagram
You can see basic overall performance from this plan, which gives a low amount of information for your social management account
Profile Analytics widgets will be used in basic plans
Premium Plan
In Premium Plan you will get access for $69 per month
You can able to see profile and hashtags analytics in the same dashboard of this software tool
Per Profile, on Instagram, you can able to upload up to 5000 posts
Hashtags will be analyzed from 1000 posts on Instagram
In TikTok, you will analyze recent posts with this plan
You can export all Instagram & TikTok analytics files as PDF files
In Instagram you will be analyzed engagement activity, type of post published, posting activities, and see location targeted heatmaps.
The best feature of this tool is you will see the best time to post on the Instagram platform
You will analyze the performance of insight performance, engage performance, best analytics post, and so on.
Plus Plan
This plan is the most popular plan purchased by many influencers, business people, and more.
In the plus plan, you will be paid $149 per month, and if you need per year then you will be paid $109.55
You will be able to see unlimited analytics activities on both Instagram and Tiktok
In this plan, you will adjust and be able to see the historical analytics details on IG and Tiktok
Per Profile, you can post up to 5000 posts in this plan
In this plan, you can post the same amount of 5000 posts per profile on TikTok
You can export files for analytics in different formats such as PDF, PNG, CSV
Dedicated support is given for both Instagram and Tiktok
You can see your follower's demographic such as age, gender, and country in the analytics dashboard on both Instagram and TikTok.
You can analyze profile & hashtag activity analyze and you will see profile & hashtag performance analysis in the same dashboard.
Pro Plan
From this plan, you have more flexibility to use and get a high volume of engagement rates.
Profile & Hashtag Analytics
Export Report
Profile & Hashtag Activity Analysis
Profile & Hashtag Performance Analysis
All these features you will be able to see detailly in the analisa.io software.
Analisa.io Features
One of the best features available in this software tool,
They are
Campaign Reporting
Follower Demographics & Authenticity
Content Engagement
Historical Data Analytics
Tagged Relationship & Influencer Mapping
Competitive Analysis
Campaign Reporting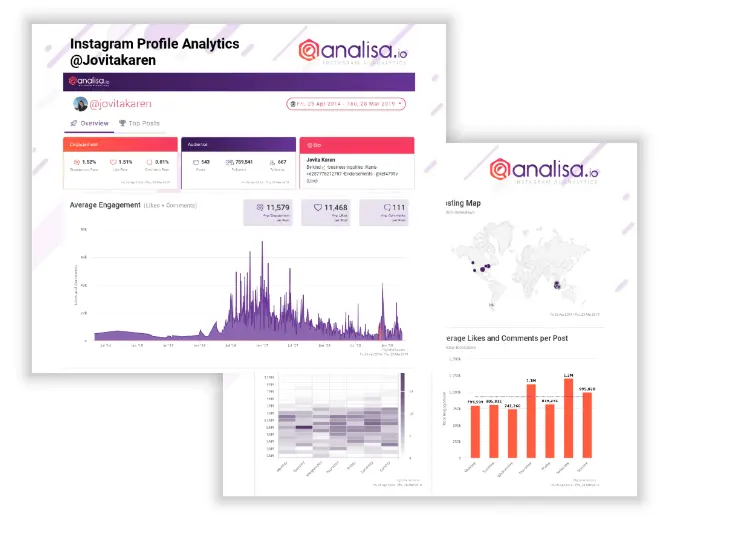 For all levels of marketing, peoples need a report to see their workflow on their business traffic. To check the traffic from the source of Instagram and Tiktok. This Analisa.io software will help you to give an exact report with a performance matrix.
You will save more time by just downloading the report in PDF, and CSV files, and then customizing it as per your choice.
Follower Demographics & Authenticity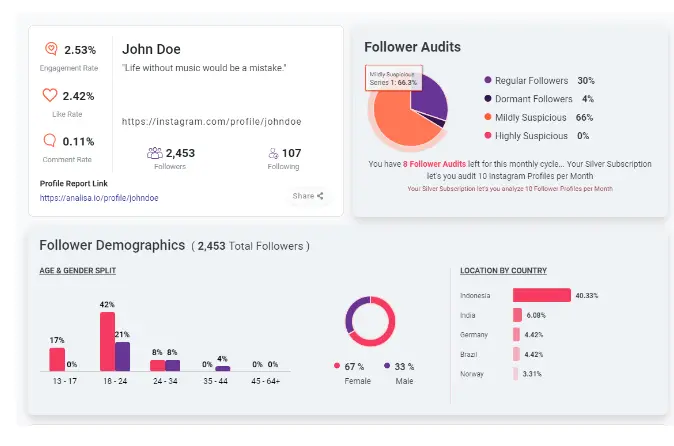 By using this function you will be able to find your follower's age, place, interest, and location in the profile on Instagram, and you can use it for your business purposes. With the help of authenticity, you will reduce fraud and improve the quality standard for your business.
Content Engagement
With the help of this tool, you can create better content and you can able make better performance with the help of analytics data provided by this tool.
Content is the king in all the business, if the content is perfect you will increase traffic organically and you can make a good amount of income too. Unless your content is not strong then you will lose your traffic and also you will not run a profitable business too.
By using this analisa.io software you can make your followers stay with high engagement.
Historical Data Analytics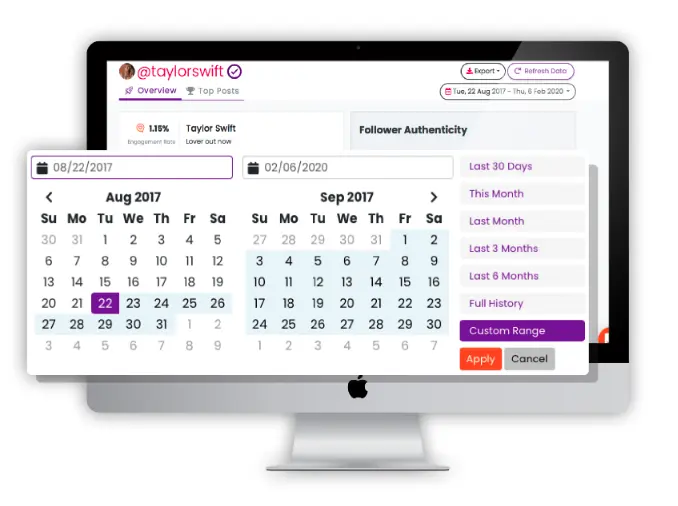 Information and historical data play an important role in every business to get success in their life. This software tool will give all data and historic information to you to analyze the performance report for the earlier months.
This will help you to make action in your business and move to increase your follower's growth and your business also.
Tagged Relationship & Influencer Mapping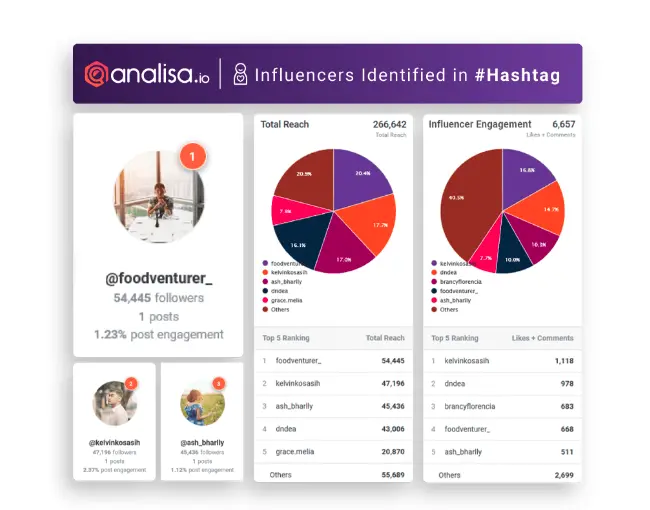 This tool will help you to make engaging with your followers. You need to tag relationships with your followers because engagement rate is much more important on Instagram.
The Instagram algorithm also says that. You need to make your content, images, and videos with highly useful topics and keep your topics should be in engagement.
Reply to your follower's messages, do activities on Instagram to engage with people, and do influencer marketing with them.
This tool will help you to send messages to all people from a single dashboard.
Competitive Analysis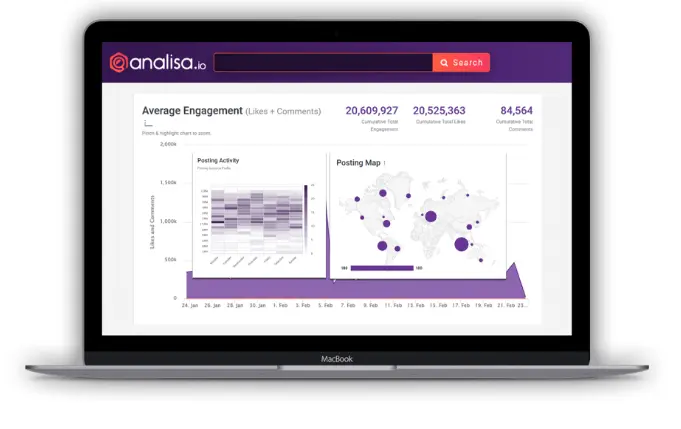 If you want to be successful in your business you must do competitor research. With this tool, you will do competitor research for yourself and your client's business also. With the help of this tool, you will be able to find performance analyses for your competitor.
By using this strategy you can make more great content compared to your competitor. You can able to take hashtags from your competitor also.
Finally, you can create good content and post it manually and automatically according to your planning.
Analisa.io Pros & Cons
Analisa.io Pros
This software tracks hashtags from both Instagram and Tiktok
Instantly Loading and flexible platform
You can analyze any Instagram account
User Experience is awesome from this tool
A free trial is available
Analisa.io Cons
Pricing is too high
Need to increase some customization for TikTok
Review and Rating for Analisa.io
| PERFORMANCE | RATINGS |
| --- | --- |
| Usability | 9.5/10 |
| Performance | 9.9/10 |
| Online Rating | 9 |
| Support Rating | 8/10 |
| Implementation Rating | 8.9/10 |
Analisa.io Trusted by

Conclusion
Not but not least, Finally, after the analysis from analisa.io, you can get detail to understand in and out information from this software. Many users from different platforms and different industry they are using this product to get more followers for their business.
This tool will help you to give more important analytics data from the competitor's Instagram account, Which helps you to steal their performance and overcome it.
Analisa.io Office
Treasury Tower, Jl. Jend. Sudirman No.Kav. 52-53, RT.8/RW.3, Kuningan, Senayan, Jakarta, Indonesia, Jakarta
+62 812-2242-4292
FAQ About Analisa.io
Who are the typical users for Analisa.io?
Small business to large business people is the typical users of this great analisa.io.
Is Analisa.io have API?
No, Analisa.io does not have an API system now.
Which method does analisa.io help their customer?
Analisa.io help by using Chat support, Forums, Helpdesk, and so on.
Which Language is mostly supported by Analisa.io?
English is the language which highly supported by the analisa.io software tool
What Features does Analisa.io have?
Activity tracking, engagement tracking, Customizable report, content management, and Performance metrics, you can download data and upload data also.
How do I track Instagram analytics?
By using Analisia.io you can track all performance in Instagram analytics.
Where was Analisa.io Deployed?
            Web, saas, and cloud-based analisa.io software will be deployed.
RELATED POSTS